An In-Snide Look: I Think I Could Get Used to this Life Sometimes
By: Darrin Snider
Sunday, June 7, 2020
---
Getting Down to Earth with mOOnMen
By: Amy Foxworthy
Sunday, February 16, 2020
---
The Musical Journey of Jethro Easyfields
By: Amy Foxworthy
Tuesday, February 11, 2020
---
Monday Mixtape: Etwasprog
By: Darrin Snider
Monday, February 10, 2020
---
Monday Mixtape: Excerpts from the Summer of 2014
By: Darrin Snider
Monday, January 20, 2020
---
Mix Tape Monday: Mashin' it Up
By: Darrin Snider
Monday, January 13, 2020
---
Mix Tape Monday: Back to the Gym Workout
By: Darrin Snider
Monday, January 6, 2020
---
Top Ten Most Annoying Types of Music Fans
By: Darrin Snider
Saturday, January 4, 2020
---
Album Review: Sietch Ramshackle "U.R.//Nctrl"
By: Amy Foxworthy
Saturday, December 28, 2019
---
Mix Tape Monday: Darrin's Favorite Discoveries of 2019
By: Darrin Snider
Monday, December 16, 2019
Show #054: Jethro Easyfields
By: Darrin Snider (darrin at indyintune dot com)
Friday, September 11, 2009 7:00:00 PM

Sometimes, despite being entrenched in various attempts further and promote the medium to the layman, I really regret the relative youth and instant accessibility of podcasting. There just isn't the history or massive, undiscovered, forgotten areas to explore the way there is with something as all-encompassing as music. Case in point, last night I had drinks with two of the big innovators in podcasting, Scott Sigler and Matt F-in Wallace. They are terribly nice, accessible guys who post a Twitter that they're coming into town, and instantly 30 people show up at a bar to chat and toss back a few (everyone else looked at us like we were a traveling leper colony). While we were there, we discussed all of the various things we've done over the years and where you can go to download them. Suddenly, it dawned on me: This digital age isn't all it's cracked up to be sometimes. I mean, I'm never going to have the joy of trawling through garage sale boxes looking for old mono pressings of Accident Hash (to say nothing of the infamous "Barber Cover" depicting CC Chapman covered in hair taking scissors to a Barbie Doll's golden locks). I'll not be making a pilgrimage to Binghampton, New York, interviewing convenience store clerks and school teachers, looking for that minute piece of previously-uncovered trivia that will allow me to completely change my approach to podcasting and hopefully write the definitive Encyclopedia of Schwagcast some day. There will never be a six-disc official anthology release of all of those old alternate takes of Mothpod episodes that I've had on a scratchy Belgian bootleg vinyl since '79. My grandchildren will never stand in line to pay $299 for the "Ultimate Boxed Set" of 256-bit remasters of Evil Genius Chronicles because Dave Slusher's cough at 14:58 of Episode #72 "has a much richer tonal quality" than it does on the old 128-bit versions I grew up with. Our sphere is pretty much 100% out there. Our heroes are a bit less-legendary; our history, a bit shorter; our genre-altering revelations, a bit fewer and further between -- and it's probably going to stay that way.
This is probably why I think my guest on this episode is totally cool.
When talking to musicians around Indianapolis, one hears a lot of stories -- you might even say legends -- about Jethro Easyfields. He's been a staple of the local scene for decades, and when he's not actively playing around town, he can invariably be found in New Orleans, Phoenix, or elsewhere, looking to expand his own musical vocabulary and bring that experience back and add it to the collected pool of talent here in his home state. That vocabulary, by the way, now easily slips back and forth between rockabilly, blues, folk, rock, country, Americana and several other genres.
His latest CD, Elixir, is a combination of new tunes and old favorites performed in his living room by an assortment of his "collected" friends (called "The Arrowheads"). This isn't a basement tape from a bunch of DIY kids, though (and, no, I have nothing against that scene; I've even featured it on this show more than once). These are quality session and live players you know from top acts around town and elsewhere, getting back to the basics, but still keeping it professional. Scott Kern's production work is masterfully done, but at the same time intentionally unalloyed and organic, with most songs being done in just a couple of takes. As such, Elixir showcases Easyfield's natural abilities, energy, and diversity in both performance and songwriting -- a fitting representation of an artist who once made his living playing street corners for change.
Links referenced in the show:
---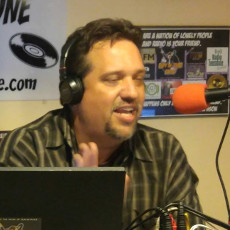 Darrin Snider is the OCD music nerd responsible for creating Indy In-Tune. By day he's a cloud engineer and business analyst, but he still hopes to someday be an overnight freeform disc jockey married to the local weathergirl who happens to be a former eastern-European supermodel.
Blog comments powered by

Disqus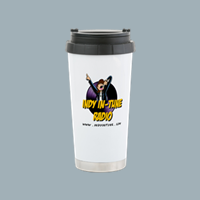 As seen on the webcam. Are you one of those people who can't survive without copious amounts of coffee in the morning? You definitely need one of our stainless steel travel mugs. Give your caffeine the gift of style...
Solicitations and Submissions
Solicitations for blog posts can be made by sending and email to "blog -at- indyintune -dot- com" and should follow these guidelines:
Local (Indianapolis-based) acts always have priority.
Visisting acts playing a bill with one or more local acts are also considered.
We generally don't like to repeat content found on other sites. If your request already has a lot of coverage on other sites, it will be considered low-priority unless you can give us an exclusive angle.
For obvious reasons, we don't do solicited album reviews, though we do appreciate you letting us know when you have a new release. Consider coming in and talking about the album yourself live on the air or a podcast.
All of our staff writers are unpaid enthusiasts. All requests for blog posts are entirely at their descretion.
As such, they generally need a lot of lead-time to put something out -- we're talking weeks of lead time, not hours.
That said, individual authors have full authority to ignore the following guidelines and write whatever they want ... if you can convince them to.
In addition, feel free to write your own post and submit it for posting as a "guest blogger." Those almost always get accepted.
Finally, regional or national acts submitting without meeting the above guidelines are generally ignored. We're not trying to be dicks, but if you send us a generic form-letter with your press release, and it doesn't even remotely concern a local artist or event, then you're not part of our core focus.