Podcasts By Year
2022, 2021, 2019, 2018, 2017, 2016, 2015, 2014, 2013, 2012, 2011, 2010, 2009, 2007, 2006, Upcoming Shows


Other Archives
Show #040: The Great Hookup
By: Darrin Snider (darrin at indyintune dot com)
Thursday, May 21, 2009 8:00:00 PM





This week continues our busy month of May with a visit with The Great Hookup, a band that first came to my attention when they opened up for ESW at Birdy's some months ago, and later when singer/guitarist Rory Connolly began hosting the Monday night open mic at my favorite watering hole, and thus destroying what was a fine tradition the guys and I had of being the only customers in the bar on Monday nights.


We caught up with the band at Spin Nightclub in Broad Ripple on the evening of a rather large party celebrating the release of their debut CD, In the Realm Of. While Spin is a fine club with some great acts on the bill, maybe I just vist on the wrong nights (or I'm chasing the wrong bands), because I can honestly say that I haven't seen 6308 Guilford Avenue that hoppin' since the days of "The Patio."

... insert silent moment for The Patio here ...

The Great Hookup is a laid-back rock/reggae/blues/jam band playing a wide range of material that, thanks to two very distict songwriters and vocalists (Andy Baker and Rory Connolly), never gets old or falls into any kind of repetitive ruts. The sound is rounded out by an incredible rhythm section (Brad Edwards on bass; Kris Edwards on Drums) and colored with some great audio textures courtesy of a keyboardist (Russ Cameron) who knows how to fill in the proverbial cracks in the music, as well as pump out a great solo when it's called for. In short, these are five well-tuned and tight-playing musicians that work extremely well together -- and judging by their following that night, you probably didn't need me just now, pointing out something that you already knew.

Links referenced in the show:
The Great Hookup can be found here: MySpace | Web Site | Facebook | Sonic Bids | Twitter.
The new album, In the Realm Of, is not yet available online. When it is, we will link to it here. In the meantime, you can pick it up at one of their live shows.
The CD was recorded at the Pop Machine in Broad Ripple, produced by Adam White of ESW (whom many of you will remember from Show #009), and mastered by Andy VanDette.
For those of you who were having trouble picturing what a melodica is, here is a picture of Russ playing one.
Anyone interested in "playing keyboards for little pay or notoriety" (his words, not mine) is asked to contact Jeff Byrd and the Wingmen -- and tell Jeff he needs to be on this show while you're at it. Otherwise, I may be forced to dust off my Yamaha and audition ... and believe me, nobody wants to hear that.
When looking for inspiration (or a fight) on a moonlight night in Broad Ripple, consider La Bamba's: Burritos as Big as Your Head.
Singer/Guitarist Rory Connolly also performs as a solo act around town, courtesy of Jagermeister Music. You can often catch him at Claude and Annie's in Fishers (aka: "Podcast Studio C"), where he hosts their Monday open mic -- though he rarely brings the Jagerettes to those shows.
Rory can also be seen playing in a duo with singer/guitarist Kelley Isenhower.

Drummer Kris Edwards can be seen with the Steve Trio every Friday and Saturday evening this summer from 5:00 to 7:00 on the patio at the Jazz Kitchen.
The Great Hookup has generously donated a copy of their brand new CD, In the Realm Of, to be given away to one luckly listener. You can enter to win it on our contests page. The winner will be picked on June 7.
Permalink: http://www.indyintune.com/podcast/blogarchive.asp?article=166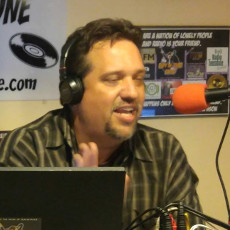 Darrin Snider is the OCD music nerd responsible for creating Indy In-Tune. By day he's a cloud engineer and business analyst, but he still hopes to someday be an overnight freeform disc jockey married to the local weathergirl who happens to be a former eastern-European supermodel.
Blog comments powered by

Disqus