Podcasts By Year
2022, 2021, 2019, 2018, 2017, 2016, 2015, 2014, 2013, 2012, 2011, 2010, 2009, 2007, 2006, Upcoming Shows


Other Archives
Show #097: Yukon Fox
By: Darrin Snider (darrin at indyintune dot com)
Sunday, March 13, 2011 5:00:00 PM





I'm pretty excited about this week's show, not because it finally clears out my backlog of raw interview recordings sitting on my hard drive, thus freeing up valuable disk space to install Command and Conquer 4, but because it gives me an opportunity to spotlight, and hopefully introduce a lot of people to, an up-and-coming band that is woefully unappreciated in the local scene. And, when it comes down to it, isn't that what this show is really all about?
Yukon Fox has been together for a mere 18 months or so now, and have just completed their first full-length CD. As we discuss in the interview, their rather unique sound blends several different styles from folk to classic rock, pared down and packaged with an indie/pop 90's rawness that sets them apart from a lot of the "straight genre" acts in town. Strong in both structure and vocal harmony, their songs are often toe-tappers, occasionally haunting, but always focused on conjuring an image and mood that makes them memorable. In the interview, they talk a lot about this approach, as well as the trials and tribulations of differentiating and marketing a band that is just a bit outside the norm of what people expect to find in the heartland of Indiana.

Links referenced in the show:
Yukon Fox can be found here: Web Site | Facebook | Reverb Nation | MySpace | Purevolume
Their self-titled, debut CD is available at their shows, by emailing the band directly, or at the usual suspects (iTunes | Amazon). Their Reverb Nation page features four free downloads from this album, if you would like a preview beforehand.
The album was recorded partially in Grant's grandparents' living room and partially at Gaither Studios in Alexandria, Indiana.
Gearheads take note: Grant gets his signature guitar sound via a Peavy Delta Blues and a bass cabinet to bring out the richness.
Their signature logo was designed by Sean Baptist.
They count defunct local outfit, Jookabox, as one of their favorite local acts.
The band was generous enough to donate ten copies of their self-titled CD to be given away on the show. If you're feeling lucky, drop by our contest page and register to win.
Thanks to the fine folks at Studio C (aka: Claude and Annie's Fishers) for their fine hospitality, as always.
Permalink: http://www.indyintune.com/podcast/blogarchive.asp?article=254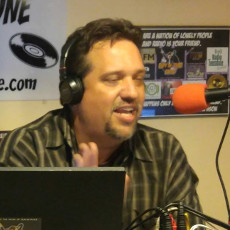 Darrin Snider is the OCD music nerd responsible for creating Indy In-Tune. By day he's a cloud engineer and business analyst, but he still hopes to someday be an overnight freeform disc jockey married to the local weathergirl who happens to be a former eastern-European supermodel.
Blog comments powered by

Disqus