Podcasts By Year
2021, 2019, 2018, 2017, 2016, 2015, 2014, 2013, 2012, 2011, 2010, 2009, 2007, 2006, Upcoming Shows


Other Archives
Show #100a: Good Friends Good Tunes No Edits
By: Darrin Snider (darrin at indyintune dot com)
Monday, May 30, 2011 5:00:00 PM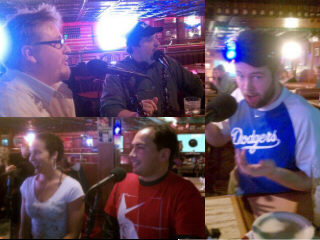 Special treat for those of you who who are show loyalists, and not just one of those iTunes people who subscribes and forgets to check the web site or Facebook page every once in a while. Just for hard core fans, those of you who ever wondered why it takes me so long to put out episodes after they are recorded, or the one or two of you who listened to the "Official Version" of Show #100 and really wanted to hear more. Here then is what I would normally consider the "first pass edit" of a show. The audio has been normalized so the loud stuff and the quiet stuff are approximately the same volume, but there has been no EQ work done to soften the tones; no editing or trimming (aside from bathroom breaks) to take out ummmms, ahhhs, sutters, and bodily noises; and audio tracks are simply dropped to gauge final running time. After adding four extra bonus musical tracks (you need something to entice you into downloading this after all), it clocks in at about two hours, which under any normal circumstances, I would then have to edit down to under an hour ... hopefully in one pass, otherwise I have to listen to it again to cut more material.
Word of warning: if you're bothered by rough audio, five people talking at the same time, stream-of-conscious rambling, intense musical geeking (especially about the Beatles), or long-winded, self-serving rants, then this special presentation probably isn't for you. As it is, consider less a show and more of a fly-on-the-wall representation of what it's really like when my friends and I get together, drink a few beers, and geek out over music on a cold January afternoon.
Links referenced in the show:
There is an ongoing in-joke between us that comes from an outtake from Show #093 when Pres Maxson explained, at length, that his favorite Tim Spainhower song was "The Boys from Oklahoma Roll Their Joins All Wrong" Fact is, that was a song by Cross Canadian Ragweed that he was covering.
Our opening number is "Two Gin Shots" by Pres Maxson off of his Volume Two album, which is available as a free download on his Reverb Nation page.
Jenn Cristy (Web Site | MySpace | Facebook | Twitter | Reverb Nation and previously appearing as a guest on Show #012, Show #031, and Show #062 and a co-host on several others) has been a fixture and one of our most popular guests on the show since our first year, which is only fitting since she is one of the more popular acts in the area. After taking most of 2008 off, she was the one who dragged me back into putting out shows on a regular basis again and has always been an enthusiastic supporter of all of our projects, be it Musician's Night Out, the Podcast Battle of the Bands, or an "Indy In-Tune Presents" night at a local venue. We wouldn't be where we are without her. Oh yeah, and she sings, writes music, and plays piano real purdy too.
Jeff DeHerdt (Facebook | MySpace | Web Site | (Neglected) Blog and previously appearing on Show #005 and Show #033) is one of those guys you just don't hear enough about in this town. He is a brilliant and diverse pianist, songwriter, singer, and arranger, whose gift works equally well when playing in a duo, trio, quartet, big band, or just doing a solo gig with a piano and a mic (and once with an electric guitar, though I haven't seen him whip that out recently). Electric or acoustic, jazz or pop, experimental or standards, originals or covers, there are a few hundred different permutations to experience Jeff's music, and over the years, I think I've probably seen all of them -- except maybe synthetic country/western.
Pres Maxson (Web Site | MySpace | Facebook | Reverbnation and previously appearing on Show #044 and Show #093 as a guest, Show #048 and Show #094 as a co-host, and Show #072 as a guest host.) is one of those guys you have to keep your eye on. He is as funny as he is musically talented, and he always seems to be keeping something in reserve for you -- as I can attest that what you hear on this podcast and on his albums pales in comparison to what I've seen him do off-mic and jamming around in my living room with piano and guitar. His music is deceptively light in tone and deep in content, but he's just as capable of playing something amazingly virtuosic and complex while attaching some whimsical vocal to it when you're not paying attention. Trust me, as great as his body of work has been to this point, he's no doubt got something even better brewing for us. He's just biding his time, so keep your eye on him.
Tim Spainhower (MySpace | Web Site | Facebook | Twitter | Reverb Nation and appearing on Show #007 and Show #050 as a guest and as a special back-up musician on Show #094) is, as always, a songwriting machine. Really. I have twenty one of his albums, most of which only a few people have heard. I would venture to say that he's forgotten more songs than most "famous" musicians will write in their entire career. When you add in his unfinished demos and alternate versions, it means when I put my music collection (currently about 40,000 songs) on scramble, every fifth song is a Tim Spainhower song, and often one I don't remember ever hearing before. We keep threatening one day to go through his entire back catalog and pick out an album of forgotten gems for him to re-record as a "revisited" album. Maybe we'll get to that, if we can get him to stop coming up with new stuff for a while.
In case you hadn't heard, John Mellencamp is getting divorced. He is not, in fact, dating Jenn Cristy, however.
Our second musical break is Jenn Cristy doing an accapella version of Edge of the the River, originally off of her second, eponymous album. This version is only available via her web site.
Though she did not know who Roger Waters was during the show, Jenn does play in a Pink Floyd tribute band called, Atom Heart Mother. You can see her nailing Great Gig in the Sky here.
I referenced an NPR story I heard about Hip Hop music being market tested in Atlanta strip clubs. You can read the entire article here.
Our third musical break is Club Bordeaux by Jeff DeHerdt from the album of the same name. I did actually take out his lengthy description of a song that he wrote but wasn't quite happy with that was originally going to go in it's place.
Jeff references Bobby Owsinski's book "Music 3.0: A Survival Guide for Making Music in the Internet Age" when discussing his future marketing and distribution plans.
More about Billy Joel admitting he "borrowed" from Bob Dylan here.
My rendition of Darling Nikki is available on Jack Managn's Deadpan Podcast Episode #64.
Please let Tim's experience with Elton John songs be a lesson to musicians everywhere who will do anything for a ridiculously cute girl.
Our Fourth Track is "Let Alice Know" from Tim Spainhower's "Vicious" album, currently available as a limited release direct from the artist.
The original video, that I based my impersonation of the inimitable Sparks', Kimono My House, can be found here, just because people seem to think I'm intentionally singing badly.
The charity tribute band event that Jeff is discussing is Tonic Ball, which is at Radio Radio each winter.
Learn more about Geoff Emerick and his experience with the Beatles here.
Our fifth track is "Luxury" off of Tim Spainhower's "Vicious" album.
As part of our play on "first albums," tracks six and seven are from two albums that my guests would probably rather forget recording. "5AM" from Jenn Cristy's "Becoming" album, and "Next Best Thing" from Jeff DeHerdt's first EP (the "Blue Album").
The Bo Dukes, which was also a botched bit on an in-joke, was Pres' band prior to returning on Indiana. He does, however have Tom Wopat on speed dial.
You can see the picture of Jenn sticking her tongue in Jeff's ear here.
Musical break #8 is "Wine" from Pres Maxson's "Volume Two" album.
Permalink: http://www.indyintune.com/podcast/blogarchive.asp?article=257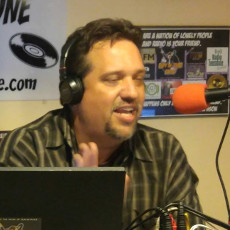 Darrin Snider is the OCD music nerd responsible for creating Indy In-Tune. By day he's a cloud engineer and business analyst, but he still hopes to someday be an overnight freeform disc jockey married to the local weathergirl who happens to be a former eastern-European supermodel.
Blog comments powered by

Disqus