For the most part, our artist database is curated by hand, so in the case of active bands, the information shown here is probably not very current. If you have inside knowledge on this artist, or if you are this artist, feel free to submit an updated entry (or use the discussion section below) to correct us on anything here that might be out of date or inaccurate.
Precore
General Information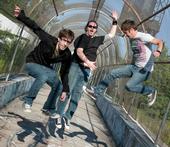 | | |
| --- | --- |
| Artist Name: | Precore |
| Genre(s): | rock,hard rock,alternative |
| Contact: | |
| Years Active: | - Present |
Band members:
(Bold indicates
current member.)
Related Bands:
(unavailable)
Bio
MIKE COLE – DRUMS, VOCALS With an affinity for porn, whiskey, and comic books, eastern Indiana native Mike Cole has "been around the block" as they say. With just over a thousand live performances under his belt, various prestigious recording experiences, and having played many well known venues around the country, Mike has toured half the United States with various projects and is in no mood to stop anytime soon. After being involved with a few Indie record labels and projects in Indiana, Ohio, and Florida, whom collectively shared stages with the likes of Kittie, Lit, Seven Mary Three, Deadstar Assembly, Fixer, Bobaflex, (hed) p.e., Tech N9ne, Five Bolt Main, Queensryche, and Static X, Mike has finally found his permanent home with the three-headed stage beast known to all as the mighty Precore!

JEREMY KUYKENDALL – GUITAR, LEAD VOCALS Having grown up in the Seattle, Washington area, Jeremy Kuykendall can not remember a time in his life when he was not singing, playing guitar, or chastising the local butterflies for being silly and lazy. Jeremy has shared the stage with numerous bands including the likes of No More Kings, Aranda, Michael Kelsey, Philpot and Mud Honey. In 2007, Jeremy and his brother Jon started the band Precore and recorded their debut album Analog Daydreams. In 2008, drummer Mike Cole joined the band and the group released their sophomore album "Sick".

JON KUYKENDALL - BASS, VOCALS In between making meat helmets on the southern slopes of the Swiss Alps as a young boy, Jon Kuykendall took an immediate interest in music. Jon and his first band Honest Puck were signed to Nervous Wreckords; a subsidiary of Sub Pop Records out of Seattle Washington. Jon has played hundreds of shows across the northwest and shared the stage with numerous bands including No More Kings, Aranda, Loretta and Philpot. In 2007, Jon moved to Indiana and started work as a session musician at Cedar Rock Studios. That same year Jon and his brother Jeremy formed the band Precore.

With the addition of Mike Cole on drums and background vocals, Precore released their sophomore album "Sick" in November of 2008. Precore's latest musical pilgrimage has led them to Chicago, Illinois where they recorded their new album "Sick" with famed producer Steve Albini at Electrical Audio Studios. Mr. Albini is responsible for recording some of the most important rock albums over the last 20 years for artists such as Nirvana, Chevelle, Iggy Pop, Page and Plant, Scott Weiland and Bush. Precore has been touring nationally in support of their sophomore album "Sick" and have no desires to stop there. With an enormous buzz, flattering reviews, and regular rotation on over 200 radio stations across the country, the band intends to continue charging head-first into the future including a stop in Madison, Wisconsin in March of 2009 to visit the studios of the legendary Butch Vig whom is one of a small handful of producers the band is considering working with for their next album in 2010.
Podcast Appearances:

Show #84
(11/16/2010)
Featured Releases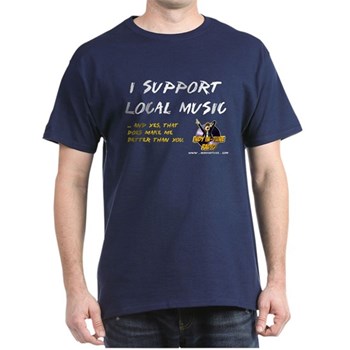 Back by popular demand for a limited time only, "I support local music ... and yes, that does make me better than you." Show the world that you, too, are a proud elitist music snob! Get yours before time runs out...
© 2006 - 2023 | Site design and coding by
Darrin Snider
| Content by Indy In-Tune and the Credited Artists and Writers | Layout by
HTML5 UP