For the most part, our artist database is curated by hand, so in the case of active bands, the information shown here is probably not very current. If you have inside knowledge on this artist, or if you are this artist, feel free to submit an updated entry (or use the discussion section below) to correct us on anything here that might be out of date or inaccurate.
No One Zero
General Information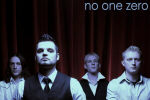 | | |
| --- | --- |
| Artist Name: | No One Zero |
| Genre(s): | rock,alternative,metal |
| Contact: | |
| Years Active: | 2006 - Present |
Band members:
(Bold indicates
current member.)
Related Bands:
(unavailable)
Bio
Forming in 2006 the Indianapolis, IN band No One Zero is the clear definition of hard work. With influences ranging from Alice in Chains to Led Zeppelin and a little of everything in between. The bands style, although distinctively it's own, has been compared to Chevelle, Godsmack, Alterbridge and many others in the rock/hard rock genre. In this 4 piece band your instantly drawn to the thought provoking lyrics and stylistic vocals of Mike Gerdts, the intricate and detailed playing of guitarist W.J. Adams and bassist Brandon Puckett or the time sonic beats of percussionist Matt Holsclaw. After 3 years of pounding the local and regional club circuit and logging in over 300 shows, the result of hard work paid off with a large loyal fan base and a reputation of being a band that delivers every time. In 2008 the self-titled debut CD was released locally and shared with over 3,000 in circulation and the bands relentless promotion and intense live shows have set the standard high for others to follow. In 2009 there was no signs of this machine slowing down and resulted in sharing stages and bills with national recording artists such as Seether, Hellyeah, Chevelle, Nonpoint, Cold, Janus, Taproot, Aranda, Tantric, Pop Evil, The Trews, Saliva, Flaw, Primer 55, Cavo, Smile Empty Soul, Soil , Rev. Theory, Hail The Villain. As they go into 2010 the recording for the highly anticipated sophomore effort has begun and a summer release is expected. With an already exciting 2010 show schedule developing, including shows with more national acts, the band feels that there is no goal that they can not and will not achieve.
Featured Releases
(unavailable)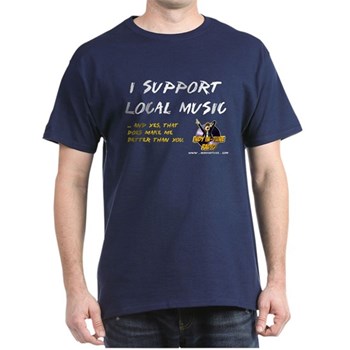 Back by popular demand for a limited time only, "I support local music ... and yes, that does make me better than you." Show the world that you, too, are a proud elitist music snob! Get yours before time runs out...