For the most part, our artist database is curated by hand, so in the case of active bands, the information shown here is probably not very current. If you have inside knowledge on this artist, or if you are this artist, feel free to submit an updated entry (or use the discussion section below) to correct us on anything here that might be out of date or inaccurate.
Corruption Committee
General Information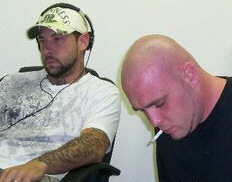 Artist Name:
Corruption Committee
Genre(s):
Contact:
Mike Spidell
765-271-7917

Years Active:
2000 - Present
Band members:
(Bold indicates
current member.)
Related Bands:
(unavailable)
Bio
The Corruption Committee got started back in 2000 based on a conversation about taking over the stage during an event at the County 4H fair. With very little knowledge or experience writing and recording music they decided to purchase some equipment and try to start making music. They started by making beats with a drum machine and recording freestyles on an old 4-track tape recorder. It was something they really enjoyed and wanted to learn more about..

They continued learning on their own(insert the Steve Buscemi quote from the Wedding Singer) over the next few years by recording over 100 songs. They had several projects they intended to put out, but for the most part, other than burning cd's for friends to listen to and pass around, never released or put a lot of promotion behind them. They've been about as "Underground" as you can get.

Finally, in 2007, they released their first full length album titled Hudafukdemiz. It was a 15 song cd that covered a broad range of topics(as they always like to do), and featured fan favorites such as "Goodsmoke", "Jackin' Off" and "Can't Believe My Eyes" which featured singer and longtime friend/collaborator Jeremy King. That same year they also launched their label From the Root Entertainment.

After taking some time off, 'Kast released a solo cd titled "Life of a Loser". The album was the 1st of a series called The AudioBiography. It was released as a free download in November '09.

Recently, the Committee just got back in the studio recording the follow up to Hudafukdemiz. And if early signs are any indicator, this will be the album that proves they belong in the music industry. The plan is to release the it in late spring/early summer of 2011. This will be followed by second album from the Audiobiography series in the fall. With many other projects also in the works.
Featured Releases
(unavailable)
Handy places to visit if you are part of, or want to know more about, our music scene ...