For the most part, our artist database is curated by hand, so in the case of active bands, the information shown here is probably not very current. If you have inside knowledge on this artist, or if you are this artist. Feel free to drop us a line (or use the discussion section below) and update us on anything here that might be out of date or inaccurate.
Outer Sanctum
General Information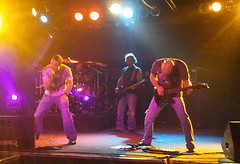 | | |
| --- | --- |
| Artist Name: | Outer Sanctum |
| Genre(s): | christian,rock,metal |
| Contact: | Mark Lentz |
| Years Active: | - Present |
Band members:
(Bold indicates
current member.)
Related Bands:
(unavailable)
Bio
Without a doubt, "Outer Sanctum" is one hot new hard rock/heavy metal band on a very specific mission. The band began formation in the spring of 2008 with veteran Guitarist, Randy Carter, and bass player, Tony Sadler. Armed with a desire to make a positive difference in the world through a genre of music all too often laced with negative and even destructive connotations, the two Christian rockers embarked on an exhaustive search for other like-hearted musician's willing to do something much more positive. After several months of conducting phone interviews and auditions, the duo eventually managed to find the right mix of talent and personalities to successfully complete the band's lineup. Vocalist, Jonathan Acker, was the first to be added and was chosen for his powerfully solid voice and active stage presence. Shortly thereafter, guitarist, Mark Lentz joined bringing with him an arsenal of lightening fast, yet soulful, solo riffs. And, finally, "Metal" Dan McCrary, was recruited as the band's drummer. Since solidifying the band's roster, the brothers of "Outer Sanctum" have been aggressively writing new material and rehearsing in anticipation for what God has in store.
Podcast Appearances:

Show #52
(9/5/2009)

Show #82
(1/27/2011)
Featured Releases
© 2006 - 2019 by
Darrin Snider
, Indy In-Tune, and the Credited Artists and Writers | Site Design:
HTML5 UP