Album Review: Sietch Ramshackle "U.R.//Nctrl"
By: Amy Foxworthy
Saturday, December 28, 2019
---
Mixed Tape Monday: Darrin's Favorite Discoveries of 2019
By: Darrin Snider
Monday, December 16, 2019
---
Indianapolis "Art Rock" Band Midwest Contraband Releases Killer 4th Album
By: Amy Foxworthy
Sunday, October 6, 2019
---
Special Presentation #01: MP Cavalier Meets Martin Barre of Jethro Tull
By: Darrin Snider
Saturday, May 4, 2019
---
Mix-Tape Monday: Great Guitarists
By: Darrin Snider
Monday, March 25, 2019
---
Mix Tape Monday: Darrin's Tribute to Tony Iommi
By: Darrin Snider
Monday, March 18, 2019
---
Mix Tape Monday: Darrin's Guilty Pleasures
By: Darrin Snider
Monday, March 11, 2019
---
Mix Tape Monday: Relax with a Nice Bottle of Wine
By: Darrin Snider
Monday, March 4, 2019
---
Mix Tape Monday: Stuff I Feel Like I May Be the Only Person Who Owns It
By: Darrin Snider
Monday, February 25, 2019
---
Mix Tape Monday: My (First) Prog Mix Tape
By: Darrin Snider
Monday, February 18, 2019
Show #118: Shadyside Allstars Forever
By: Darrin Snider (darrin at indyintune dot com)
Sunday, September 23, 2012 5:00:00 PM

When I first spoke to Jack Barkley about interviewing our mutual friends, Shadyside Allstars, he enthusiastically offered to go back and listen to the old shows in order to avoid asking the same questions that have already been asked. This made me chuckle. I think I've probably asked Shadyside a few questions over the past six years ... but have they actually answered any of them? No, this is a band you just wind up like a top, then let go. To date, there has been very little point in trying to plan or structure around them. I just think of my time with them as being like one of their infamous jams -- there are sections, and cues to move on, but no real planning involved. Not wanting to spoil the surprise, I told Jack not to worry so much with research, since it's been a few years, and who's really going to remember little details like a duped question anyway? Oh yeah, podcast listeners are. That's right, the same batch of rainmen who call me out every time I off-handedly mention an old show and give the wrong show number. I mean, yeah, I can recite the show number of just about every Star Trek, but that's actually important stuff.
Well, sorry to disappoint, but we did dupe a few questions this time around, however we did, in fairness, actually get serious answers, and a pretty decent debate about whether it's better to play to technical correctness or to what the audience will better identify with. Honestly, I thought the allure of actually being live, with a video feed, and free alcohol would have pushed this one over the edge, and really it did, though thanks to the miracle of editing (this was originally a two and a half-hour interview, remember), we actually ended up with something coherent, intelligent, and in places, quite educational.
Links referenced in the show: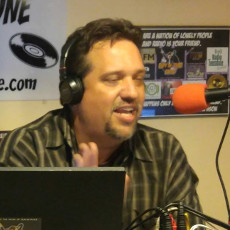 Darrin Snider is the music nerd responsible for founding Indy In-Tune Radio and the Indy In-Tune Podcast. By day he's a cloud engineer, which is fun, but he hopes to be an overnight freeform disc jockey someday.
Blog comments powered by

Disqus
Today on Indy In-Tune
Saturdays are Magical!

* Schedule subject to change without notice. Sorry, but that's rock and roll.
Solicitations and Submissions
Solicitations for blog posts can be made by sending and email to "blog -at- indyintune -dot- com" and should follow these guidelines:
Local (Indianapolis-based) acts always have priority.
Visisting acts playing a bill with one or more local acts are also considered.
We generally don't like to repeat content found on other sites. If your request already has a lot of coverage on other sites, it will be considered low-priority unless you can give us an exclusive angle.
For obvious reasons, we don't do solicited album reviews, though we do appreciate you letting us know when you have a new release. Consider coming in and talking about the album yourself live on the air or a podcast.
All of our staff writers are unpaid enthusiasts. All requests for blog posts are entirely at their descretion.
As such, they generally need a lot of lead-time to put something out -- we're talking weeks of lead time, not hours.
That said, individual authors have full authority to ignore the following guidelines and write whatever they want ... if you can convince them to.
In addition, feel free to write your own post and submit it for posting as a "guest blogger." Those almost always get accepted.
Finally, regional or national acts submitting without meeting the above guidelines are generally ignored. We're not trying to be dicks, but if you send us a generic form-letter with your press release, and it doesn't even remotely concern a local artist or event, then you're not part of our core focus.