M.O.R. Episode 3 -- Michael Dryburgh
By: Ben Cannon, Bram Epstein, and Darrin Snider
Sunday, June 6, 2021
---
M.O.R. Episode 2 -- Ian Thomson
By: Ben Cannon, Bram Epstein, and Darrin Snider
Sunday, May 23, 2021
---
M.O.R. Episode 1 -- Mark Kelly
By: Ben Cannon, Bram Epstein, and Darrin Snider
Sunday, May 16, 2021
---
An In-Snide Look: I Think I Could Get Used to this Life Sometimes
By: Darrin Snider
Sunday, June 7, 2020
---
Getting Down to Earth with mOOnMen
By: Amy Foxworthy
Sunday, February 16, 2020
---
The Musical Journey of Jethro Easyfields
By: Amy Foxworthy
Tuesday, February 11, 2020
---
Monday Mixtape: Etwasprog
By: Darrin Snider
Monday, February 10, 2020
---
Monday Mixtape: Excerpts from the Summer of 2014
By: Darrin Snider
Monday, January 20, 2020
---
Mix Tape Monday: Mashin' it Up
By: Darrin Snider
Monday, January 13, 2020
---
Mix Tape Monday: Back to the Gym Workout
By: Darrin Snider
Monday, January 6, 2020
The Musical Journey of Jethro Easyfields
By: Amy Foxworthy (foxy at indyintune dot com)
Tuesday, February 11, 2020 7:00:00 PM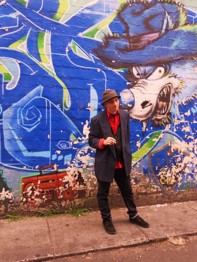 Blues. Rock. Folk. Country. Punk. Roots. Americana. The music of Jethro Easyfields is all these things blended together and so much more. First and foremost, Jethro is a songwriter. One who is cut from no mold. Although the influences of Dylan, The Beatles, Elvis Costello, and others can be sensed while listening to his vast catalog, but make no mistake, his sound is completely authentic, unique, and his own. His expertise with guitar, keys, and harmonica are clearly evident and speak for themselves throughout his plentiful and diverse catalog of music.
A chef, a full-time doting father of an adorable 5-year old daughter, and a friend and mentor to many in the Indy music scene, his path is full of fascinating stories and encounters. His mesmerizing eccentric character, accompanied with his wildly entertaining tales of experiences and travels throughout his journey, is matched by no one.
Back in early December, I had the privilege of interviewing Jethro to discuss his most recent album, Inner State (It's seriously a masterpiece), retirement rumors, and upcoming shows, and it was a wildly entertaining and unforgettable experience.
AF: Can we discuss your travels between Indiana, Arizona, and New Orleans? Tell me a bit about your various adventures playing music.
Jethro: I haven't been everywhere, but it's kinda like a triangle from the Southwest to the South to the Midwest. So, after high school, I went to art school in Fort Wayne, IN. I was playing music for about 5 years before that; I was playing keyboard and writing goofy songs about potatoes; just simple things. I hadn't had a dog die, or a girlfriend break up yet. But before that, I was in Riley Hospital at 14 because I had an open chest surgery—that's another story—but the blessing of that is that I got a Casio keyboard when I was in Riley. Then I started being able to record my songs and singing that I'm a weed or weird stuff like dog songs. I was really into Prince and The Beatles, and Talking Heads, so I was trying to make really interesting keyboard music, and then I found out ways to manipulate my jam box and my stereos and to overdub and do weird shit. I was also going into the avant-garde before I ever got high; I was doing like, "Number 9, number 9," types of weird recordings.
AF: How did you get really into THAT before experimenting with drugs?!
Jethro: Dr. Pepper and Doritos, and never going to sleep (Me: cackles hysterically) With art in high school, I could do like, these really good landscapes. I wasn't really abstract yet, and it got me some scholarships and I got into school. I ended up hanging with the artist kids; not the geeky ones, but my roommate had a guitar and we put all the beds in one room and used the other room as a party room, and we were "legendary," and so I started writing guitar songs in Fort Wayne, in college. But, I had been playing guitar for a few years, but now I had tuned in. I had learned all the Beatles songs in a week.
AF: *Interrupts. Explosive "WTF?!"; (spits beer out) "You learned the Beatles songs in a WEEK?!"
Jethro: Yeah, all the chords, because I already knew them all.
AF: The Beatles used some weird fucking chords!
Jethro: They do, and it helps. You can't learn country and blues from them, but you can learn rock and roll, and that's where everything comes from. Then you can go back to what they were influenced by, and Bob (Dylan), and they told you, so you go back to the blues guys and Little Richard, Chuck Berry, Carl Perkins, and the folk guys, and I think when I was starting to get high, and trying to be good at school, I was left alone with Bob Dylan's music—and I got into meditation. I did a work-study with a custodian who did meditation. We would just chill out. It was like, "Inhale; white light; exhale, sky blue." I was already getting to a meditative state, but I was listening to Bob Dylan's "It's Alright Ma I'm Only Bleeding" and I had a more religious moment than when I was brought up Catholic. Yeah, I had a religious moment because I was meditating to a Bob Dylan song I'd never heard that was really out of bounds and I thought, "Yeah, I could be really out of bounds." Everybody can. I want to be weird; I want to be out of bounds. So, a churning factor of art and music there, and an ad-lib factor or impromptu factor, with all of my buds. We would record songs. That's where all of these weird songs would come from like '88 to 2000. These tapes are a combination of just interesting people making songs up, right now, with insane like Robitussin…
AF: When did you first begin playing guitar? First guitar memories? Who are your influences musically?
Jethro: There are a lot of people who inspire you on guitar, but when you look up to somebody like Pete Townsend, like, "How can I play guitar like THAT?!" But then you're like, "I have to learn how to play guitar before I DO that." It's kind of like going to gymnastics class and for guitar, but then you are like, "I have to tune it," you know? So I told my mom in high school I wanted a guitar for Christmas and she said, "HELL NO!" I was borrowing people's guitars…the first guitar I picked up was from my Uncle, who was in a cover band called "Dirt Cheap," and they're still kind of playing. But the first time I touched a guitar was probably my grandpa's, who played in the war, like Hank Williams songs. He didn't play anymore because he was a taxidermist and he got arthritis.
AF: (Interrupting, again): Did you feel "right" right away when you first touched the guitar as a kid?
Jethro: Well, I knew by like 10 or 12. He had some beaters laying around. And it wouldn't even matter if it was in tune; I was jamming. I didn't really figure it out until I was 17. I bought my first guitar from my roommate. It was a classical guitar and I bought it for $15. And it was just classical; it didn't have a name. The guy who sold it to me was into like, Yngwie and Satriani; that was '87 or '88 and we didn't take it seriously. So I learned all the Beatles songs and then I started writing my own songs—it was experimental music –Jethro Easyfields music, in the beginning, was still experimental and idealistic. And then, of course, I met a girlfriend and could start singing about love, and my dog died, so that was good for the recordings…
AF: let me ask you the dumb obligatory question of like, influences. When you started, who were people that you were influenced by, or early music memories?
Jethro: My mom and dad had 8 tracks; mom was into disco and Anne Murray. Dad was into like, Allman Brothers and old Chicago blues; we lived close to Chicago. I grew up with like Tex Ritter; the singing cowboy stuff. But there was this one 8-track that had this really hot hippie chick on it and it was Neil Young's "Harvest." I always thought Neil Young, when I was like 5, was a girl, because of this hippie chick…but yeah, influences were The Beatles, Buddy Holly, Little Richard, or Lennon/McCartney, and eventually Dylan, but Elvis Costello was probably the one that –a wordsmith—you know? I knew all the classic rock, but when I was starting to listen to Notre Dame radio at night when I was in high school, and Chicago Radio, I would find Talking Heads, Devo, and Elvis Costello, when they were coming out. I had already heard Blondie and Tom Petty, but they would play the weird shit late at night. Hearing those guys, it was more inventive and new and they used to call it "new age." It was alternative music in its early form, which had already been going on for 20 years, like Velvet Underground, which they would also play. I was always discovering. I could always tell Elvis Costello's vocal because it kind of reminded me of Buddy Holly. I was like, "Oh yeah, that's the guy with the glasses who's kinda quirky." But I would hear a song and get ideas because I was playing a lot of keyboards at this time and there were a lot of keyboards in this stuff. I think I wanted to be a more interesting songwriter than "All Right Now," or even Zeppelin. I thought, there's got to be something easier; geekish. So it seemed like I was being influenced by Prince, but I was also being influenced by stuff that I heard that was weird. I think it opened up my ears to write differently instead of simply just like, "Oh, how am I gonna rock?"
AF: You have probably been told that you remind someone of Bob Dylan once or twice. Is he one of your big influences? Do you think this is Dylan's last hurrah? Do you compare your musical career/path to his, and is that why there are rumors of you retiring? So you can go out at the same time?
Jethro: I'm NOT RETIRING; just retiring the Jethro Easyfields name. What I posted in August, about how I will not be this person now, and I will not make this same music again, is that my experience in being Jethro over 30 some years has been a catalog and a bookend of –compared to Dylan – Dylan has changed so many times. One thing with Dylan, even in the '90s, is that, in all the recordings of his past that keep coming up, is that you have a catalog to set your morsels on, and you're comfortable with that…. Bob Dylan will always be Bob Dylan. But he's always changed, and there are different factors like David Bowie did. But he was still David Bowie. I don't say that I'm not Jethro Easyfields anymore, I say that I can put a stop to this catalog that's only 15-20% of my music has been released. I'm still archiving and will still archive Jethro, but I kinda forced myself to make a statement by saying, "Ok, you're not going to see a Jethro Easyfields concert anymore unless it's good money or something." I will look different next year; I will play differently next year; I'll be safe, and maybe a little bit more hyperspace of the new era. So it's just a demeanor change. But that was to get people's attention, too. You gotta get people's attention. (At this point Jethro has to help me figure out how the bathroom door works because I am apparently too stupid to figure it out on my own. Then, Jethro starts singing, "It's another December….to remember" while I am in the bathroom. "December first, better than the worst of time…of the seasons changing, and shit's rearranging and cars still go on the interstate of love…" At this point, I come out of the bathroom.)
Jethro: So we haven't gotten out of Fort Wayne?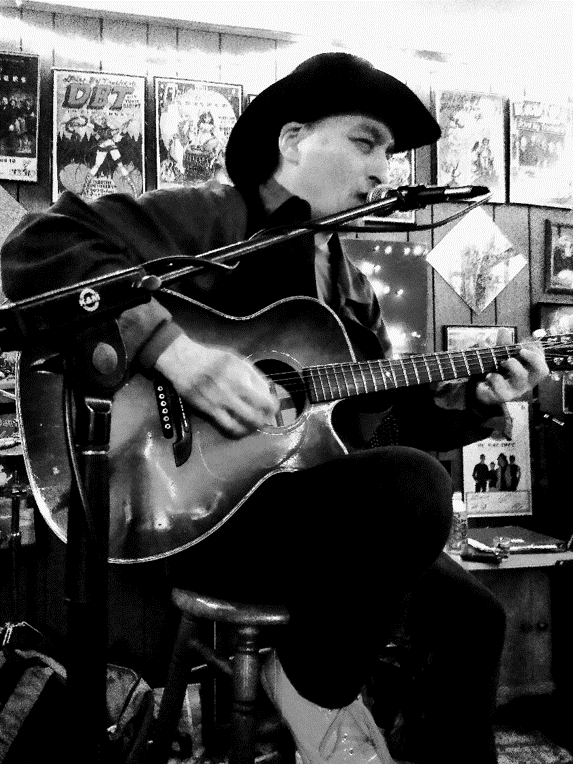 AF: What?! Oh yeah…sorry. I got a bit off track there…
Jethro: So, let's flash forward to college. Bam, bam, bam, dropped out, got kicked off campus for playing my guitar too loud—an acoustic guitar—and jumping on chairs and breaking things. I also got in trouble for playing the piano in the cafeteria, by the nuns. But they liked my stuff; the chef didn't like my stuff. I went to the President of the University and she said she didn't see anything wrong with me playing the piano. So yeah, I had some win-wins there. But I didn't go to school for music. I went for art; painting. So, I was already weird…but as I dropped out of school and worked at a cookie factory and a flower shop for a while, I was like, "This blows." I was learning from some people; I was learning Blues and country, and I was getting Charlie Patton and Robert Johnson cd's and also was living with painters who ended up moving to Arizona. I started playing in the bars doing only my original music; I was edgy and punk rock and also rootsy and I didn't know my shit but I was intimidating, but I settled down and I got into Blues and some people told me, "You need to go to New Orleans." So I researched that –but that's how I jumped out of Indiana. I had the blessings of people and you had to go cutthroat and had $500 and…
AF: Was there an early experience or exposure to music that made you know that music was your thing? Like, a first concert or live experience, or something your folks listened to, or hearing a certain band on the radio?
Jethro: As a sickly kid, I used to take a lot of drives to South Bend or Chicago or Indy, and I heard a lot of radio, so I heard a lot of Wolfman Jack at the end of the night…Dad kept me on the '50s and '60s for a while…I think it was I was looking out the window listening to "Whole Lot of Shakin' Goin' On" by Jerry Lee Lewis and I had no idea what that sound was; when I heard that song it was chilling. Or the first Elvis records with Sun Sessions, or Johnny Cash; chilling music. Very stark and simple. Then I saw Jerry Lee open up for Charlie Daniels Band at Soldier Field in Chicago when he was trashed. I had no idea who Charlie Daniels was, but I knew "Devil Went Down to Georgia," from The Muppets and radio. That started that idea.
The one good story is John Hartford. I saw him in the late '70s on Navy Pier in Chicago. I saw him late at night when my mom took a riverboat with my sister, and they came back and I had this balloon. I had all these pieces of string, and I made the balloon a system of skyscrapers and I'm watching John Hartford play solo and I was like, "Wow, I've seen bands all day, but this guy is playing solo and he's got a crowd, and the 3rd song he's like, "That's my biggest fan right there, that dude with the balloon, and it's as tall as the skyscrapers." I'm standing on the seat and I was like "YAY!" And it was like "wow!" Flash…to '97, I'm in my hometown, working 3rd shift, my dad calls me at 10 at night and says he's going to see John Hartford in Judson, and he's going to write an article on it. He asks me to go, I tell him I have to work. And anyway, there was a big thunderstorm. So, my dad was hanging out with John Hartford and I would have been like, "I was the dude with the balloon!" I could have been there, but I was stocking shelves like a dumbass, listening to songs in my '67 Nova, like a dumbass. My dad was like, "Oh, I gave him your tape, and John Hartford said, 'I will give that to my son.'" So John Hartford said he'd give my tape to his son who also played music and I was like, "Oh, what a weird coincidence" but I wasn't even there….but it was like, "Wow, John Hartford, balloon, '77, and all of the sudden he had my tape and my dad was talking to him. So weird. I have NO idea what you got out of ANY of this…. There was nothing talked about.
AF: You have released quite a bit of material. Is it mostly solo, or with other musicians? Tell me about some previous bands/combination projects or local musicians you've worked with.
Jethro: I was playing solo stuff, but I did "Thrashing Aliens" In '89. We were thrash, punk, skateboard music. I did vocals and keyboards. Here's a song, "Dick and Jane Kill a Frog" – (plays song) (fast, screaming, etc) I don't think I could get to any point musically without the help of my friends. You write a song, you show other people or incorporate it with crazy things like that. Jumping genres…before grunge, Beastie Boys is now out (1990). It was a lot easier to have people around you. You have to have subject matter, and it's either "Oh, what I did today," or "Oh my girlfriend," but when you have 12 crazy friends, it helps. It pulls all the nostalgia. It's hilarious. So hilarity was part of it….when did it get serious? Probably after '91, I was trying to be like Elvis Costello—a wordsmith. I am related to the Websters (holds up dictionary)! I needed a dictionary, a Bible, a newspaper, or a thesaurus…it was good to complicate the news of the day. It became more wordy and more interesting as time went on. But there had to be good melodies. It became, "Oh I can't write just 3 songs a day, I can write 10!" So you'd challenge yourself, and write 10. And then people would come over and then you'd write 6 more. I was encompassed. You go back to Bob (Dylan); I was collecting, through articles and stuff, you have to go back to Robert Johnson, Hank Williams, and some weird stuff--not what was topical at the time--you gotta find your roots, and then get off that. I grew up close to Chicago and I'd see street players as a kid, and that influenced me. I saw the Blues Brothers jump out of a bus once. Then I worked for Dan Ackroyd cooking at the House of Blues in New Orleans. So everything kind of comes to fruition.
AF: Collabs – anything you haven't done that you want to? Something you want to experiment with that you haven't? Something up your sleeves that you maybe want to fuck around more with?
Jethro: At first, when I came back from New Orleans and was a security guard at the Children's Museum, I thought I was done. I was basically babysitting kids. I found a buddy, a tattoo artist I went to school with, and I found him. That's how I wrote "Cult Status." I wanted to go crazy, go nuts, and we had this band called Jet Ryder Jynx – it was a tribute to all the rock and rollers who went down in a plane. So we were playing out at the Melody Inn in like 2000, then 9/11 happened, and we had to change our name (I laugh hysterically). And we're like, "Shit…this is for Buddy Holly, this is for Skynyrd….we are not gonna let the terrorists win!" And we had an ADHD guy on drums, and we killed The Melody Inn and some places; we rocked and did a great cd, and then I did some solo stuff, and kinda got more into the country. I thought I was moving to Nashville or something…but I started getting into country and writing my own country songs, instead of folk or blues. But something happened. Nuvo, when I came here in '99, they had like a corpse, and it said something like, "Music is dead" and I was like "Music is not fucking dead!" So I was like, "Let me wake these fuckers up." As a starting musician, you try to get in the mags, etc., you try to get promoted, and Nuvo was always a bitch to get in, but somehow, after I played 50 places, they started recognizing—and, this is only one of my awards (shows me an award) I had 7 and I gave them all away – I like this one because it's 2008 and it says "Best place to hear live acoustic."
So, I was like, "I have to be myself;" you just have to. I'd play every little gig; a church gig or a coffee house, then outskirts. I played every bum fuck town. Scary shit, rock and roll shit, the folk shit, and that's when Johnny (Ping) came in, and Cootie came in. First time I met Johnny it was like '99 or 2000 through Coot Crabtree at Living Room Lounge. He was playing with Cootie and Brad Odom and I heard a tape. So, Cootie is playing the tape and I'm like, "Who's that weird guy?" "That's Brad." "Who's the cool guy?" "That's Johnny." "Sounds like you might have something on this tape. Maybe I should have you guys come record in my basement." So Coot's like, "Ok…I'll come check you out." Cootie was so nervous playing, and Johnny showed up a couple weeks later and I talked to him, and he was pretty quiet, and I was like, "Hey, Cootie says you play….you wanna play tonight?" And he was like, "Oh no…I'm just checking stuff out." Me and Cootie were playing together---and those 2 were in a duet called "Folk Off." Cootie played mandolin. Johnny did come back and play. Their first couple of gigs they opened up for me, and I DO have recordings of that somewhere (I explode with excitement—YOU DO?! I HAVE to hear some of that! OMG!) So for collaborating, those were just guys that, at the time I thought they were pupils and cool to hang around, and fans of my tape. Johnny would make discs of my stuff and give me a copy. Johnny could play bass, mandolin, guitar, etc. Fun collabs…
AF: Speaking of Johnny, tell me about the Chicken Fist project. I may or may not have heard stories about this from him.
Jethro: Ok…that's probably like 2003. It was for a battle of the bands thing. We were challenged. I was playing this place called Ryan's Bar in Danville. I would rent Johnny's PA, and sometimes he'd sit in with me, and Shawna would too, and I'd play there often. They had a battle of the jam bands thing and we did it for that.
I was doing Jager bombs or something at the bar, and I had to drive home…a hundred stoplights…and I talked to the nice chick at the bar and she was like, "We're missing a couple of spots on the battle of the jam bands, and it's like a week away, can I throw you on there?" And I was like, "Ah, yeah, whatever…" Well, I gotta seal this down, it's a month away or so, so I talk to Johnny and say, "I don't have any drummers right now," and Johnny's like, "I got this drummer…Rich Jordan…and he knows this guy named James Bond…" (I laugh hysterically—"NO WAY. His name is NOT James Bond!") Jethro: It was! He was like 20 years old, and he was learning how to play drums. For some reason, we would meet at Jordan's house, and he was like, "We got this James Bond guy, he can play drums" And our bass player, he's dead now, he got hit by a semi and it decapitated him (says it nonchalantly) but we went to this house on the south side, smoked some weed, and we would get into jams. And I was like, "If this is gonna be a jam band, it's gonna be a Jethro jam band. We're not gonna be playing that bullshit. We might do like, 'Are you Experienced' or something…." So we'd slide my songs into "Are You Experienced," or "Feelin' Alright," or, we'll please the jam band…but we're not really that great…we sound like….bad Primus.
AF: Where did that name come from?
Jethro: Somehow we got into this argument about what our name was –and it was gonna be "JEB" Jethro Easyfields Band, but the more ridiculous we got, I was like, "Man, this is some chicken shit," and Johnny's like, "Chicken fist?!" (I laugh) This is terrible! And I have CDs of every session, and I made it into one cd…. And I went on the internet and looked for an image for chicken fist, I found this cartoon of this hand, going like this, with a chicken leg, and it's fucking hilarious, and I put chicken fist in blood…(I'm laughing uncontrollably at this point) so I made a cd. So we did the battle of the bands, and I think we were the first band to play. And so James Bond is like, learning drums, and we'd do these 10-20 minute jams…but we couldn't do that. We could only play like 20 minutes. I think Acoustic Flier won and we were like 4th. We opened up with my song "Honey Bee," then we went into like, "Feelin' Alright," but James Bond was NOT supposed to have whiskey, and he started drinking whiskey. (laughter) He started drinking whiskey at the beginning of the set, so the end of the set kind of got into a swirl wind…and my Chicken Fist compilation, which is in this stack somewhere, ends with that, and it is pretty hilarious. But the other stuff we did after those sessions---and actually that house got raided for drugs after we left (more laughter)—so a lot of shit happens---then Johnny used him in his accidental arrangements (James Bond) at Camp Atterbury and James was traaaaaaaaaashed, and he was doing Accidental Arrangements and Midwest Contraband, James kinda just couldn't get it, and he's like slamming whiskey, and MWC is on, and we're talking amphitheater, 150 people, but John Jett smashed his finger, lost his dog, (laugh) all kindsa weird shit happened… And the 2nd band comes on and James Bond couldn't play at ALL. The lights are going, and Johnny's like, "No, you're outta here, dude." (Laughs) and so James Bond starts throwing his drums around….
AF: December 14th, Thompson House Odomfestivus/Mancave – are these the last Jethro shows? Why are you "retiring" the Jethro name?
Jethro: At Thompson House show I'm playing with Scott Kern and Johnny; they know my songs. I'm just retiring the name. I said in August that I have a number of shows this year as Jethro, and these songs will be played at these shows; enjoy it for what it is, but surprise, there will be a new music, and a new name. Like, 12 people have said, "There's a rumor that you aren't going to be playing anymore…" I'm just not going to be "Jethro" anymore. I have a full catalog. Jethro will be archived. This is the last new album. That style of music, I'll play it at home or on the porch, but…I can't get out of town. I got this little girl; I can't really have band rehearsals now. I'll be Moses Redwing and do a children's album next year. I'll probably dress in red and cut all my hair off and keep the red glasses. Maybe I was getting better musically, I don't know.
AF: Inner State is a perfect album all the way through. There's no songs to skip. It's the best thing I've heard in a long time. It's in my 2019 top 3 best albums.
Jethro: It's "ok". It's top 10 I guess. I had to make it real. I do that every album… It's a bookend. A new life is starting. I don't have to change Jethro's ways; Jethro can kick bottles of whiskey around you and trip and all that 30 years ago; not anymore; just to mess with their minds. Tell them that you are gonna leave…they pay attention. It sounds more sad than it is. I'm full in that character. When it's debatable and it brings emotions up, it's better than dying. You'd rather leave as a sinner than as a saint. Change people's minds. This gets their honest feelings about you out. They are getting a new part, or Lucy (His daughter) is getting a new part. The idea is that, I was thinking that would be the best; I'm not retiring, just doing new music. It's like changing bands.
AF: Some highlights from your music career? Low lights? Favorite memories? Memorable shows, good or bad?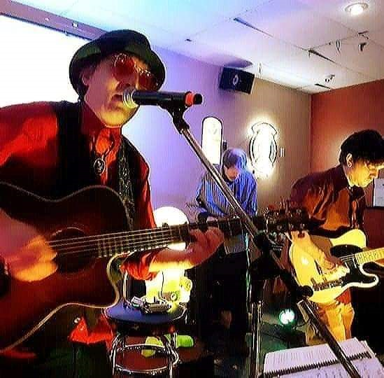 Jethro: There are a bunch of flyers here…. Here's 1991…. Not only did I change my name, but I misspelled it. (Me cackling hysterically) I was so dyslexic…I also said that I came from the Black Hills of Dakota.
AF: Best show, worst show, and why.
Jethro: When this started, I was like, playing in the basements of bars. I think we had a smart idea….we were doing a longer set…. I had Slinky Jynx on the bass…I thought, "How can we get people's attention?" So we brought gifts…stupid little gifts. So we thought we'd give balloons…not blown up…stupid idea. Don't ever give balloons. Don't ever do that. It just turns into madness. One of the shows where I first got paid, I was working at a flower shop, and it was Thanksgiving night or Valentine's Day. So I had all these extra roses and carnations and I put them on the stage, in Fort Wayne, and I gave roses to every girl, and carnations to boys….and I just raged. I got blitzed. I had a great show, probably because I was getting a check for the first time. So I was giving out roses, and then they threw the roses back at me and pelted me. That was a great show.
AF: Tell me the worst show.
Jethro: There's so many worst shows.
AF: THE worst…
Jethro: When you play solo, you get a lot of those weird gigs…but you figure out your DeNiro. "I'm getting paid tonight regardless" One of the worst, I mean it was ok, but I was really hyped because of Cootie's band in Bedford Indiana…so, I'm gonna get married in 2005 at the Country Music Hall of Fame by the Reverend Peyton. At this time, I used to play at Zydeco's, and I went on my honeymoon and I'm drinking whiskey…and I've got to get on a bus and a plane and go play a show with Cootie. So I get home and get picked up, and I'm like, "Shit, I gotta go to Bedford." Then I get a call from the lady at Zydeco's saying "Hey you're supposed to be here, you're supposed to play," and I'm getting bitched at on the phone and I'm like, "No, I told you I was going to New Orleans, I told you two weeks ago." So, we're going to the Bedford show and we've got John Jett doing sound, Johnny Ping, and Cootie, and some Bloomington guys. We had Townes Van Zant songs, we had Johnny Cash songs, and we had Cabin Bruce first, and everybody paid $8 bucks to get in this nice little decent bar with 2 rooms and a nice big stage. I have jet lag. I'm playing electric in Cootie's band, like, lead guitar player, on my Chuck Berry guitar, so I'm ready to go. John Jett was having problems with the sound, and it was supposed to start at 9:00, but it's like 10:20 and we just couldn't get shit going, and these bitches come up from the neighborhood, and are like "Are you gonna play!?" And we're like, "Oh yeah, Cabin Bruce is up first…" so it got started, people were complaining; they had a stripper cage and stuff. What was hilarious is that it was pretty good at the time; I have recordings somewhere. We were choking on some Townes Van Zant song, and nobody knew it. Like 6 people came up and were like, "We don't know this fucking song!" We were jamming like country mafia, and the 2nd song these women started complaining, "Are you gonna play something we know?" Coot's like, "Just stick around, darlin'." It was funny because Johnny doesn't get mad quickly…but after 2 songs these women got all mad and started bitching, "We don't know this song and we paid 8 dollars!" Within 20 minutes they were calling us motherfuckers, etc. I started doing crazy stuff, and it started getting really weird…and we had about 20 people or so, but these women just kept coming back. It was getting raw by the end of the 45-minute set and Cootie was getting nervous, but I was like, "We are getting paid. I'll play something they know." They start coming up and are like, "Ok I know this song!" and got up on the stripper pole and are doing their lesbian dance…I get done, they're happy. Then the minute the band started, they hated us. They were getting on the stage. They were trying to infiltrate us…and Johnny is like, "I gotta stand back." They hated Cootie and Johnny and me, and they got on the stage, then one of the girls' boyfriend was gonna beat my ass 'cause I wasn't playing right. I was ok solo, but with the band apparently, I wasn't "playing right." I went to try to get a beer, and couldn't get a beer, and I got so mad and jetlagged that I went behind the stage and just pissed all over the wall…"FUCK THIS PLACE!" They were getting really hot and heavy on us…I just went punk rock and said fuck it, you know?" I don't deserve this uncoolness when I thought we were cool. Those bitches went outside and got laid or smoked some meth or something and then they were suddenly all nice, but everyone else was on edge. And Johnny and Cootie were all like, "We gotta get our shit outta here. We gotta go." Some people were going to beat our ass over 8 bucks and we started late and they didn't like our songs…and I was like, "It's cool…I'll take my shit out." And Cootie was like, "We got security to walk us out," so we had to get walked out by security, and paid… because some rednecks were going to beat our ass. Was it the worst? I don't know, I mean, we still got paid. It was just…unnecessary. THEN we get back to Cootie's house, and our mandolin player is shitty that he wasn't at the show and left 7 messages of just Don Rickles shit on the phone and me Johnny and Cootie were laughing. There was some dude on heroin, and you know, it was just…a weird ending. It's like 5 in the morning, and I'm talking to Johnny, he's laying on the floor…. And he's like "Go to bed," and I'm like, "Isn't this some crazy shit?! It's like, "We were prepared!" You can't please everybody. Live…Melody, or in bars, it's like you're still –away from the audience but the audience has their own story and you have your own story.
Another time, after going through some different phases, coming back to my hometown, there used to be a car place. It was this really cool like catering place or some nice place, so—I was unamplified and I was playing solo; some relatives were there, telling stories, everybody clapped, 40 people were there, everybody listened to every word. I think that happened to me in Phoenix one time. Stories, stomping, --some guy who knows my godmother, and I feel more cowboy than ever. Now there's an electrical storm and I gotta leave; it was really odd. Or opening up for Blind Melon and Blind Melon didn't show up. Soup, their last album…Shannon Hoon was pretty much dying. The band showed up and drank a beer—they're supposed to play acoustic. I was in this punk rock bar that turned into something else. So I was opening up, and Shannon was too fucked up to show up, and the rest of them drank a beer and watched me and apologized. This was at Decatur Street. I never got to meet Shannon; he was too fucked up. I talked to Pauly Shore for a bit, but yeah. Those guys all showed up and said they were going to play an acoustic set without him. Then he died shortly after. Even if he showed up fucked up, it would have been awesome. That was a terrible show because I was supposed to get to open for Blind Melon, and I didn't, because Shannon was trashed, and then he died.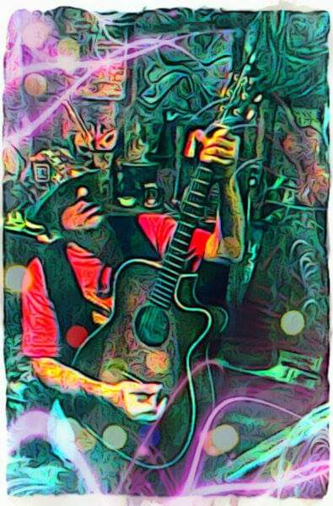 AF: What was the first thing you ever recorded? Tell me about that experience. What did you learn?
Jethro: It was the early 80's. This dude (shows me something)
AF: Can I take a picture of this? (Thank god I did, because I have no recollection of this point in the interview.)
Jethro: So I guess here it would be. Something I recorded in '85 (A rooster crows in the background and I honestly do not comprehend whether it is on a recording, or somewhere outside.) "Little Birdy in the Sky." I was into Prince at the time. A shaker, a couple of keyboards, bass, a couple of voices…I was like 14. I was into Phil Collins at the time (he laughs) (I take a call from my daughter Lucy—Interesting fact: Jethro and I both have daughters named Lucy—I keep talking to my Lucy as 14-year-old Jethro's "Little Birdy In The Sky plays in the background and Jethro goes out to smoke; it actually sounds very good. I hang up the phone and see a photo I took of me with Jethro at some point during this interview and I gasp and say, "Wow! That's actually a really good picture!" Jethro laughs; "I look like a homeless guy.") So yeah, this was the first thing recorded, and it was pretty amazing in the 80's that we had so many electronics that were manipulated. I plugged headphones into the mics and found out that headphones work like a mic, but opposite, so I break off one headphone, and only one would work, and I'd use the headphone as a mic; I didn't have to buy a mic. All of this was recorded with headphones as mics. That's weird. But when you're a kid, you don't know; there's a lot of experimentation. There was a great jam box that recorded in stereo… But I think the most primal, in the late '80s and early '90s there were tapes. You'd make tapes for your friends, and then those friends would bootleg your tapes and pass it around, and it became like a shared like, "Oh here's Jethro's new songs," or whatever I was called at the time. There's be like, hoodlums that would have your tape and we'd drink at the cemetery across the street from college….wow, that sounds bad….but, yeah. So those tapes were nuclei, but the first primal album I guess would be, before I went to New Orleans, I made a 4 track and a demo, called "Under a Green Roof," which was at this old apartment building. These were some of my best songs at the time and that tape helped me to get to New Orleans and introduce songs to a band, that was introduced to me by my friend John Wayne Pastor, who had worked with a lot of interesting people like Robbie Robertson and Dr. John and Leon Russell and more. He's from Southwestern Louisiana where Graceland was recorded, Lennie Kravitz recorded there. But we went to the Bayou Vermillion and met him at a restaurant and we walked to his place. (Jethro's daughter Lucy bursts through the door at this point to give us fruit snacks.) Dockside Studios on Maurice, Louisiana, we tried out some people; hired guns and also people just visiting, but the ones that we settled with had played with like, Jerry Lee Lewis, or jazz musicians. On The Horizon is the name of the album. It's a full band and we recorded 8 songs in one night, and 2 songs the next day. Even Springsteen had recorded here. I was in good company. That was the first one I released printed and sent out and digested, as Jethro. So, I put "On the Horizon" as a pinnacle in '95. There's a lot of good stories from that album, and it does sound powerful. This was during the Nirvana years, but I was playing roots rock, or Tex Mex, or rockabilly or blues mixed together. So, I wouldn't say it wasn't the popular thing, because Americana was coming up at that time, and I would listen to CCR a lot, and the guitar player I had, Jeff Schmeckpepper, he used to play in the streets, he had been a sound man in Texas and had done sound for Stevie Ray Vaughn, so he had that sound, too, and that was my guitar player. That's a good one. On the Horizon in 1995. Actually, that name comes from the middle school paper I used to write for. It came out on tape originally, but I eventually put it out on CD. I actually went and bought one; I wanted a receipt that I had actually bought my own album. That's a pinnacle one. Down the line, there's a lot of Indianapolis stuff from 1999-2006, really rootsy, and more folk-alternative stuff and experimentation. There is another raw album called "Raw Grass" with me and Sleepy Steve that is more of a trancy and folky album and it sold a lot of copies. In 2006 I went to New Orleans again after Katrina that became "Po' Boy Chronicles" and that got out more digitally, so that was a pinnacle, too. It was a dump of 3 months of writing and coming back. There are some good ones in the last 10 years. I'd say, "Bloodletting," "Elixir," I'd probably pick "Bloodletting" as one of the best because the sound had changed. It's deeper and mature and emotional. It's adventurous. It uses the tricks I learned 20 years before, all in one. The new album (Inner State) would probably be a pinnacle, too, because it's a good bookend to all this other stuff. So, the exploration to getting to this new one, which technically I wanted to be a last "new" Jethro album, but there's plenty of stuff to put out digitally that's interesting, like live shows, or not used. But new stuff will be like, part of a band, or techno, or avant-garde; something. Just a different adventure or a different galaxy. This new album, it's fine, I mean, it stands up. Never say never again, but it's fine for me; let's move on.
AF: So, do you have a favorite or one that is more significant to you than others?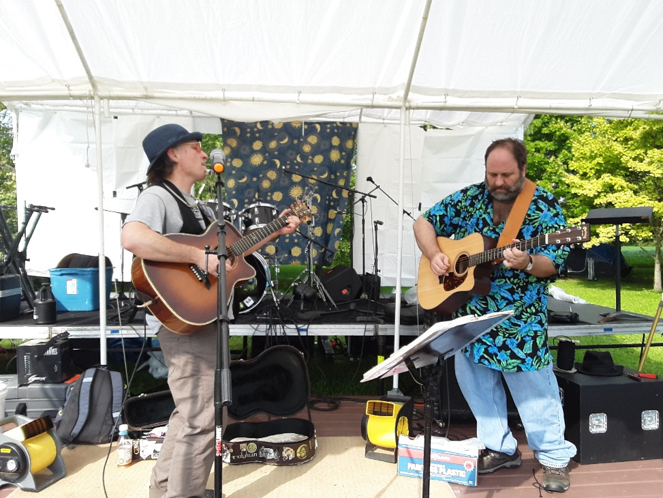 Jethro: I just named some of the top 5 or so, but I guess "Bloodletting" is one that has got a lot of the bells and whistles up to that point. Where you can change the vocals and the dynamics and the drama, that would be a double album if it was on record. Every album I've sequenced all my life has been like, 'that's A-side, that's B-side,' it breaks up really nicely if it was on 4 sides. That one speaks a lot to me because it has autobiographical, bio-fiction, depth, likeness, darkness, pop, and it has everything I always wanted to play in my head that I could do. Some of those songs I sound older than I was; not on purpose, but I'd sing at a lower register instead of trying to be that coyote Jethro; there's some of that on there. There's some of that Wolf Jethro, but a deeper like, Leonard Cohen type of feel. More swampy magical space feel. Me and Scott Kern had done "Elixir," "Bloodletting," "Secret Weapon," and this new one (Inner State), that one we had gotten bigger. He used to use 20 tracks, now he's using 48 tracks. More bells and whistles. Felix, who played fiddle, 10 years ago, is now on again and it's a nice branch.
AF: What about specific songs? Are there some that stand out or are sentimental or mean more to you than others?
Jethro: *Sigh. Well, I mean, yeah. If you look at ones that mean more to others, there are some. There are a couple of ways to look at it. What people like; what people cover, as opposed to what you like. If I went with what people like, that people have covered, like Coot Crabtree doing, "Don't Blame Your Baby On Me," and Kilgore Trout doing, "Cult Status," or Johnny Ping doing, "Beware the Devil," they liked those songs immediately when they heard them and half of those songs were written in 15 minutes. So that's interesting how they liked those, but I have more sophisticated ones that are more complicated. More mysterious, that I think are the best songs. It's hard to name all those titles. They change all the time. In 1992 I was on this documentary of 3 artists in Fort Wayne and my friend Mad Anthony Max asked me, "How many songs have you written at this point?" I said, "753." (*I freak out again) Even if it is a 2-minute song about writing like, "anarchy, parakeet, anarchy parakeet," Then, that's a song, because there are like 6 people banging on shit recording with me, so that's a song. And there's stuff between that. From 2011 to 2018 I put down 800 recordings. Probably 3 or 4 hundred or more in that time period that are either very stupid, or very good, or rock-solid, or barely there. You can count them now that they are digital. I also tried to do all my best songs for 200. When I got up to a point where I had to put everything on a backup hard drive and stuff, the only things that saved me when everything else broke is that I made 25 CDs called "Diversions," 1-25, that I put all that stuff. So, "Jethro" means preeminence, abundance. The girl who gave me that name; most people think it's hillbilly or Jethro Tull or something, but no. It actually means preeminence and abundance.
AF: So, how many songs do you think it is now if it was THAT many in the '90s? Guesstimate number? That is crazy….
Jethro: Probably 4,000.
AF: HOLY SHIT THAT IS ASTOUNDING!!!!!!!!!!
Jethro: Well, It's like a diary. If you did 3 pages a day.
AF: What has helped you grow as a musician other than practicing and experience? What would you tell young musicians who want to embark on a life in music? Tips, tricks, advice? Warnings?
Jethro: As a musician, it occupies the time that you would probably waste, so it's good to be a musician, or a carpenter or a plumber or whatever. Whatever craft you have, be it guitar or …so much exploration. (Me: Should I move? Do you want to sit down? Jethro: No. I never sit down.) Yeah, it's an exploration. It occupies your time. Now, writing is your strongest point. Whether you're writing your licks or writing your lyrics; it's very a strong point to write…freehand. If you wanna tighten up a song and type it out, you gotta do it freehand. There's something about freehand and your own language, that you've been influenced with, and the language that you create, you find out things about yourself and that continues on in the songwriting process of knowing the premonitions of things. Songwriting is premonitions, and it's also finality, and you get a little bit of both. Songs come true; songs turn into real life, or real-life turns into songs. You gotta have that output. If you just wanna play Stairway to Heaven, go ahead and do it, but play Heaven to Stairway. Do something different; do something composite of your thoughts and your emotions. You'll feel better later on after your failures and successes that a strong mind in songwriting entails a strong person. The writing documenting it and it is your diary, but you are also predicting your future and talking about the past all in one. That's what songwriting musicians do. They are always predicting things or seeing things people haven't seen. It's air. Music is air. It just comes out and it changes your mind and puts you in a different place. So the power of that is a lot different from other religions; you can't express yourself unless it is in writing and it should be recorded and documented and you feel better about yourself. And then you actually get to look back, whether it's a year or 10 years, about your songs and say, "Woah, that was the place I was in at that time, and I can still play that song, and I can still feel that way, but I can also write something completely different."
AF: Venues….Indy music scene…. Stories from a "veteran" and someone who has probably been everywhere and done everything and has seen the Indy music scene over the years. Talk to me about that kind of thing: Did you run an open mic at one point, at like, Locals Only, or somewhere?
Jethro: Yeah, Locals Only. For 6 or 7 years, behind The Mousetrap. Clientele from northside, southside, it was----downtown doesn't really have that kind of hubbub. That was a hubbub to bring all the weird people in one place. We didn't have ASCAP and BMI so original music was forced and drunk people that played cover songs got thrown off, and people would want to beat my ass. Just because I was like, "You are playing 'Wonderful Tonight,' and you're playing really bad, so you gotta go. (I laugh hysterically like a hyena on crack). All those places are interesting, and you have different experiences every show, things are planned; some things go awry, but I don't think I can pick …I mean I like the Melody for my singing, or my playing there; I mean I feel comfortable there, but I played there in 98, or 99, before Dave and Rob had it, so I see a different light, but it's always cool and a good time. It's not always about the money. (I go on a lovefest gush about The Mel for like, an hour)
AF: Ok, let me do my last questions…
Jethro: I don't know how you are going to get an article out of this crap.
AF: It's gonna be hard, but I can do magical things.
AF: Talk about your recent album, "Inner State."
Jethro: Last Jethro proper. Made it partially in New Orleans, and partially at Johnny Pings' shop. I took a train from Chicago to New Orleans and it crashed; an abandoned car was left on the tracks a couple hours south of Chicago. I was like 12 cars back. It shut down, and they had to cut the grill of the train. That was a great start. I missed a gig that I could have played. I wrote a couple of songs while I was there. There's one called "For Fuck's Sake" and I didn't include it. I wanted to keep more personal. We recorded at a place where the Beatles once stayed in 1965, the Fountainbleu Hotel. The songs that I picked for "Inner State," which was called "Inner State of Mind" at first before I chopped it. I was gonna do an early song I wrote in '86 called "Inner State of Mind" but I didn't want to end it that way. So there were a lot of ideas. But "Loserman" was the one that my producer and the bass player loved; their favorite song. But yeah, most all my favorite players are on this album. I felt it was a redeeming album. I could die tomorrow and it's all good. But there's so much more. But yeah, I don't want to be Cheerios anymore; I want to be Cocoa Puffs. Also, it makes people wake up and rewind their minds. I'm not turning into a "LEGACY ACT."
AF: I didn't touch much on your New Orleans and Phoenix days….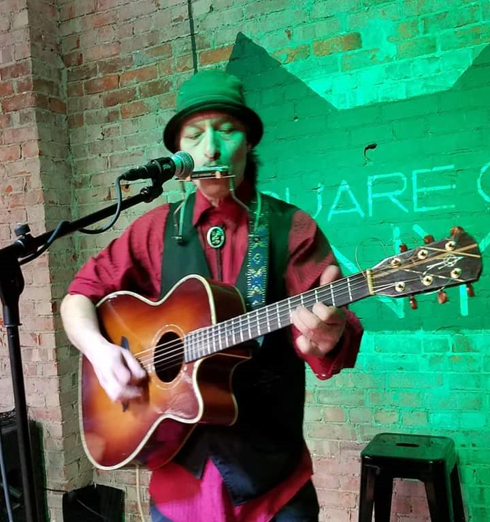 Jethro: It's a whole different chapter. It's like 6 or 7 years. The push and pull of your 20's. Phoenix was eye-opening because there was a lot of music that was eye-opening. It was fucking hot. This was 2004. Good western book and library collection, and they had good cowboy collection. I was learning pop songs. Anything from Killing Me Softly to, "Fire and Rain: (my own different version) to "Yesterday." I did my own version of that. I came out with all this knowledge.
AF: What are you going to do with yourself now that you aren't making new Jethro albums?
Jethro: That's a fair question. Plenty of music; plenty of music to continue on. I am gonna be Moses Redwing and I am gonna do a children's album. I have good kid songs that are funny, and actually adult kids songs, like Ren and Stimpy, but I also have the keyboard finesse…I'd rather be somebody playing in a band. I don't care; I'll back ya up, or I'll play keyboards. Jethro will fade out…
Jethro is part of the soul. I was somebody before Jethro, and I was somebody before THAT guy. I was somebody after. The thing is, I'm not doing Ghostbusters again, or I'm not doing Star Wars again, it's like, it's the rise of Easyfields. It's the ending. The whole idea at the beginning was because I like avant-garde music, and I figure I can do avant-garde music and have dementia and it would still make sense. That was the first excuse, and it still makes sense, but I do want to like, freak people out. I'm like Bozo the Clown. That guy is gone. 2020 I will look different. I will act different; I will talk different. Yeah, it's over, and it's ok. It's better to reinvent. We get used to characters like Bozo or Gumby or Spongebob and they are always the same dude…well I'm a different dude now and it's time to be a different dude.
AF: So, what does a different dude mean to you?
Jethro: It's a peaceful experiment. It's not Gospel, but it makes more sense to lower the bar and make sure that I don't go to bars (laughter); it's all art. It could be something different; you have to change. Jethro isn't gone. Come over to the house, and oh, here's a Jethro song. I'm just not taking him to the bar or the stage. I wanna be Brando, or Brian Wilson and fall out. Call me Brian Wilson, but I want to be hanging out in the bed, but it's ok, I'm out of the bed because I have things to do. It's interesting, but I thought I did it on purpose because I thought this latest album was good. (Me: It was!) But nobody is going to pay attention to it….I just give them away, like treats. It's also a gemstone to the next thing. I created this situation; can I leave it? It's an idea. It's like, I feel different now. I am continuing with the archives of Jethro. I love those songs, and what I'm finding in the last 2 years, I am finding songs I forgot about; accidental songs, so, it's all good.
-End of Interview-
There's no shortage of important and knowledgeable/musical people who have plenty to say about Jethro.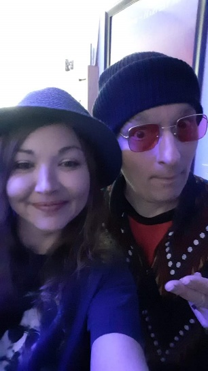 When I told Darrin (Snider) at Indy In-Tune that I was interviewing Jethro Easyfields, he said, "Jethro has been a 4-time guest on Indy In-Tune Radio podcast--he even used hand puppets once--a part of our Radiothon, Songwriter Round, as well as played a full concert in studio B with a beer case on his head. He is by far my favorite local music personality. Dude is a legend, and an amazing human, and I love him. Everything he says is art. I will never forget the time at Locals Only when he said, 'I saw the face of Lincoln, so I decided to buy a new hat.' I have a theory that you steal 5% of his coolness every time you take a selfie with him." (I tested this by taking a selfie with Jethro, but I, unfortunately, was unable to steal any of his coolness for myself)
Johnny Ping, owner of Ping's Music, member of Midwest Contraband, and phenomenal musician and human, awarded Jethro a Lifetime Achievement award at The Thompson House in December, and when I asked him about why he felt the need to present the award he had this to say: "I decided to give Jethro the Lifetime Achievement Award recognition as a matter of my standards being impressed, as a peer and a friend who understands the depth to which he has approached his craft. Not only is Jethro prolific and inspired, he is also earnest in pursuing his interests. His passion for moving forward has always been honest and without compromise. All of this, over the period of the time I have personally known him, in addition to the challenges that we all face, Jethro has not wavered. At the age of 50 years young, I can think of no reason to delay recognition of the artistic achievement he has so far endeavored. It is a milestone; not the end of the line. When we met years ago, Jethro helped me continue to see the value in being independent, and being a leader. Frankly, If we all sat around waiting for recognition from an organized body that never experienced our art, then we would end up disappointed and empty-handed. Instead, we create our art without regard of the gaze of others, allowing it to exist for our own satisfaction first, and with the hope of sharing it with others as a secondary function. I'm not sure who else is in a vantage point to affirm the noble artistic efforts of Jethro Easyfields, so I took this opportunity to share my observations and admiration publicly and to Jethro personally. I share this opinion in all sincerity, and the body of work that Jethro Easyfields has put forth so far in this journey is remarkable and worthy of your attention." – Johnny Ping
Jethro Easyfields has been playing music in Indianapolis and beyond for over 30 years. His style is singer/songwriter Dylan-esque meets Neil Young meets Hank Williams meets punk rock meets Elvis Costello. His harmonica playing is exquisite and his lyrics are clever and thought-provoking. He's a bluesy Americana singer-songwriter with a bit of twang. He's an exceptionally entertaining performer with great stage presence who is genuine, one of a kind, and infectiously fun to watch.
In my many years of music writing, I have never experienced a more thought-provoking and intriguing interview. What was originally planned to be a 2-hour question/answer format, turned into a 4-hour conversation that felt like 20 minutes, and I am honored to have had the opportunity. Please check out Jethro's extensive catalog at the links below. This is an artist who has truly put in the work, the time, the effort, and the creativity to warrant your attention. It is not at all surprising that he won the first-ever Ping's Music Lifetime Achievement Award. Never has something been so deserved. Please investigate for yourself. His music is timeless; believe me. You won't be sorry.
Previous Indy In-Tune Appearances: Show 054 | Show 126 | Show 254
Bandcamp: https://jethroeasyfields.bandcamp.com/
Reverbnation: https://www.reverbnation.com/jethroeasyfields
Musicalfamilytree: http://musicalfamilytree.com/band/jethro_easyfields
YouTube with The Arrowheads in 2009: https://youtu.be/0av_WZZRgKU
---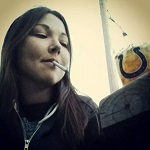 Amy Foxworthy is a writer, activist, music junkie, and professional hell-raiser. There is probably no truth to any other rumors you may have heard about her.
Blog comments powered by

Disqus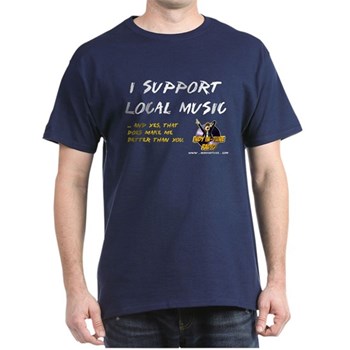 Back by popular demand for a limited time only, "I support local music ... and yes, that does make me better than you." Show the world that you, too, are a proud elitist music snob! Get yours before time runs out...
Solicitations and Submissions
Solicitations for blog posts can be made by sending and email to "blog -at- indyintune -dot- com" and should follow these guidelines:
Local (Indianapolis-based) acts always have priority.
Visisting acts playing a bill with one or more local acts are also considered.
We generally don't like to repeat content found on other sites. If your request already has a lot of coverage on other sites, it will be considered low-priority unless you can give us an exclusive angle.
For obvious reasons, we don't do solicited album reviews, though we do appreciate you letting us know when you have a new release. Consider coming in and talking about the album yourself live on the air or a podcast.
All of our staff writers are unpaid enthusiasts. All requests for blog posts are entirely at their descretion.
As such, they generally need a lot of lead-time to put something out -- we're talking weeks of lead time, not hours.
That said, individual authors have full authority to ignore the following guidelines and write whatever they want ... if you can convince them to.
In addition, feel free to write your own post and submit it for posting as a "guest blogger." Those almost always get accepted.
Finally, regional or national acts submitting without meeting the above guidelines are generally ignored. We're not trying to be dicks, but if you send us a generic form-letter with your press release, and it doesn't even remotely concern a local artist or event, then you're not part of our core focus.