M.O.R. Episode 3 -- Michael Dryburgh
By: Ben Cannon, Bram Epstein, and Darrin Snider
Sunday, June 6, 2021
---
M.O.R. Episode 2 -- Ian Thomson
By: Ben Cannon, Bram Epstein, and Darrin Snider
Sunday, May 23, 2021
---
M.O.R. Episode 1 -- Mark Kelly
By: Ben Cannon, Bram Epstein, and Darrin Snider
Sunday, May 16, 2021
---
An In-Snide Look: I Think I Could Get Used to this Life Sometimes
By: Darrin Snider
Sunday, June 7, 2020
---
Getting Down to Earth with mOOnMen
By: Amy Foxworthy
Sunday, February 16, 2020
---
The Musical Journey of Jethro Easyfields
By: Amy Foxworthy
Tuesday, February 11, 2020
---
Monday Mixtape: Etwasprog
By: Darrin Snider
Monday, February 10, 2020
---
Monday Mixtape: Excerpts from the Summer of 2014
By: Darrin Snider
Monday, January 20, 2020
---
Mix Tape Monday: Mashin' it Up
By: Darrin Snider
Monday, January 13, 2020
---
Mix Tape Monday: Back to the Gym Workout
By: Darrin Snider
Monday, January 6, 2020
Gettin' Buck Wild with Russ Baum and Huck Finn; Album Release Party
By: Amy Foxworthy (foxy at indyintune dot com)
Monday, October 6, 2014 6:00:00 PM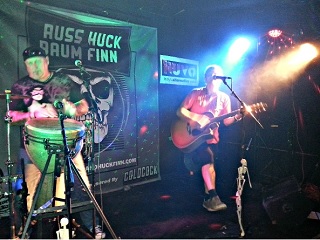 Regardless what type of music you like, I wholeheartedly encourage checking out this band live when you have the chance. They are intuitive performers who seem to genuinely care about their fans and whether they are having the most fun that they can possibly have. I had a chance to see the band play live at the Blind Pig in Greenwood last Wednesday night. It was their release party for their new album, Fricke. Seeing this show boosted my faith in the local music FAN again. It was heartwarming to see a place packed wall-to-wall in support of their favorite local band. Guests were buying cds, they were dancing, they were singing along, and they looked like they were literally having the best damn time they could possibly be having at that moment. Russ Baum and Huck Finn create a true connection with their already existing fans, and quickly infect new potential fans with their charm, charisma and passion for what they do. Huck Finn is one talented dude with some percussion; his beats drive people to the dance floor almost involuntarily, as if they are under a spell the rhythm has cast upon them. You remember that dinner scene in Beetlejuice, where everyone at the table involuntarily starts dancing and its hilarious and awesome? I think Huck Finns magic drums do that, and all of the sudden you look up and there are like 40 people gettin down on the dance floor, expressing themselves in a way that shows that right then, to them, nothing else matters or is going on, other than the good feeling and energy that they are getting from this song.
Russ Baum is just made for the stage. His energy level is somewhat alarming, as it just doesnt seem that someone can do so much--almost cardio--.while performing, and have such.stamina. This dude must be like, running laps and doing cardio on the daily to be able to do what he does physically over the course of a show. I bet he sweats like 11 gallons per set. but its rhythmic and somewhat hypnotic if you start watching him while youre swaying with the (badass) beat the band is mesmerizing at times; whether theyre playing something stylistically youd normally listen to or not, they grab you, pull you in, and force their music on you and make you like it and ask for more. They are.infectious. Like Ebola, but less deadly.and it doesnt take direct contact with any bodily fluids to be afflicted.
Their energy level is respectable. They often go straight from one song into another with little to no room for rest or a break or a breath. They utilize all the factors necessary for a popular/catchy song: At times there is hand clapping from the audience, there is whistling, there are falsettos, there is a cappella, there are whooos and oooohs and yeahs; but they never come off as cheesy, maintaining an impressive balance of catchy and sincere.
>They played their entire new 11-song album, Fricke and several old crowd favorites as well. It was a very well rounded set, as far as the balance between upbeat, good-time songs, and more in depth, emotional and mellower tracks. They seem to do very well when it comes to the planning of their set list. Their music makes me feel like Im at a campfire on a beach at a chill party around 11:30 pm. Theres various forms of booze there, happy people of all ages, dancing and singing.it smells like summer; sweat, salt, booze, happiness
One of my favorite moments of the evening was when the band covered one of my favorite Beatles songs, Ive Just Seen a Face, from the Help! album; and, not to be forgotten, a totally decent cover of Friend of the Devil by the Grateful Dead.
Watching the band live, one is left without a single shred of doubt that these two love what they are doing and it means the world to them. That is endearing; kind of made me like them even more. Seeing a band that is so humble; so grateful to their fans, interactive with their fans, engaging with their fans; their on-stage attitude, down to their excellent delivery and talent with their respective instruments. Overall, I had no idea what to expect when I decided to check this show out; I went into this blindly, and I left impressed and wanting to hear and see more of these guys. It is easy to see why Russ Baum and Huck Finn were the winners of NUVO's Best OVERALL Local Artist/Group category. I recommend checking them out. I give their new album 4 out of 5 foxys.
I threw a few rapid fire questions at Russ and Huck; they didn't crack under the intense pressure whatsoever and they handled the entire abuse session like champs, if I do say so myself.
Indy IN-Tune: Whats the weirdest or worst job you ever had?
Russ- Greys Cafeteria as a dish boy... NO FUN!
Huck - Running audio at a funeral home and coming across a dead body.
IIT: What superhero would you be and why, or, what superpower would you most like to have and why?
Russ - I'd love to have the power to blast people with happiness.. no sad faces!
Huck - the power to be invisible because I don't like to get caught.
IIT: First gig?
Russ/Huck: Our first gig as an act was at Whits Inn in Whiteland, IN.
IIT: Ideal gig?
Russ/Huck: If we're going to dream why not Bonaroo, Madison Square, Wimbley Stadium, Red Rocks and why not sell out an aircraft carrier in the mid Atlantic? All with fireworks please, snakes and sparklers.
IIT: Someone you'd love to work with but haven't? Famous or not, dead or alive...
Russ - Billy Joe Armstrong of Green Day would be a dream come true.
Huck - Ray Charles, Paul McCartney or Elton John; any of the greats so we could learn to be one of the greats.
IIT: Something you know about a bandmate you wish you didn't
Russ - Hucks deep love for breast milk.
Huck - Nothing I'm disgusted by, but his 3 second attention span is tough to deal with sometimes.
IIT: Who would play your band in a movie?
Russ/Huck: Vince Vaughn and Owen Wilson
IIT: Tell me the personalities compare/contrast of your band:
Russ is the dreamer, Huck is the realist. That's why the act works. We compromise by respecting each others thoughts and opinions for the better of the act.
IIT: If your band had a royal rumble, who would come out on top?
Huck.... he's much bigger.
IIT: Social media pet peeve?
Russ: People bitching about social media by getting on social media to bitch about it.
IIT: First concert you ever saw?
Russ - New Kids on the Block.
Huck - Rush w/ Aerosmith
IIT: Favorite song to cover?
Russ/Huck: "New Shoes" by Paolo Nutini
IIT: Have you ever been naked in public?
Russ - OF COURSE!
Huck - without hesitation, yes!
IIT: What's on your screensaver/wallpaper.
Russ -Thin Jim Danglebones wearing a wig
Huck - My children
IIT: What is your spirit animal -
Russ/Huck: We're both a couple of wolves.
IIT: Celebrity crush?
Huck -Halle Berry
Russ - I've always been a Carmen Elektra fan!
IIT: Who do you turn fanboy over?
Russ - Green Day
Huck - Government Mule
IIT: What's your goal with this band? Where do you want to go?
Russ/Huck: The goal is to become a household product and to the top!
IIT: Favorite song on the new album?
Russ - So Far from Home
Huck - The Lonely
IIT: Inspiration for writing these tracks?
Russ - Life is the easy answer but truth is these songs are a diary. It usually happens during a heightened event be it sad, happy, love or anger. When something is changing in my life and I don't quite understand it I turn to music. I sit and express my feelings until I start see what I'm feeling come out into words which in turn brings me to grip with my situation. People learn in different ways and this is how I learn what my reality actually is.
Watch for upcoming show dates here and be sure to check these guys out!
---

Russ Baum & Huck Finn - Folk Energy & Mayhem
Album Release Show - The Blind Pig, Greenwood
New album: Fricke

Type of Music: folk-energy

Website Location www.russbaumandhuckfinn.com

Facebook www.facebook.com/russandhuck

Twitter @russandhuck

Year Formed: 2011

Band Members: Russ Baum on vocals and guitar, Stephen Guinnup on vocals and percussion
---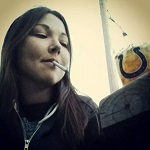 Amy Foxworthy is a writer, activist, music junkie, and professional hell-raiser. There is probably no truth to any other rumors you may have heard about her.
Blog comments powered by

Disqus
Handy places to visit if you are part of, or want to know more about, our music scene ...
Solicitations and Submissions
Solicitations for blog posts can be made by sending and email to "blog -at- indyintune -dot- com" and should follow these guidelines:
Local (Indianapolis-based) acts always have priority.
Visisting acts playing a bill with one or more local acts are also considered.
We generally don't like to repeat content found on other sites. If your request already has a lot of coverage on other sites, it will be considered low-priority unless you can give us an exclusive angle.
For obvious reasons, we don't do solicited album reviews, though we do appreciate you letting us know when you have a new release. Consider coming in and talking about the album yourself live on the air or a podcast.
All of our staff writers are unpaid enthusiasts. All requests for blog posts are entirely at their descretion.
As such, they generally need a lot of lead-time to put something out -- we're talking weeks of lead time, not hours.
That said, individual authors have full authority to ignore the following guidelines and write whatever they want ... if you can convince them to.
In addition, feel free to write your own post and submit it for posting as a "guest blogger." Those almost always get accepted.
Finally, regional or national acts submitting without meeting the above guidelines are generally ignored. We're not trying to be dicks, but if you send us a generic form-letter with your press release, and it doesn't even remotely concern a local artist or event, then you're not part of our core focus.