An In-Snide Look: I Think I Could Get Used to this Life Sometimes
By: Darrin Snider
Sunday, June 7, 2020
---
Getting Down to Earth with mOOnMen
By: Amy Foxworthy
Sunday, February 16, 2020
---
The Musical Journey of Jethro Easyfields
By: Amy Foxworthy
Tuesday, February 11, 2020
---
Monday Mixtape: Etwasprog
By: Darrin Snider
Monday, February 10, 2020
---
Monday Mixtape: Excerpts from the Summer of 2014
By: Darrin Snider
Monday, January 20, 2020
---
Mix Tape Monday: Mashin' it Up
By: Darrin Snider
Monday, January 13, 2020
---
Mix Tape Monday: Back to the Gym Workout
By: Darrin Snider
Monday, January 6, 2020
---
Top Ten Most Annoying Types of Music Fans
By: Darrin Snider
Saturday, January 4, 2020
---
Album Review: Sietch Ramshackle "U.R.//Nctrl"
By: Amy Foxworthy
Saturday, December 28, 2019
---
Mix Tape Monday: Darrin's Favorite Discoveries of 2019
By: Darrin Snider
Monday, December 16, 2019
Show #183: Chris Burch
By: Darrin Snider (darrin at indyintune dot com)
Saturday, February 14, 2015 5:00:00 PM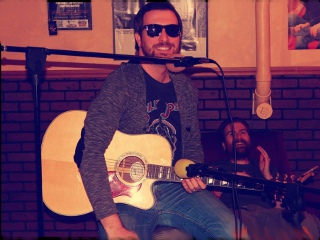 Singer/songwriters (or "singwriters" as I have accendially coined them) come in a lot of flavors. There are lyrical poets, guitar stylists, the funky ones, the folky ones, the jazzy ones. While there are plenty of advantages to the "one voice/one instrument" approach, well, let's just say it's "confession time." I think the trap that a lot of these artists fall into is (whether you're a random guy at an open mic, or a master songsmith like Bruce Springsteen) the same voice and the same instrument sound really cuts into my attention span after 20 or 30 minutes. I can name ten Rock bands that have made successful careers writing the same song over and over, and because they get to move around and interact with the crowd on stage, it works for them. Singer/songwriters are generally nailed to one spot on the floor (or if they really want to suck the life out of their performance, a chair -- sorry, pet peve). I'm not saying THE MUSIC is boring, because I do listen to and love a lot of singer/songwriter music. I'm just saying, for me, it rarely translates to a live show. As crazy as it looks at times, that jumping around and guitar posing bands do actually does add a lot to a live show.

Regardless, I listen to a lot of singer/songwriters, and, yes, I have my favorites. chris Burch is one of them. The thing about Chris' music for me is the amount of energy (perceived or otherwise) that's bottled up under his songs, even if it's never really released. Chris, plays with such an intensity that I always feel like he's barely holding the lid down on a big ol' metaphorical box of rock and roll that's about to explode. I don't get that impression with a lot of players, and the resulting tension is delightful. I've got tons of great Chris Burch stories -- in fact, I'd venutre to say anybody who knows Chris Burch has at least a couple of their own. Most of mine, out of respect for Chris and our friendship, I don't tell publicly. Needless to say, I love the guy to death and -- despite the relative seriousness of this low-key interview -- rank him as one of the top five most-memorable personalities in the local scene when he's on. As such When the chance comes to have him back in Studio B, even if it's really just to re-answer all the questions Irish asked him on the SoundCheck, I'm pretty stoked.



Links Referenced in the Show:
---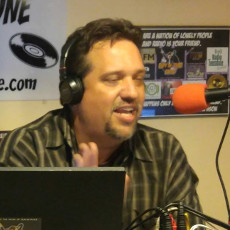 Darrin Snider is the OCD music nerd responsible for creating Indy In-Tune. By day he's a cloud engineer and business analyst, but he still hopes to someday be an overnight freeform disc jockey married to the local weathergirl who happens to be a former eastern-European supermodel.
Blog comments powered by

Disqus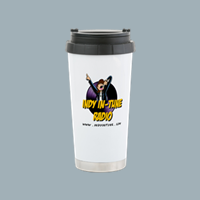 As seen on the webcam. Are you one of those people who can't survive without copious amounts of coffee in the morning? You definitely need one of our stainless steel travel mugs. Give your caffeine the gift of style...
Solicitations and Submissions
Solicitations for blog posts can be made by sending and email to "blog -at- indyintune -dot- com" and should follow these guidelines:
Local (Indianapolis-based) acts always have priority.
Visisting acts playing a bill with one or more local acts are also considered.
We generally don't like to repeat content found on other sites. If your request already has a lot of coverage on other sites, it will be considered low-priority unless you can give us an exclusive angle.
For obvious reasons, we don't do solicited album reviews, though we do appreciate you letting us know when you have a new release. Consider coming in and talking about the album yourself live on the air or a podcast.
All of our staff writers are unpaid enthusiasts. All requests for blog posts are entirely at their descretion.
As such, they generally need a lot of lead-time to put something out -- we're talking weeks of lead time, not hours.
That said, individual authors have full authority to ignore the following guidelines and write whatever they want ... if you can convince them to.
In addition, feel free to write your own post and submit it for posting as a "guest blogger." Those almost always get accepted.
Finally, regional or national acts submitting without meeting the above guidelines are generally ignored. We're not trying to be dicks, but if you send us a generic form-letter with your press release, and it doesn't even remotely concern a local artist or event, then you're not part of our core focus.