M.O.R. Episode 3 -- Michael Dryburgh
By: Ben Cannon, Bram Epstein, and Darrin Snider
Sunday, June 6, 2021
---
M.O.R. Episode 2 -- Ian Thomson
By: Ben Cannon, Bram Epstein, and Darrin Snider
Sunday, May 23, 2021
---
M.O.R. Episode 1 -- Mark Kelly
By: Ben Cannon, Bram Epstein, and Darrin Snider
Sunday, May 16, 2021
---
An In-Snide Look: I Think I Could Get Used to this Life Sometimes
By: Darrin Snider
Sunday, June 7, 2020
---
Getting Down to Earth with mOOnMen
By: Amy Foxworthy
Sunday, February 16, 2020
---
The Musical Journey of Jethro Easyfields
By: Amy Foxworthy
Tuesday, February 11, 2020
---
Monday Mixtape: Etwasprog
By: Darrin Snider
Monday, February 10, 2020
---
Monday Mixtape: Excerpts from the Summer of 2014
By: Darrin Snider
Monday, January 20, 2020
---
Mix Tape Monday: Mashin' it Up
By: Darrin Snider
Monday, January 13, 2020
---
Mix Tape Monday: Back to the Gym Workout
By: Darrin Snider
Monday, January 6, 2020
In-Depth: Brother O' Brother
By: Amy Foxworthy (foxy at indyintune dot com)
Saturday, August 22, 2015 10:00:00 AM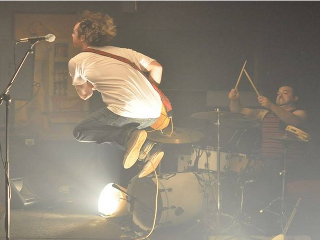 Combine a singer/guitarist who is fearless, takes chances, and does things other people don't have the confidence to try, with a dynamic, creative and energetic drummer to perfectly compliment, and you get one extraordinary Rock & Roll duo who are unmistakably "meant" to do this. With their equally gigantic talent, dedication, and heart, it is clear to see (and hear) that Brother O' Brother are going big places.
One of many admirable qualities about Brother O' Brother's music is the substance and depth within their lyrics; they aren't afraid to take on social issues or heavy topics. All the while, they deliver a message of love throughout their gritty, blues-infused Rock & Roll experience. With a sound so colossal you wouldn't believe there are only two of them, you can hear just the right amount of 'dirty and disheveled,' and still have a freshness and purity about it; the art of being gritty without being abrasive. Their live shows are absolutely explosive and their energy is contagious; don't be surprised if you're a fan before the end of the first song in the set. Brother O' Brother are smart, garage-y, and electric bluesy-- with soul, a bit of funkiness, a bit of that classic rock sound all mixed in with a new and fresh twist and uniqueness...then covered in fuzz. Basically, they make my wildest Rock & Roll dreams come true.
After recently having the opportunity to see the band perform live, I knew immediately that I was hooked and that I needed to harass them for an interview. Being the truly kind and humble dudes that they are, they obliged! Check out their telling and in-depth answers below.

Indy In-Tune: First of all, tell us the story behind the formation of the band, how you knew each other, when you started, how long you've been playing, and the background. Paint us the beautiful picture of the inception of Brother O' Brother.

BoB: It's not a wave of beautiful tapestry, but the story of how we formed is unique. Basically, Chris had the idea musically for Brother O' Brother already ready in regards to an EP worth of songs. However, he was having a hard time finding a drummer. Previously both of us played in some so-so bands that allowed us to succeed, fail, etc. for the the first time. Both of us accidentally played about 3 shows together so did we have a small previous relationship. Warner is a department manager at Lowe's, and Chris went in to get some rope. Warner happened to be the person to cut the rope. We recognized each other, and Chris asked if he wanted to give the band a try and that was it. Odd how it all worked out.

Both of us have been playing guitar or drums for about 12 to 13 years. Warner grew up on a lot of soft rock with his dad and Chris grew up on hard rock from the 70's. My stepdad is a huge Kiss fan while Warner's is more of a James Taylor and Fleetwood Mac kind of guy.

Indy In-Tune: That's pretty fantastic; I'm really glad you needed rope that day! Either individually or as a band, who are some of your influences and heroes and why?

Warner: Biggest for me are probably Buddy Rich, Keith Moon and Mick Fleetwood. Buddy and Keith are two of the most primal, animalistic drummers of all time while still being very tight. Mic's style of drumming being able to blend so many styles had a huge influence on my own drumming.

Chris: I really drew to Dan Auerbach of The Black Keys and Hendrix. Just that style of fuzzed out electric blues drew me in with the greatest of ease. It changed my whole musical pallet.

Indy In-Tune: When did you first start writing your own music?

Chris: The moment i picked up a guitar on some level. It just seemed like that's what you do. I have recordings of myself attempting to make music as early as my freshman year I believe.

Warner: I started playing drums when I was 10 years old and always wanted to do my own thing. My first real attempt came in like 6th or 7th grade when I was really wanting to do music as a hobby and not just for Band class and stuff.

Indy In-Tune: What was the first song you learned on guitar? On drums?

Chris: Smoke on the water, is their any other?

Warner: Smells Like Teen Spirit.
Indy In-Tune: Who are some of your favorite guitarists (and drummers)?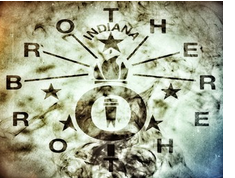 Warner: Dave Grohl of Nirvana and Foo Fighter fame but honestly some of my favorite from him is when he did a little bit of drumming for Queens of the Stone Age. I'm a huge fan of Ricky Mazzotta of Mewithoutyou also. His style is so unique and different. It takes a lot as a drummer to not just be a metronome robot.

Chris: Hendrix, Dan Auerbach, Jack White, Revered Gary Davis, & Ty Segall

Indy In-Tune: What do you listen to when you are on a roadtrip?

BoB: We actually pump a LOT of wrestling podcasts. We are huge wrestling fans and when you are playing music all the time we kind of get musiced out. Cheap Heat and the Stone Cold Podcast rule. AND DATS DUH BOTTOM LINE! Honestly, when getting ready for a show or right after listening to music all night it's not much fun to listen to more music. Podcasts give us something to laugh and talk about.

Indy In-Tune: What's the best thing a fan ever said to you?

BoB: We have a fan in Fort Wayne who has become a very good friend. He said that our music really brought him out of a dark place and made him reevaluate kind of where he was at in his life and with his faith and stuff. It was very cool and he continues to be a major encouragement when we talk.

Indy In-Tune: What's the weirdest or creepiest thing a fan/non fan ever said to you?

BoB: At one of our shows a girl came up to us and asked said, "You guys are really sweaty! Why don't you come back to my place and take a shower?" It was a little unnerving. I (chris) also pretty recently had a woman coming from her 25th high school reunion ask if she could kiss me. I said sorry I'm married and she asked if my wife was around. Bizarre.

Indy In-Tune: What are your goals for this band? Where do you want to "end up?" What are some of your dreams?

BoB: Obviously, everyone wants to make it big someday. Even though that dream seems more real than ever right now there is still a lot of work to be done and a lot of sacrifice that comes along with that. We both have very supportive wives that are encouraging us to pursue our dreams which really helps. Short term: We want to continue to get out on the road more. Long Term: We will see what happens. Our hopes are high but we keep each other grounded.

Indy In-Tune: You have made some really cool videos! Tell me a bit about the history behind those. Do you have connections in film and all that, or how did this all come about? They look very professional and good quality.

BoB: Thank you! We are very happy with how each of them has turned out. Each of them has started out as just an idea we've had and then we bring those ideas to Brian "Bone" Thorburn and he uses his incredible film genius to bring them to life. We are constantly thinking of music video ideas.

Indy In-Tune: Tell me a bit about your relationships with other bands around the city. Who are some local bands, either by their sound or their energy or their technical abilities that you really admire?

BoB: Ooooh, that's a tough one. There is so much talent in this city right now. We are in the midst of a lot of people really working to make Indy a city known for music. Von Strantz, Vesseria, and Nash Walker & The Doctors are two of our favorites right now. Not just for their musical and performing skills but also because they are all just great people. We are in talks to do some interesting projects with both of these bands...but that is for a different interview.

Indy In-Tune: Walk me through your songwriting process. Some people write lyrics and they try to stick them with a song that they come up with on guitar later. Do you write music first, and then words that "fit" with the vibe and feeling of that song, or do you write lyrics and write music around that feeling? Is there a process you always go by when you write music, or is it different every time?

BoB: It is different from song to song. Most of them start with either a guitar riff or a drum beat and the words come later. Every once in awhile, though, something in the news or on our hearts strikes us and a theme comes from that. In that situation we either write music for it or we take something we've been jamming on and see if it fits.

Indy In-Tune: How do you feel about recording in the studio versus playing live? Do you like the studio? Are you into recording and all the fun technical stuff that goes along with that, or do you just totally live for the live performances?

BoB: Live performances are definitely the most fun because we get to really go nuts and enjoy a good time with the crowd. If you've seen our show then you know we have FUN! There is something exciting about studio, though. That process of actually creating that final product. And our producer, Bone, makes the experience of the studio a fun one. He is great to work with and he's a good friend.

Indy In-Tune: Both of your energy levels are turnt up times 12. Do you drink like 4 pots of coffee before going on stage, or is it just some natural performance high? I mean, you guys really put on a great show; aside from the great music, it is very clear from watching that you are very passionate about what you are doing, and totally caught up in the music and the moment. How do you keep that energy level up?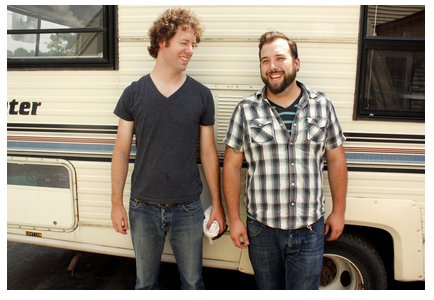 BoB: For us we always just keep in mind that it is supposed to be a "SHOW." We really try to only drink water in the hours leading up to a show because, as you can imagine, we sweat a lot of it out. We go into every performance, whether it be for a crowd 5 or 5000, with the same energy and enthusiasm. While we were at Mile of Music in Wisconsin we played eight performances in three days. It was exhausting but we never let our energy down. You've got to be dedicated to your show and what you want it to be.

Indy In-Tune: What kind of music do you guys listen to in your free time, or while you're driving to the grocery store, or getting ready for your day? Is there anything out right now that you just can't get enough of? Either an album or an artist, or a song?

Chris: Lately the new Turbo Fruits albu, The Ghost Wolves out of Texas, and just about anything Ty Segall touches. I have a pretty wide music taste though. Also I can't stop listening to Pop Goes The Evil out of Cincy. Their song Milkyshake is amazing.

Warner: I am still madly in love with "AM" by the Arctic Monkeys. It's an almost flawless album from start to finish. There is a new album by Mewithoutyou called "Pale Horse" that is very dark and yet somehow inspiring that I am really digging on.

Indy In-Tune: Your (4) vinyl release of Show Pony were aesthetically drool-worthy. How did you go about the record pressing process? Have you had a good reaction to the vinyl option? I know you said you were a bit of a vinyl nerd, talk to me a little bit about that. What's your record collection like?

BoB: Vinyl pressing was very important for us. There is definitely a great collector market for our type of music and it was important to us that our vinyl be very collectable and very desirable. In regards to pressing their are only about 6 or 7 plants in the US I believe. We tried a new one after we did our 7 inch at URP and loved Palomino out of Kentucky. It takes time to get it all pressed so we had to be patient with the release. Our album was done in December.

Chris: I'm pretty involved as a record collector. I dont just buy anything i see but I try to only buy what I know I will listen to at some point. I also am really into a lot of indie labels and record collector forums and the passion that come from those gave me a lot of insight into what people want from their vinyl, and what I want from vinyl as a collector. All the collecting and relationships I have built through vinyl I think went a long way. My collections isn't massive but it's probably around 250 records. Anything fuzzy or covered in blues I'm really into. Also, jazz on vinyl just seems right.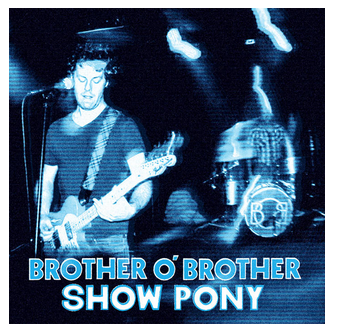 Warner: I really didn't have much of a vinyl collection before I started hanging out with Chris. I mostly have newer stuff. I have several records by Mewithoutyou, Band of Horses, and Good Old War. I have a few older ones too like, a handful of Beatles records and some Fleetwood Mac of course.

Indy In-Tune: What are some of your most prized vinyl possessions?

Chris: Probably my Hanni El Khatib, Head in the Dirt tri color lp or my Raconteurs, Broken Boy Soldier copper record I picked up at RSD a few years back.

Indy In-Tune: Do you guys have "favorite" Brother O' Brother songs, or ones that mean particularly something "special" to you any more than the others? If so, what is the reason behind that?

Chris: "White Dove" is about my wife so that one truly holds a lot of value for me personally. We also have this new song that isn't out on an album yet called "I Confess." It really is kind of a conversation with God and holds a lot of my own personal beliefs on what that relationship is like for me. I also really enjoy playing Wolf In Sheep's clothing; it's just a blast to play.

Warner: I really love "Blood and Cigarettes." We wrote it long ago and it just didn't have a place on our first album. We had Bone do some remastering and remixing so that we could put it on Show Pony and it is great. It is about the love that we should have for people that are hurting or have less than we do. I went on a mission trip to New York city last summer and it really opened my eyes to the culture of homelessness that we have even here in Indy. That trip changed my heart toward less fortunate people and I hope the "Blood and Cigarettes" does that for someone else. As far as stuff we play live a lot. I really, really like "I Confess" and "Means to Be a Woman." Both have a great message. Both have pretty sick beats too. I get to really put myself out there for "Means to Be a Woman."

Indy In-Tune: Your song, "What it means to be a Woman," can you talk to me a little about the inspiration behind that song, and how it came about? I think it's really commendable that you guys are addressing issues like this that really impact young women, and society as a whole.

BoB: It's something that we both really struggle with. There are different ideas of what beauty is but in our culture we really push that sexuality is all that matters. It's sick and twisted that we are teaching young girls that their identity is determined by how many ways they know how to please a man. We are both super pumped that Cosmo is going to start having a slipcover so young girls aren't subjected to that, and so young men aren't tempted to look at women that way. We aren't trying to pretend we are perfect or anything, but the double standard between men and women-- with regard to women being so sexualized--is pretty crazy. There is line in the song that says, "You hold value to the King," and it is in reference to our own faith and how we believe that God created us all, and that we are beautiful to him no matter what earthly standard we are held to. There is a reason this song has stuck with us for almost the entire two years we have been playing. It matters that girls lives are changed and that they find value in themselves.

Indy In-Tune: Where was your very first live performance? How did you feel? Nervous, confident? Terrified? Where was it and how was it?

BoB: Our first show was at an all ages venue in Franklin, IN called the Gear. We've really come such a long way since then but I think even then we were pretty confident in the product we had. At our first show we had an EP because it was important to us to have something to put in people's hands. The Gear is still a pretty great place. They only do about one show every two months or so now but it's a nice, safe place for all ages. I think we felt pretty confident from the word go not to say our first show was our best but being in previous bands gives you an idea of what to expect.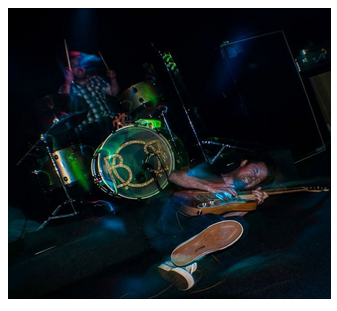 Indy In-Tune: Something people wouldn't guess they'd find in your music collection? A guilty pleasure?

Chris: I dont have it on vinyl, but Taylor Swifts new pop stuff is crazy catchy. No shame.

Warner: The Outfield. They are a british pop/rock band from the 80s. Current/newer artist that I am sort of ashamed of (but not really because he is great) is Nick Jonas. Dude's got mad soul!
Indy In-Tune: Any musician, alive or dead, if you could choose to do a cool collaboration with? You can choose 2.

Chris: James Brown and Jimi Hendrix

Warner: George Harrison and Dave Grohl.
Indy In-Tune: You've got a pretty sick pedal situation going on. What are some of your favorite effects and sounds to use in your songs? What is a sound or effect that you probably fancy most?

Chris: The Big Muff is the key and is for TONS of guitar players. Truly nothing like it. I run 10 pedals and layering things in different arrangements can really bring a ton of strange sounds. My friend Cody was extremely nice a few years back and bought me a Pog 2. So many crazy organ tones out of that and when you cover it with fuzz its pretty wild.

Indy In-Tune: Are there any genres or sounds previously unexplored by you that you would like to explore or experiment with one day?

BoB: We really like where our sound is and where it is heading. It seems like with each new song that we write we come closer and closer to the exact sound we want to be. Not ruling anything out but we really like the style of music we play and doubt that it is going to change drastically from the style it is now.

Indy In-Tune: Wrapping things up, just wanted to thank you guys for your time, and can you tell us about any upcoming shows?

BoB: We have several incredible dates coming up. One really cool thing we have coming up is that we will be recording a Live LP at Radio Radio on September 4th to be released on Shed House Records. We are playing the show with our good friends Von Strantz and Prowlers and the Prey! But beyond that we have tons of other awesome stuff and people can check out our Tour Dates section on our Facebook.

# end questions #
If you haven't had the good fortune to catch a Brother O Brother live show, please do everything in your power to change that at your earliest possible convenience; you will not be disappointed. The band will be recording for their upcoming live vinyl LP at Radio Radio on September 4th on Shed House Records, and you should be there, screaming in the audience with me.

Upcoming Shows
Aug 29 The Bishop (Bloomington)

Sep 4 Radio Radio (Indianapolis)

Oct 31st: Grove Haus

Nov 6th: The Hifi

Photo credits:
Stonetree Studios

Tim McLaughlin

Band's Facebook Page

Nick Brock Photography

Courtney Short Photography

---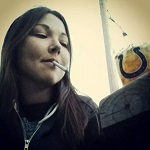 Amy Foxworthy is a writer, activist, music junkie, and professional hell-raiser. There is probably no truth to any other rumors you may have heard about her.
Blog comments powered by

Disqus
Handy places to visit if you are part of, or want to know more about, our music scene ...
Solicitations and Submissions
Solicitations for blog posts can be made by sending and email to "blog -at- indyintune -dot- com" and should follow these guidelines:
Local (Indianapolis-based) acts always have priority.
Visisting acts playing a bill with one or more local acts are also considered.
We generally don't like to repeat content found on other sites. If your request already has a lot of coverage on other sites, it will be considered low-priority unless you can give us an exclusive angle.
For obvious reasons, we don't do solicited album reviews, though we do appreciate you letting us know when you have a new release. Consider coming in and talking about the album yourself live on the air or a podcast.
All of our staff writers are unpaid enthusiasts. All requests for blog posts are entirely at their descretion.
As such, they generally need a lot of lead-time to put something out -- we're talking weeks of lead time, not hours.
That said, individual authors have full authority to ignore the following guidelines and write whatever they want ... if you can convince them to.
In addition, feel free to write your own post and submit it for posting as a "guest blogger." Those almost always get accepted.
Finally, regional or national acts submitting without meeting the above guidelines are generally ignored. We're not trying to be dicks, but if you send us a generic form-letter with your press release, and it doesn't even remotely concern a local artist or event, then you're not part of our core focus.