An In-Snide Look: I Think I Could Get Used to this Life Sometimes
By: Darrin Snider
Sunday, June 7, 2020
---
Getting Down to Earth with mOOnMen
By: Amy Foxworthy
Sunday, February 16, 2020
---
The Musical Journey of Jethro Easyfields
By: Amy Foxworthy
Tuesday, February 11, 2020
---
Monday Mixtape: Etwasprog
By: Darrin Snider
Monday, February 10, 2020
---
Monday Mixtape: Excerpts from the Summer of 2014
By: Darrin Snider
Monday, January 20, 2020
---
Mix Tape Monday: Mashin' it Up
By: Darrin Snider
Monday, January 13, 2020
---
Mix Tape Monday: Back to the Gym Workout
By: Darrin Snider
Monday, January 6, 2020
---
Top Ten Most Annoying Types of Music Fans
By: Darrin Snider
Saturday, January 4, 2020
---
Album Review: Sietch Ramshackle "U.R.//Nctrl"
By: Amy Foxworthy
Saturday, December 28, 2019
---
Mix Tape Monday: Darrin's Favorite Discoveries of 2019
By: Darrin Snider
Monday, December 16, 2019
Show #096: Brad Real
By: Darrin Snider (darrin at indyintune dot com)
Sunday, March 6, 2011 5:00:00 PM

Lest you think that I'm stuck in a singer/songwriter rut, if there is such a thing, I though we might switch it up here and try something different this week. While I can't say that I will ever "get" hip hop, after meeting several of the guys in the scene here in town, I am starting to learn more about it and, consequently, have learned to appreciate it more and more. Heck, I've even listened to a bit of it on my own, trying to get a feel for the lay of that land. Now, obviously Brad Real is not your stereotypical hip hop artist, you figure that much out after talking to the guy for about five minutes. Rather than take that as a disadvantage, however, he embraces it and uses it as a bridge to bring the genre to people who are outside the traditional hip hop demographic. You know, middle aged suburbanites who are more apt to buy an album from Wayne Shorter than Lil' Wayne. (Uhhhh ... Lil' Wayne is a hip-hop artist ... right?)
Many times on the show we have discussed the concepts of "real" and "genuine" as they relate to many of our local acts, and I find this is an underlying theme in hip hop just as much as in other styles of music. Even in the course of doing these podcasts I make a conscious effort to make sure it doesn't look like I'm projecting false enthusiasm, or pretending to be something I'm not just for the sake of getting a few more listeners to the show. Basically, my rule of thumb is: Always assume the audience can tell when you're B.S.-ing or being insincere. Brad seems to get this too. His approach to his craft strips out much of the culture, politics, and even fashion that so many of us stereotypically identify as being inseparable from the music, and reduces hip hop to the essential core of what it should be about -- music and lyrics. So, does this make his work something less than "good hip-hop?" Frankly, I'm probably not qualified to say, but I can tell you this: I definitely respect and enjoy what he has created.
Links referenced in the show:
Brad Real and 8279 records can be found here: Web Site | Blog/Tumblr | Twitter | Facebook | MySpace | YouTube
Stacy Basner and Finer can be found here: Web Site | MySpace | Facebook | Twitter | YouTube | Tumblr
Apparently it is okay to eat the rhind on brie ... In fact, as I am of French ancestry, I have apparently shamed my ancestors by not doing so up to this point, not.
At the time of the interview, he had just hosted the Metric Mondays poetry slam at Local's Only.
Brad's single, Rise Above, was produced by NickJ and is a collaboration with local singer/songwriter Jason Firebaugh (Facebook | Reverb Nation | Twitter). It can be downloaded here: iTunes | Amazon
Brad and Jason met at a 6 Bands for 6 Bucks showcase put together by local music blogger Ricki Lee Potts.
Mumble features a sample from Mr. Kinetik's song, SOS. You can see a video, shot by Sheanie Mike, on Brad's site.
Brad's new EP, He's the Jibber, I'm the Jabber is available as a free download here.
The Jibber is Big Tid -- in case you're confused.
No Coast is a four-way collaboration between Brad, A.C.E. O.N.E., Big Skittz, and F.I.R.E.
Our fourth track, The Storm, was produced by Axe Hand, not NickJ.
Our bonus fifth track, Blind Side, features both Brad Real and Stacy Basner and was recorded at the Music Garage.
---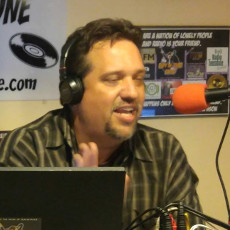 Darrin Snider is the OCD music nerd responsible for creating Indy In-Tune. By day he's a cloud engineer and business analyst, but he still hopes to someday be an overnight freeform disc jockey married to the local weathergirl who happens to be a former eastern-European supermodel.
Blog comments powered by

Disqus
Today on Indy In-Tune
It's Acoustic Monday!

* Schedule subject to change without notice. Sorry, but that's rock and roll.
Solicitations and Submissions
Solicitations for blog posts can be made by sending and email to "blog -at- indyintune -dot- com" and should follow these guidelines:
Local (Indianapolis-based) acts always have priority.
Visisting acts playing a bill with one or more local acts are also considered.
We generally don't like to repeat content found on other sites. If your request already has a lot of coverage on other sites, it will be considered low-priority unless you can give us an exclusive angle.
For obvious reasons, we don't do solicited album reviews, though we do appreciate you letting us know when you have a new release. Consider coming in and talking about the album yourself live on the air or a podcast.
All of our staff writers are unpaid enthusiasts. All requests for blog posts are entirely at their descretion.
As such, they generally need a lot of lead-time to put something out -- we're talking weeks of lead time, not hours.
That said, individual authors have full authority to ignore the following guidelines and write whatever they want ... if you can convince them to.
In addition, feel free to write your own post and submit it for posting as a "guest blogger." Those almost always get accepted.
Finally, regional or national acts submitting without meeting the above guidelines are generally ignored. We're not trying to be dicks, but if you send us a generic form-letter with your press release, and it doesn't even remotely concern a local artist or event, then you're not part of our core focus.