M.O.R. Episode 3 -- Michael Dryburgh
By: Ben Cannon, Bram Epstein, and Darrin Snider
Sunday, June 6, 2021
---
M.O.R. Episode 2 -- Ian Thomson
By: Ben Cannon, Bram Epstein, and Darrin Snider
Sunday, May 23, 2021
---
M.O.R. Episode 1 -- Mark Kelly
By: Ben Cannon, Bram Epstein, and Darrin Snider
Sunday, May 16, 2021
---
An In-Snide Look: I Think I Could Get Used to this Life Sometimes
By: Darrin Snider
Sunday, June 7, 2020
---
Getting Down to Earth with mOOnMen
By: Amy Foxworthy
Sunday, February 16, 2020
---
The Musical Journey of Jethro Easyfields
By: Amy Foxworthy
Tuesday, February 11, 2020
---
Monday Mixtape: Etwasprog
By: Darrin Snider
Monday, February 10, 2020
---
Monday Mixtape: Excerpts from the Summer of 2014
By: Darrin Snider
Monday, January 20, 2020
---
Mix Tape Monday: Mashin' it Up
By: Darrin Snider
Monday, January 13, 2020
---
Mix Tape Monday: Back to the Gym Workout
By: Darrin Snider
Monday, January 6, 2020
My Mixed Tape for April 2013
By: Brandon Cannon (brandon at indyintune dot com)
Saturday, April 13, 2013 1:00:00 AM


There are hundreds of talented local acts playing every week in our great city. Some you might know and some you might not. Seeing as musicians are only as strong as the support they to give each other, I thought I would point out some local acts each month who I think you might want to keep your eye on in 2013 and beyond. Isn't it always cool to say you were a fan of popular act back in the day when they were playing for ten people in a crappy dive bar? Yes, it is always cool. (Note: Although numbered, this list is in no particular order)

1. Tied To Tigers: It takes a truly special act to capture your attention in about four seconds, and a strong bird calling on "Flood the Streets" is definitely one way to achieve just that. Tied To Tigers offers much more than bird calls, the group sets a fun, upbeat mood with its take on indie rock and singer/songwriter passion that burns bright alongside bands such as Flaming Lips and Keller Williams. It's pretty much a no-brainer to keep an eye on this group especially since the solo performance I saw was mentioned as a "one man wrecking ball". (Listen to: "Built To Abandon" @ www.reverbnation.com/tiedtotigers)

2. Swig: This group lets it all hang out on their newly released EP, Like You Mean It. The band's deep groove's are brought to life via '70s rock riffs and fits somewhere nicely between Cream and The White Stripes on the rock 'n' roll spectrum. But just when you think they've reached their coolest, Swig will launch into thoughtful and humorous commentary between songs, which is surprisingly poignant. Their genre isn't easily definable, but it falls somewhere between indie rock and straightforward American blues, and it's tinged with a sense of wonder and nostalgia that I respect. (Listen to: "All Night Long" @ www.reverbnation.com/swig3)

3. Jenn Cristy: This songwriter first caught my attention with her smart collision between the pop music's future and it's past on her album, Crawl. The piano-driven album evokes the spirits of bands like Wilco and Adele with its flair for drama that is drenched in beautiful harmonies. Twenty-thirteen is poised to be a big year for Jenn Cristy as she continues to tour heavily and consistently produce a fantastic show that could take anyone's breath away. As much as I enjoy her full act, it was her solo performance at Shine Local Music Spotlight this year that has made me a fan for life. (Listen to: "Nevermind" @ www.reverbnation.com/jenncristy)

4. bleedingkeys: A Friday night at The Monkey's Tale for Grizzly Music Showcase is where all bands on any local circuit wish they could've been playing had they seen this show for themselves. Its always a hrefreshing platform at this bar for some of the best live music Indianapolis has to offer. This is especially true when a seasoned, but fresh band like BleedingKeys hits the stage with fistfuls of energy. Walking into the bar there was a certain buzz in the air, which immediately opened your eyes and got you excited for what was to come. The same feeling I received when I attended their EP release months ago, a welcomed stroll down memory lane for this fan. From their EP to their live shows they give everything they've got and they always get it done. (Listen to: "Sink" @ www.reverbnation.com/bleedingkeys)

5. Dell Zell: It's impressive to me how Dell Zell takes gray and angsty guitar jams and turn them into emotionally inflicted, but quite catchy rock gems. Their song, "Aftertaste", (which I love) feels like something that I would have heard off 311's From Chaos album. Then there is, "The Right Bastard Shuffel", that showcased the band's love for real '90s alt-rock but with a stylistic flare that brings their tunes into the tumblr-age. Dell Zell can be whatever the listener is looking for from funky, chill, dark, or bold. All the while still successfully balancing familiar and new, and that's impressive. (Listen to: "Aftertaste" @ www.reverbnation.com/dellzell)

This is my mixed tape right now, what are you listening too?
---

Brandon Cannon is a founding member of the band Spanking Shakespeare, the visionary behind the "Shine: Local Music Spotlight" series, and Editor-in-Chief of the Indy In-Tune blog.
Blog comments powered by

Disqus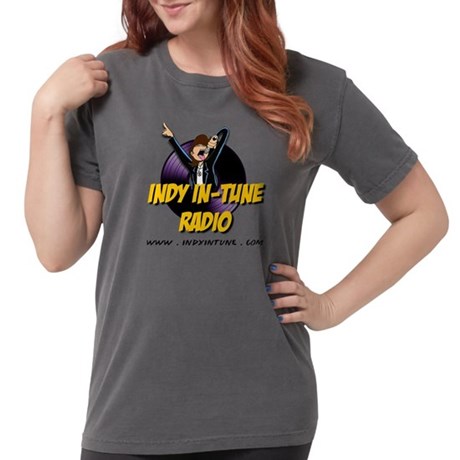 Ladies, don't you hate buying generic (unisex) T-shirts? We've got you covered with a line of womens'-fit clothing in a variety of styles and colors. Check Out Our Specials This Week...
Solicitations and Submissions
Solicitations for blog posts can be made by sending and email to "blog -at- indyintune -dot- com" and should follow these guidelines:
Local (Indianapolis-based) acts always have priority.
Visisting acts playing a bill with one or more local acts are also considered.
We generally don't like to repeat content found on other sites. If your request already has a lot of coverage on other sites, it will be considered low-priority unless you can give us an exclusive angle.
For obvious reasons, we don't do solicited album reviews, though we do appreciate you letting us know when you have a new release. Consider coming in and talking about the album yourself live on the air or a podcast.
All of our staff writers are unpaid enthusiasts. All requests for blog posts are entirely at their descretion.
As such, they generally need a lot of lead-time to put something out -- we're talking weeks of lead time, not hours.
That said, individual authors have full authority to ignore the following guidelines and write whatever they want ... if you can convince them to.
In addition, feel free to write your own post and submit it for posting as a "guest blogger." Those almost always get accepted.
Finally, regional or national acts submitting without meeting the above guidelines are generally ignored. We're not trying to be dicks, but if you send us a generic form-letter with your press release, and it doesn't even remotely concern a local artist or event, then you're not part of our core focus.