M.O.R. Episode 3 -- Michael Dryburgh
By: Ben Cannon, Bram Epstein, and Darrin Snider
Sunday, June 6, 2021
---
M.O.R. Episode 2 -- Ian Thomson
By: Ben Cannon, Bram Epstein, and Darrin Snider
Sunday, May 23, 2021
---
M.O.R. Episode 1 -- Mark Kelly
By: Ben Cannon, Bram Epstein, and Darrin Snider
Sunday, May 16, 2021
---
An In-Snide Look: I Think I Could Get Used to this Life Sometimes
By: Darrin Snider
Sunday, June 7, 2020
---
Getting Down to Earth with mOOnMen
By: Amy Foxworthy
Sunday, February 16, 2020
---
The Musical Journey of Jethro Easyfields
By: Amy Foxworthy
Tuesday, February 11, 2020
---
Monday Mixtape: Etwasprog
By: Darrin Snider
Monday, February 10, 2020
---
Monday Mixtape: Excerpts from the Summer of 2014
By: Darrin Snider
Monday, January 20, 2020
---
Mix Tape Monday: Mashin' it Up
By: Darrin Snider
Monday, January 13, 2020
---
Mix Tape Monday: Back to the Gym Workout
By: Darrin Snider
Monday, January 6, 2020
In Depth: Kolo Bell
By: Brandon Cannon (brandon at indyintune dot com)
Wednesday, June 5, 2013 5:00:00 PM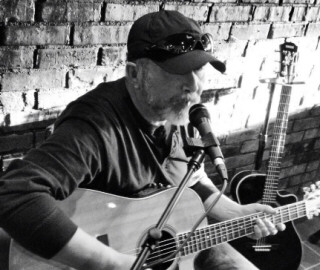 Kolo Bell is a local singer-songwriter and a fierce supporter of our music, comedy, and art scene. He has helped countless people on developing their crafts and more notably just how to believe in themselves. I've heard Kolo say that, "The most radical thing that you can do in this world is to give a voice to people who don't have one"
For over five years now he has hosted a popular open-mic night at Claude and Annie's every Wednesday evening. It has since been the origin for such great acts as Swig, Coy Koi, The Dead Squirrels, Michael Pearson, Megan Hopkins, and Angela Mullin-Jackson just to name a few. His event is also known to draw seasoned musicians, like Jack Barkley and Dave Vogt, who serve as a great inspiration for beginners and veterans alike.
I believe that he greatly enjoys the work of all the artist that frequent his open-mic even after all these years, and without the voices of the unaccomplished regular people it just wouldn't have any appeal to him. It is the combination of the two worlds side by side that makes it magical for him.
So the formula is simple: A cordial host who shows the same appreciation for everyone and sets that tone so that the audience becomes a willing participant in the nurturing nature of the event. A complete free speech zone where there are NO restrictions on language or ideas no matter how challenging that may be at times. And an understanding, stated and enforced by the host, that the only rule is respect. Shut up while other people are performing and stick to the allotted time.
Within the confines of this structure, miracles abound. Kolo has help established a working class musician community, and when you see that everyone is treated with respect and encouraged to tell their story it unleashes something contagious and beautiful. All those stories that these folks had no reason to believe that anyone would want to hear or would otherwise have taken them into the ground untold would have been, in his opinion, a tremendous loss to the world.
Over the years, the most jaw-dropping moments have come from this small community of musicians that embraces one another without condescension. Folks who see the world in a way that no one else can possibly see it. When a room full of poets and writers is floored by a line, from a person, that the rest of society either mocks or feels sorry for, that my friends is a moment to embrace. There is no doubt that without facilitators and hosts like Mr. Bell, these moments would have no place to exist and we would all be less as a result. You have done something radical Kolo, thank you.
Check out Kolo's own music here: Reverb Nation | Facebook and be sure to catch him this Sunday at the Copper Still in Noblesville.
---

Brandon Cannon is a founding member of the band Spanking Shakespeare, the visionary behind the "Shine: Local Music Spotlight" series, and Editor-in-Chief of the Indy In-Tune blog.
Blog comments powered by

Disqus
Handy places to visit if you are part of, or want to know more about, our music scene ...
Solicitations and Submissions
Solicitations for blog posts can be made by sending and email to "blog -at- indyintune -dot- com" and should follow these guidelines:
Local (Indianapolis-based) acts always have priority.
Visisting acts playing a bill with one or more local acts are also considered.
We generally don't like to repeat content found on other sites. If your request already has a lot of coverage on other sites, it will be considered low-priority unless you can give us an exclusive angle.
For obvious reasons, we don't do solicited album reviews, though we do appreciate you letting us know when you have a new release. Consider coming in and talking about the album yourself live on the air or a podcast.
All of our staff writers are unpaid enthusiasts. All requests for blog posts are entirely at their descretion.
As such, they generally need a lot of lead-time to put something out -- we're talking weeks of lead time, not hours.
That said, individual authors have full authority to ignore the following guidelines and write whatever they want ... if you can convince them to.
In addition, feel free to write your own post and submit it for posting as a "guest blogger." Those almost always get accepted.
Finally, regional or national acts submitting without meeting the above guidelines are generally ignored. We're not trying to be dicks, but if you send us a generic form-letter with your press release, and it doesn't even remotely concern a local artist or event, then you're not part of our core focus.