M.O.R. Episode 3 -- Michael Dryburgh
By: Ben Cannon, Bram Epstein, and Darrin Snider
Sunday, June 6, 2021
---
M.O.R. Episode 2 -- Ian Thomson
By: Ben Cannon, Bram Epstein, and Darrin Snider
Sunday, May 23, 2021
---
M.O.R. Episode 1 -- Mark Kelly
By: Ben Cannon, Bram Epstein, and Darrin Snider
Sunday, May 16, 2021
---
An In-Snide Look: I Think I Could Get Used to this Life Sometimes
By: Darrin Snider
Sunday, June 7, 2020
---
Getting Down to Earth with mOOnMen
By: Amy Foxworthy
Sunday, February 16, 2020
---
The Musical Journey of Jethro Easyfields
By: Amy Foxworthy
Tuesday, February 11, 2020
---
Monday Mixtape: Etwasprog
By: Darrin Snider
Monday, February 10, 2020
---
Monday Mixtape: Excerpts from the Summer of 2014
By: Darrin Snider
Monday, January 20, 2020
---
Mix Tape Monday: Mashin' it Up
By: Darrin Snider
Monday, January 13, 2020
---
Mix Tape Monday: Back to the Gym Workout
By: Darrin Snider
Monday, January 6, 2020
My Mixed Tape for July 2013
By: Darrin Snider (darrin at indyintune dot com)
Wednesday, July 10, 2013 7:00:00 PM


As long as I've been on the subject of unexpected downsides to be being me, here's another one:

"Hey, can you listen to this track and let me know what you think?"

The problem isn't so much coming up with something to say, that part is easy. The problem is I have probably 20 or 30 of these tracks stacked up in my inbox. See, I have a 60-second rule – I forget where I learned it, maybe a book on how to give yourself ADD or something -- if I don't think can read, act on, and reply to your email within 60 seconds, then I skip it until my designated Indy In-Tune work time. This time used to be early Saturday mornings over coffee before the family wakes up, but anyone who has been waiting for six months for me to edit their podcast will tell you that a freak quantum singularity opens up in my loft every Saturday morning around 7:00 AM and sucks in all of space and time such that all of the clocks skip from 6:59 AM to 11:38 AM, which as any good suburbanite knows, is when you are required to load Nickelback on to your iPod and begin mowing your lawn. Seriously, our HOA has inspectors that come around and enforce this. That said, I did recently have time to go through my pile of submitted tracks, and I have chosen the best three of those to share with you here as "the bands you need to be watching, and CD's you need to watch out for right now." Also note the shameless use of my soon-to-be-patented "Darrin's Power of Positive Listening" technique, that I introduced in a previous blog post. Ready? Here goes.
Ryan Brewer – (Forthcoming August 1 release)
Ryan is one of those prolific guys that I'm certain never has an "off mode" when it comes to songwriting. Not only that, but his stuff is good, and it's diverse. While he occasionally delves into the eclectic, he doesn't polarize to the point where someone says, "Ugh, can't stand Ryan Brewer's music." Basically everyone loves something of his. Personally, I like his electric rock work with the Fallow, but I also love how he delved into spoken word on his last EP. At least three others (all female) have listed the acoustic/falsetto "Strings" as their favorite track from him. A few days ago, he sent me a new track called "What Do You Think?" The first three bars storm in screaming "Mainstream Alt Country!" like Kenney Chesney line dancing into 8-Seconds Saloon and ordering a Budweiser. Great if that's your thing, it's really not mine. The whole first listen I'm thinking: Can he sell this to his fans? Is this too far off what people expect from him? He's an artsy writer, how is he going to dumb himself down to do lowest-common-denominator music? Answers: Yes, No, He doesn't, that's why it's good. This song is what it is, and the music is what it had to be to make the song work. As Ryan explained, for this project, he is playing all of the instruments himself, and is chosing ten of what he considers to be the best songs he's written, regardless of age, complexity, or genre. Now, for a guy who pretty much speaks in potential song lyrics, and steals the show no matter what bands he's on a bill with, that little tease makes this an album to watch for.
SHED -- Synergy
I first met Bobby Ingals and Tony Johnson of Shed a couple of weeks ago at the Battle of Birdy's registration. Technically it was in the parking lot, where they were the first in line. I think they may have camped out the night before like a hyperactive mom propped up at the door to Toy's R Us ready to shank someone for the last Shoot Me Up Elmo doll when the doors open on Black Friday. Very nice guys; very enthusiastic about their art and the scene in general. We did a quick on-air spot to introduce them and play one of their tracks, which turned out to be the last track on the album. Okay, gotta admit, at the time I rolled my eyes a bit … another hardcore metal band, nice, but it's been done ... to death in this town. Wanting to be fair, and I guess because I was in the mood for some hardcore metal, I put the CD in at work three days later. Okay, that was a nice opener. Well, that third one was good solid hard rock, and not at all hardcore. Oh, hang on, that fifth one was a great song. Oh, I am liking this band. By the end of the CD, I had already emailed Mighty Mia and told her she needed to find something for us to do with these guys. Definitely my favorite find of the last few months.
Half-Life – (Album in Progress)
I hate it when my children fight. Yes, the band that was spawned from a couple of Indy In-Tune listeners, Black Market Binary, is no more. Pity too, I was really enjoying the direction they were taking … or at least the one I thought they were taking. The first output, post-BMB comes from Ryan Gibbons' new band, Half-Life. At first listen to the track "Lights Life," I was tempted to go along with Ryan Gibbons pitch that this is the same band with a different singer ... though I now disagree with him, at least based on this track. Certainly Cassandra Wood is an entirely different flavor of singer from Angela Jackson, the former being stronger in capturing the feel and timbre of a song; the later centering on an incredible control and flawless presentation of the voice itself. By just shifting that focus, Half-Life comes off as a laid back, more rough-edged, less-sanitary rock and roll machine. "Lights Life" owes more to the catchy hook-driven crunch of Better Than Ezra's "Good" than the more synthetic, industrial experimentation of Black Market Binary. Of course, BMB never finished their last project, and this is only the first taste of I've had of Half-Life, so who knows if the disconnect between the two is merely my perception, or is covered in the material that I'm missing. Then again, that's why you need to join me in watching for this release and this band.
---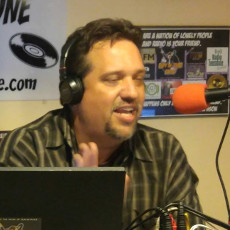 Darrin Snider is the OCD music nerd responsible for creating Indy In-Tune. By day he's a cloud engineer and business analyst, but he still hopes to someday be an overnight freeform disc jockey married to the local weathergirl who happens to be a former eastern-European supermodel.
Blog comments powered by

Disqus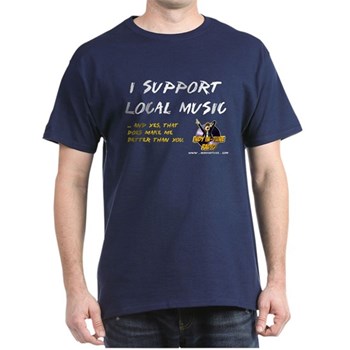 Back by popular demand for a limited time only, "I support local music ... and yes, that does make me better than you." Show the world that you, too, are a proud elitist music snob! Get yours before time runs out...
Solicitations and Submissions
Solicitations for blog posts can be made by sending and email to "blog -at- indyintune -dot- com" and should follow these guidelines:
Local (Indianapolis-based) acts always have priority.
Visisting acts playing a bill with one or more local acts are also considered.
We generally don't like to repeat content found on other sites. If your request already has a lot of coverage on other sites, it will be considered low-priority unless you can give us an exclusive angle.
For obvious reasons, we don't do solicited album reviews, though we do appreciate you letting us know when you have a new release. Consider coming in and talking about the album yourself live on the air or a podcast.
All of our staff writers are unpaid enthusiasts. All requests for blog posts are entirely at their descretion.
As such, they generally need a lot of lead-time to put something out -- we're talking weeks of lead time, not hours.
That said, individual authors have full authority to ignore the following guidelines and write whatever they want ... if you can convince them to.
In addition, feel free to write your own post and submit it for posting as a "guest blogger." Those almost always get accepted.
Finally, regional or national acts submitting without meeting the above guidelines are generally ignored. We're not trying to be dicks, but if you send us a generic form-letter with your press release, and it doesn't even remotely concern a local artist or event, then you're not part of our core focus.