M.O.R. Episode 3 -- Michael Dryburgh
By: Ben Cannon, Bram Epstein, and Darrin Snider
Sunday, June 6, 2021
---
M.O.R. Episode 2 -- Ian Thomson
By: Ben Cannon, Bram Epstein, and Darrin Snider
Sunday, May 23, 2021
---
M.O.R. Episode 1 -- Mark Kelly
By: Ben Cannon, Bram Epstein, and Darrin Snider
Sunday, May 16, 2021
---
An In-Snide Look: I Think I Could Get Used to this Life Sometimes
By: Darrin Snider
Sunday, June 7, 2020
---
Getting Down to Earth with mOOnMen
By: Amy Foxworthy
Sunday, February 16, 2020
---
The Musical Journey of Jethro Easyfields
By: Amy Foxworthy
Tuesday, February 11, 2020
---
Monday Mixtape: Etwasprog
By: Darrin Snider
Monday, February 10, 2020
---
Monday Mixtape: Excerpts from the Summer of 2014
By: Darrin Snider
Monday, January 20, 2020
---
Mix Tape Monday: Mashin' it Up
By: Darrin Snider
Monday, January 13, 2020
---
Mix Tape Monday: Back to the Gym Workout
By: Darrin Snider
Monday, January 6, 2020
An In-Snide Look #134
By: Darrin Snider (darrin at indyintune dot com)
Saturday, April 12, 2014 10:00:00 AM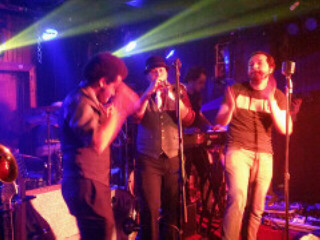 Okay, so I've got this great party planned for tomorrow, and of course those Dell Zell/Audiodacity guys have to one-up me with possibly one of the great shows and most-memorable parties of the past year. Now, I'm on record saying that I'm somewhat opposed to, yet largely guilty of, the current trend of giving every show a name, or a making showcase, or whatever gimmick you can come up with to sell a dozen more tickets. I maintain that it waters everything down, particularly when there is very little to differentiate these showcases and the standard Wednesday or Thursday night show. Yay, the same three bands as last week, only now we're calling it "The March 2014 Audio Assault Showcase" or whatever ... which is largely the frame of mind I went into JamTron with. Call it whatever, it's still a bunch of my favorite bands all in one place on a Friday night ... I'm going anyway whatever label you slap on it.

Okay, standing very much corrected on this one.

First off, taking over the Mousetrap ... nice touch. I was a bit skeptical about this move, as were a lot of the Trap's regulars when NPC took the stage if you studied the crowd. Not really an issue by the end of the first song. Though I don't know if any life-long fans were made, certainly they were at least appreciative of the music, if not enthusiastic. It was surprising how just a change of scenery injected a bit more energy into the crowd and performances.

Next, the team-ups. I liked the idea, though I was a bit skeptical as to what could be done. It was a folly that could have just as easily backfired as worked if it failed to meet the hype. I'll admit I was secretly hoping for a few new tracks to get written in there, or maybe some stylistic twists on a band's signature tune. (Right Bastard Shuffle with a Horn Section ... make it happen!) Still the cross-overs or switch off's or whatever are a great idea worth keeping. Would definitely like to see more of this in the future.

Finally, the party. Everyone was there. Everyone stuck around. Everyone mingled, inside and outside. Another pet peeve of mine, blogged about multiple times, are the bands who show up, play, and either leave or sit in a corner and don't engage the audience. From where I was sitting, all of the bands in attendance stayed the entire evening, constantly walked the venue, hung out, talked to everyone, and generally encouraged the social atmosphere of the evening. Also didn't hurt that I saw representatives from a least a dozen bands that weren't on the bill in attendance. Heck, simply everyone who is anyone was there. My own personal takeaway though, was this picture, as taken by Fiber's "Shipwreck Shep."


Darrin Snider (Indy In-Tune), MP Cavalier (DoIt Indy/Radio Free Indy), Scott Tolin (DoIt Indy/Radio Free Indy), Brandon/Benjamin Cannon (Shine, Indy In-Tune), Jamie Jackson (Sam Ash, at least five bands)



Now, I have heard this picture called the "Mount Rushmore of local music," the five faces of fandom, the biggest influencers of audience opinion in the local scene ... Yeah, whatever, to me it looks more like a wayward bowling team looking for a bucket of Rolling Rock after league night got canceled.

Meanwhile, rare night off for me ... mostly because I've got to go to "Secret Productive Location#2" and chum a a whole metric buttload of stuff for tomorrow. I keep thinking of things I'm forgetting, which kinda frightens me. I'm nothing if not meticulously organized.

---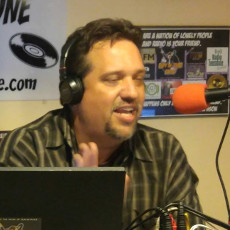 Darrin Snider is the OCD music nerd responsible for creating Indy In-Tune. By day he's a cloud engineer and business analyst, but he still hopes to someday be an overnight freeform disc jockey married to the local weathergirl who happens to be a former eastern-European supermodel.
Blog comments powered by

Disqus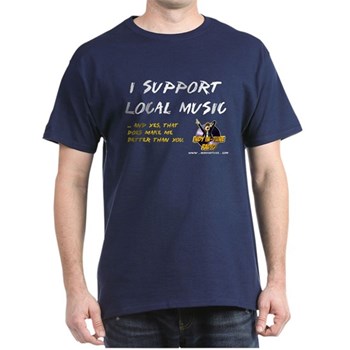 Back by popular demand for a limited time only, "I support local music ... and yes, that does make me better than you." Show the world that you, too, are a proud elitist music snob! Get yours before time runs out...
Solicitations and Submissions
Solicitations for blog posts can be made by sending and email to "blog -at- indyintune -dot- com" and should follow these guidelines:
Local (Indianapolis-based) acts always have priority.
Visisting acts playing a bill with one or more local acts are also considered.
We generally don't like to repeat content found on other sites. If your request already has a lot of coverage on other sites, it will be considered low-priority unless you can give us an exclusive angle.
For obvious reasons, we don't do solicited album reviews, though we do appreciate you letting us know when you have a new release. Consider coming in and talking about the album yourself live on the air or a podcast.
All of our staff writers are unpaid enthusiasts. All requests for blog posts are entirely at their descretion.
As such, they generally need a lot of lead-time to put something out -- we're talking weeks of lead time, not hours.
That said, individual authors have full authority to ignore the following guidelines and write whatever they want ... if you can convince them to.
In addition, feel free to write your own post and submit it for posting as a "guest blogger." Those almost always get accepted.
Finally, regional or national acts submitting without meeting the above guidelines are generally ignored. We're not trying to be dicks, but if you send us a generic form-letter with your press release, and it doesn't even remotely concern a local artist or event, then you're not part of our core focus.