M.O.R. Episode 3 -- Michael Dryburgh
By: Ben Cannon, Bram Epstein, and Darrin Snider
Sunday, June 6, 2021
---
M.O.R. Episode 2 -- Ian Thomson
By: Ben Cannon, Bram Epstein, and Darrin Snider
Sunday, May 23, 2021
---
M.O.R. Episode 1 -- Mark Kelly
By: Ben Cannon, Bram Epstein, and Darrin Snider
Sunday, May 16, 2021
---
An In-Snide Look: I Think I Could Get Used to this Life Sometimes
By: Darrin Snider
Sunday, June 7, 2020
---
Getting Down to Earth with mOOnMen
By: Amy Foxworthy
Sunday, February 16, 2020
---
The Musical Journey of Jethro Easyfields
By: Amy Foxworthy
Tuesday, February 11, 2020
---
Monday Mixtape: Etwasprog
By: Darrin Snider
Monday, February 10, 2020
---
Monday Mixtape: Excerpts from the Summer of 2014
By: Darrin Snider
Monday, January 20, 2020
---
Mix Tape Monday: Mashin' it Up
By: Darrin Snider
Monday, January 13, 2020
---
Mix Tape Monday: Back to the Gym Workout
By: Darrin Snider
Monday, January 6, 2020
Mix Tape Monday: Darrin's Tribute to Tony Iommi
By: Darrin Snider (darrin at indyintune dot com)
Monday, March 18, 2019 5:00:00 PM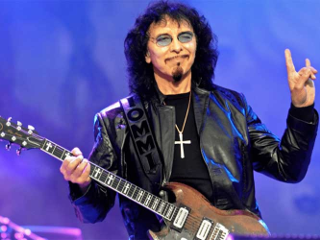 Let's try something a bit different this week. I've recently become aware that, thanks to the bizarre, very public nature of being a music blogger on this global internet thing, that -- on very rare occasions -- somebody that you off-handedly mention in a post will accidentally be made aware that you have mentioned them. (Fotunately, no lawsuits were involved ... just some harsh words.) So, this week, I will take this as my cue topay tribute to a musical hero.
If we're talking about musical heroes, one of the longest running ones in my playlist -- as a prog and jazz-loving keyboardist -- would have to be legendary heavy metal guitarist Tony Iommi (needle scratch) ... Sabbath was my first "rabbit hole" band and turned out to be a gateway to a lot of crazy stuff, a lot of it beyond Metal. I can draw the lines and recreate the progression if you need me to. (Hint: Was Rick's time with Black Sabbath the REASON I paid attention when Steve Lauer let me borrow his copy of Tales from Topographic Oceans? I'll admit, it WAS a factor ...)
So, this week's "Monday Playlist" will divert from the normal formula and be written as a personal "Thank you" to Mr. Iommi. On the off chance that he somehow sees this ... Hi, Tony. I know you've heard this a million times, but thank you for getting me through my difficult teenage years, now let me tell you exactly what your music has meant to me from then to my mid-life years ..."
Darrin's Tribute to Tony Iommi Playlist:
Black Sabbath -- Trashed First off, the whole reason I know ANYTHING about Sab, is bonding with my father, a big Deep Purple fan. One day, as an impresisonable pre-teen, I read an article I read in Hit Parader about how Ian Gillan had joined some band called "Black Sabbath." Dad just assumed that would be awesome, suggested he'd love to hear that, and so I went right out and bought the cassette so we could bond over it. Okay, I'll admit, I liked it a LOT more than he did.
Black Sabbath -- Die Young Of course, being me, I immediately went back and obtained the whole Sab/Ozzy/Rainbow/Elf back-catalog. This was towards the end of that peroid when all teenagers must make that one, all-important life decision: "Speak of the Devil" or "Live Evil?" Sorry, but I took "Live Evil's" side, against the judgement of most of my conservative southern US friends, who apparently thought Ozzy was "more wholesome" than Sabbath.
Black Sabbath -- Air Dancer However, at the time I was also an aspiring middle-school musician with a love of classical and jazz music. I know this is contrary to what is written in the Iommi and Ozzy's biographies, but I really thought Sabotage, Tech. Ecs, and especially Never Say Die were my favorites of the original lineup. Particularly, this Jazz-influened track ...
Black Sabbath -- Heart Like a Wheel Senior year in High School or so, the Seventh Star album came out. Maybe not a traditional Sab album (I didn't know the story then ... I get it now) but, heck, it had ANOTHER Deep Purple alumnus on it, and not many of my friends knew about it, so it was my mark of individuality that I required it be played in MY car when I was driving my friends around ...
Black Sabbath -- The Shining Freshman year in college. First time I'm out on my own. To my knowledge, the first album I bought the weekend I arrived at college. I just remember falling IN LOVE with the new singer's voice.
Black Sabbath -- Headless Cross Now, the funny thing about Sabbath from this point on is, they seemed to come out with a new album right about the time I broke up with a significant other. It was uncanny, and it became a ritual. Get dumped, buy a bottle of Jim Beam and a bag of Taco Doritos, and play the ENTIRE Sabbath catalogue in chronological order from start to finish while sitting in the dark. I'm not sure why, but it always did the trick and fixed everything. My roommate (actually my next door neighbor this time) learned quickly about these. So, THIS album is always associated with Stacy ...
Black Sabbath -- Anno Mundi Bittersweet, but another major milestone ... broke up with Heidi (the first) AND got a brand new '91 Camaro the week this album came out. So, the first time I went cruising in the new wheels, what do you figure I tested Delco/Bose car stereo system with?
Black Sabbath -- Computer God Lisa and I broke up almost the exact time this magical gem came out. Both seemed to have promise for the future. Both were successful in their time, but didn't live up to their ultimate potential.
Black Sabbath -- Cross of Thorns THEN there was Karen (pronounced CAR-en). Even *I* wasn't sure what I was doing there. It seemed okay at the time ... but, in retrospect, it was just going through the motions ... and hey, the boys put out an album THE WEEK WE BROKE UP ... that (objectively) I kinda felt the same way about. I mean, it was good ... really enjoyed it ... just wasn't getting anything NEW out of it ...
Black Sabbath -- I Won't Cry for You Okay, so there was Heidi (the second). Nobody but me really liked her to begin with. However, after we broke up, I went to the record store, looking for something to quell my depression. What HO?! New Sabbath album!? Also about as confusing to and unloved by my friends as my last relationship was? I am DEFINIATELY on a wavelength with these guys. On the other hand, if I search hard enough, I find SOMETHING redeeeming and entertaining in both.
Black Sabbath -- God is Dead? So ... Lisa ... from the Dehumanizer days ... and I got married, about a month before this came out. Both proved kinda final for both the band and my ability to ever love again. The band had a good run and retired ... I had a good run and got divorced a few years later ... pretty much the appropriate end, eh? ... not to say that I haven't loved and collected the Iommi or Iommi/Hughes solo stuff over the years, but really ... that's just a metaphor for my "solo adventures," right? (I'll cover it some other week.)
Got suggestions for what pairs well with this list? Have a suggestion for a future mix tape? Want to submit your own "guest mixed tape" to be featured here? Comments are available below...
---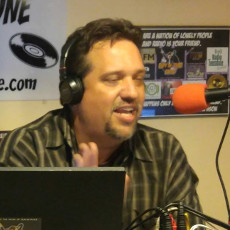 Darrin Snider is the OCD music nerd responsible for creating Indy In-Tune. By day he's a cloud engineer and business analyst, but he still hopes to someday be an overnight freeform disc jockey married to the local weathergirl who happens to be a former eastern-European supermodel.
Blog comments powered by

Disqus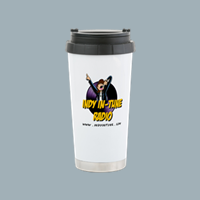 As seen on the webcam. Are you one of those people who can't survive without copious amounts of coffee in the morning? You definitely need one of our stainless steel travel mugs. Give your caffeine the gift of style...
Solicitations and Submissions
Solicitations for blog posts can be made by sending and email to "blog -at- indyintune -dot- com" and should follow these guidelines:
Local (Indianapolis-based) acts always have priority.
Visisting acts playing a bill with one or more local acts are also considered.
We generally don't like to repeat content found on other sites. If your request already has a lot of coverage on other sites, it will be considered low-priority unless you can give us an exclusive angle.
For obvious reasons, we don't do solicited album reviews, though we do appreciate you letting us know when you have a new release. Consider coming in and talking about the album yourself live on the air or a podcast.
All of our staff writers are unpaid enthusiasts. All requests for blog posts are entirely at their descretion.
As such, they generally need a lot of lead-time to put something out -- we're talking weeks of lead time, not hours.
That said, individual authors have full authority to ignore the following guidelines and write whatever they want ... if you can convince them to.
In addition, feel free to write your own post and submit it for posting as a "guest blogger." Those almost always get accepted.
Finally, regional or national acts submitting without meeting the above guidelines are generally ignored. We're not trying to be dicks, but if you send us a generic form-letter with your press release, and it doesn't even remotely concern a local artist or event, then you're not part of our core focus.