Album Review: Sietch Ramshackle "U.R.//Nctrl"
By: Amy Foxworthy
Saturday, December 28, 2019
---
Mixed Tape Monday: Darrin's Favorite Discoveries of 2019
By: Darrin Snider
Monday, December 16, 2019
---
Indianapolis "Art Rock" Band Midwest Contraband Releases Killer 4th Album
By: Amy Foxworthy
Sunday, October 6, 2019
---
Special Presentation #01: MP Cavalier Meets Martin Barre of Jethro Tull
By: Darrin Snider
Saturday, May 4, 2019
---
Mix-Tape Monday: Great Guitarists
By: Darrin Snider
Monday, March 25, 2019
---
Mix Tape Monday: Darrin's Tribute to Tony Iommi
By: Darrin Snider
Monday, March 18, 2019
---
Mix Tape Monday: Darrin's Guilty Pleasures
By: Darrin Snider
Monday, March 11, 2019
---
Mix Tape Monday: Relax with a Nice Bottle of Wine
By: Darrin Snider
Monday, March 4, 2019
---
Mix Tape Monday: Stuff I Feel Like I May Be the Only Person Who Owns It
By: Darrin Snider
Monday, February 25, 2019
---
Mix Tape Monday: My (First) Prog Mix Tape
By: Darrin Snider
Monday, February 18, 2019
Show #075: Podcast Battle 2010 Winners' Circle
By: Darrin Snider (darrin at indyintune dot com)
Sunday, August 15, 2010 7:00:00 PM

I promise this will be the last time we plug the 2010 Podcast Battle of the Bands -- mostly because it's time to start thinking about the 2011 Battle. However, when you get a one-time billing of the first and second place winners, at our favorite local music venue, for a nice round Show number like #075, and the opportunity to squeeze one more podcast in before going on paternity leave, you have to jump at it. This impromptu show is pretty much without a set format and contains all the general chaos you would expect from having two complete bands (plus a special guest) on at the same time during a quite noticeable sound check that required various people to drop in and out during the course of the show. And, as if that weren't enough, we get brand-spanking new tracks from both of these these top local acts to sink our ears into. So you can tell at least I had a good time, though from an editing standpoint, I probably won't be trying this again any time soon.
There isn't much that can be said about these bands that I haven't said already. Whoa!Tiger continues to be a fan-friendly machine with the release of their new EP, and the "Al Paurazas Experience Featuring Jenn Cristy" is quickly breaking into bigger and better things, having spent most of the summer touring up and down the east coast and northern part of the midwest, followed by the release of a new single that is a bit of a departure song, but still really good music. Whenever we get together with either of these groups, it's always a good time, and putting them both together for an informal chat over a couple of beers and half a dozen microphones made for a very special evening the likes of which we're not likely to see again for some time.
Links referenced in the show:
As a visual aid, you can view photos of this episode being recorded on our photo album.
Jenn Cristy can be found here: Web Site | MySpace | Facebook | Twitter | Reverb Nation.� She also appeared as a guest on Show #012, Show #031, and Show #062, as well as being a guest host on numerous other shows.� Consult the search feature on Indy In-Tune for her complete appearance list.
This show represents an impromptu double-billing of the winner and runner up of the Blue Square Sound/Indy In-Tune 2010 Podcast Battle of the Bands.
Whoa!Tiger's newest EP, Long Road to Reason, is now available via their MySpace page or at their shows.
It was recorded at Blue Square Sound and produced/engineered by Joanne Phillips.
Jenn Cristy's new single, Nevermind, is a download-only release available at most of the usual suspects (iTunes | Rhapsody | Napster)
The promotional poster we mentioned in the show, designed by Dan Janke, can be seen here.
You can see videos of Jenn's X103 appearance on her Youtube Channel.
As an added bonus, with permission, we've included the sound check of Whoa!Tiger doing "Sweet Jenny" with w/Jenn Cristy on backup vocals. This is just the sound check inadvertently recorded when the podcasting gear was left on (the sound check actually occurs in the middle of the show). As such, it's not the greatest quality for a live recording, however you can see a video of the actual, live performance from later that night on YouTube.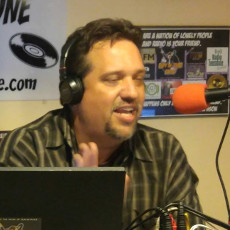 Darrin Snider is the music nerd responsible for founding Indy In-Tune Radio and the Indy In-Tune Podcast. By day he's a cloud engineer, which is fun, but he hopes to be an overnight freeform disc jockey someday.
Blog comments powered by

Disqus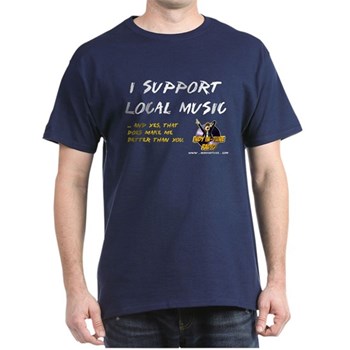 Back by popular demand for a limited time only, "I support local music ... and yes, that does make me better than you." Show the world that you, too, are a proud elitist music snob! Get yours before time runs out...
Solicitations and Submissions
Solicitations for blog posts can be made by sending and email to "blog -at- indyintune -dot- com" and should follow these guidelines:
Local (Indianapolis-based) acts always have priority.
Visisting acts playing a bill with one or more local acts are also considered.
We generally don't like to repeat content found on other sites. If your request already has a lot of coverage on other sites, it will be considered low-priority unless you can give us an exclusive angle.
For obvious reasons, we don't do solicited album reviews, though we do appreciate you letting us know when you have a new release. Consider coming in and talking about the album yourself live on the air or a podcast.
All of our staff writers are unpaid enthusiasts. All requests for blog posts are entirely at their descretion.
As such, they generally need a lot of lead-time to put something out -- we're talking weeks of lead time, not hours.
That said, individual authors have full authority to ignore the following guidelines and write whatever they want ... if you can convince them to.
In addition, feel free to write your own post and submit it for posting as a "guest blogger." Those almost always get accepted.
Finally, regional or national acts submitting without meeting the above guidelines are generally ignored. We're not trying to be dicks, but if you send us a generic form-letter with your press release, and it doesn't even remotely concern a local artist or event, then you're not part of our core focus.