M.O.R. Episode 3 -- Michael Dryburgh
By: Ben Cannon, Bram Epstein, and Darrin Snider
Sunday, June 6, 2021
---
M.O.R. Episode 2 -- Ian Thomson
By: Ben Cannon, Bram Epstein, and Darrin Snider
Sunday, May 23, 2021
---
M.O.R. Episode 1 -- Mark Kelly
By: Ben Cannon, Bram Epstein, and Darrin Snider
Sunday, May 16, 2021
---
An In-Snide Look: I Think I Could Get Used to this Life Sometimes
By: Darrin Snider
Sunday, June 7, 2020
---
Getting Down to Earth with mOOnMen
By: Amy Foxworthy
Sunday, February 16, 2020
---
The Musical Journey of Jethro Easyfields
By: Amy Foxworthy
Tuesday, February 11, 2020
---
Monday Mixtape: Etwasprog
By: Darrin Snider
Monday, February 10, 2020
---
Monday Mixtape: Excerpts from the Summer of 2014
By: Darrin Snider
Monday, January 20, 2020
---
Mix Tape Monday: Mashin' it Up
By: Darrin Snider
Monday, January 13, 2020
---
Mix Tape Monday: Back to the Gym Workout
By: Darrin Snider
Monday, January 6, 2020
In Depth: John Gilmore
By: Brandon Cannon (brandon at indyintune dot com)
Tuesday, September 17, 2013 7:00:00 PM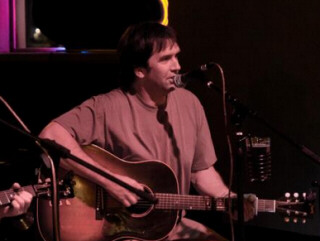 You can't help but to like John Gilmore, the low-key, self-effacing, singer-songwriter who's seriously been making tasty, thoughtful rootsy music as of late. I sat with him recently, and was able to learn more about his music and new concert hall, The Logan Street Sanctuary. John is a very accomplished guitarist, a good singer, a great interpreter of songs, and he writes superb ones, like "Whiskey, Tango, Foxtrot" or "I Let It Happen". I listen to his music on Reverbnation and have downloaded the one song that I can and I enthusiastically recommend his work. John is also a great business man, highly regarded by his fellow musicians, and what seems to be everyone that I meet that knows him.
Before we get to the interview, I have to mention that everything you've heard about John Gilmore's live performances is true. He can (and does) capture a room brilliantly with a mix of instrumentation and singers. There's a beautiful ease in his comportment and style that is quite indescribable. He is one of the few Americana musicians that can do this, and that has making music locally today. His vocals are welcoming and warm, as you might imagine, but I was particularly struck by the intricacies of his guitar playing. John has the uncanny ability of making the guitar part sound a lot easier than it is, and together with his "partners in crime", this group of musicians consistently present a real gift of a musical performance.
His humor shows his sincere humble side throughout and not just his on-stage performances, but his interactions with fans or friends as well. He is a class act through and through and after a few points in our conversation where I said that I wouldn't write about this or that… he brushed it all off. He does not seem to care about preserving any sort of manufactured image. He is proud to be himself and that self is a pretty cool individual.
Your favorite part of being a songwriter?
"Finding a melody that sticks. Nothing cooler than when someone is whistling a song you wrote. Words are needed when you write music that is timeless"
Why did you start writing music as of recent?
"A few years ago, when my mother was sick I started writing songs for her. It really seemed to make her happy and she loved it when I played my guitar. She enjoyed it so much that some days she would ask me to play a song three or four times, and seeing how it gave her such happiness I wanted to continue on. I hope to connect with others in a similar and positive way because I even found a growth in myself at this time. I was building new character and I loved it, loved that it all started with a song for my mother."
Tell me more about The Logan Street Sanctuary:

"Noblesville was looking to expand the arts and culture and I wanted to give artist a new venue to express themselves. I love the courage artist display when they show their work and that was a big driving force for me to build this place. I have been nothing short of amazed by the support I have received in bringing the sanctuary to Noblesville and I truly hope that it continues to grow over time."
What is one thing you wish you would have known at the start of your music career that you know now?

"That there was good network of songwriters in Indiana because I would have socialized sooner with local musicians."
What are you most satisfied with thus far in your music career?
"The music of mine that people connect with and actually knowing my songs when I get on stage" (insert slight smirk here)
What are you least satisfied with thus far in your music career?
"I'm always hard on myself and wanting to get better"
Where do you want to be in 5 years?
"I want to keep building new friendships and I would love to see The Logan Street Sanctuary ingrained in the community more than anything"
If you could pick one song that describes your work ethic what would it be?
"John Prine, That's The Way That The World Goes 'Round"
---

Brandon Cannon is a founding member of the band Spanking Shakespeare, the visionary behind the "Shine: Local Music Spotlight" series, and Editor-in-Chief of the Indy In-Tune blog.
Blog comments powered by

Disqus
Handy places to visit if you are part of, or want to know more about, our music scene ...
Solicitations and Submissions
Solicitations for blog posts can be made by sending and email to "blog -at- indyintune -dot- com" and should follow these guidelines:
Local (Indianapolis-based) acts always have priority.
Visisting acts playing a bill with one or more local acts are also considered.
We generally don't like to repeat content found on other sites. If your request already has a lot of coverage on other sites, it will be considered low-priority unless you can give us an exclusive angle.
For obvious reasons, we don't do solicited album reviews, though we do appreciate you letting us know when you have a new release. Consider coming in and talking about the album yourself live on the air or a podcast.
All of our staff writers are unpaid enthusiasts. All requests for blog posts are entirely at their descretion.
As such, they generally need a lot of lead-time to put something out -- we're talking weeks of lead time, not hours.
That said, individual authors have full authority to ignore the following guidelines and write whatever they want ... if you can convince them to.
In addition, feel free to write your own post and submit it for posting as a "guest blogger." Those almost always get accepted.
Finally, regional or national acts submitting without meeting the above guidelines are generally ignored. We're not trying to be dicks, but if you send us a generic form-letter with your press release, and it doesn't even remotely concern a local artist or event, then you're not part of our core focus.