M.O.R. Episode 3 -- Michael Dryburgh
By: Ben Cannon, Bram Epstein, and Darrin Snider
Sunday, June 6, 2021
---
M.O.R. Episode 2 -- Ian Thomson
By: Ben Cannon, Bram Epstein, and Darrin Snider
Sunday, May 23, 2021
---
M.O.R. Episode 1 -- Mark Kelly
By: Ben Cannon, Bram Epstein, and Darrin Snider
Sunday, May 16, 2021
---
An In-Snide Look: I Think I Could Get Used to this Life Sometimes
By: Darrin Snider
Sunday, June 7, 2020
---
Getting Down to Earth with mOOnMen
By: Amy Foxworthy
Sunday, February 16, 2020
---
The Musical Journey of Jethro Easyfields
By: Amy Foxworthy
Tuesday, February 11, 2020
---
Monday Mixtape: Etwasprog
By: Darrin Snider
Monday, February 10, 2020
---
Monday Mixtape: Excerpts from the Summer of 2014
By: Darrin Snider
Monday, January 20, 2020
---
Mix Tape Monday: Mashin' it Up
By: Darrin Snider
Monday, January 13, 2020
---
Mix Tape Monday: Back to the Gym Workout
By: Darrin Snider
Monday, January 6, 2020
Review: Battle of Birdy's 2013
By: Darrin Snider (darrin at indyintune dot com)
Monday, November 25, 2013 5:00:00 PM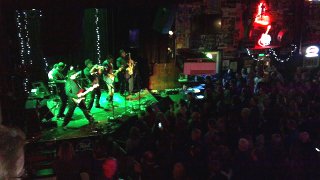 Another year and another Battle of Birdy's in the history books. Over fifty bands competed this year. None were disappointing, but in the end, a much-deserving Audiodacity finally got to put their name on the wall next to such great acts as The Last Good Year, Glass Halo, Breakdown Kings, et al. Considering the amount of fan support as well as support by other bands (some of whom were competing against them), there's really no other way this could have ended. For my first year as a sponsor/promoter and not just a participant, I really feel like I didn't get an opportunity to enjoy this battle as much as previous ones, but now that I've been more-closely involved with the backstage proceedings, I definitely have a much greater appreciation for what is involved in pulling one of these off. I'm not saying you musicians are whiny teenage drama queens, but if the glass slipper fits ...

As I have many times over the past few months, I must once again tip my St. Louis Cardinals baseball cap to Brandon Cannon, who took over the management from Ryan May this year, completely changed the tone of the show, and put the focus on re-establishing the enthusiasm and credibility that made the Battle a great event in years gone by, but quite frankly, had been missing for the past few years. This year's battle gave us so many great moments both on and off the stage that to mention them all would no doubt tax the patience of those who were not in attendance. That said, in roughly chronological order, here are my ten favorite from the past three and a half months of battling.

1. Redecorating Birdy's. Now, I won't say they're slow to change decor at Birdy's, but it's not the Chatterbox or the Mel. There's a definite shelf life on some of their signage that's outlived the Twinkie in my glove compartment that I keep for "emergency rations." In particular, both Indianapolismusic.net and Ricky Lee Potts's "6 for 6" have been defunct entities for nearly two years -- the latter being supplanted by the quarterly Indy In-Tune PodConcerts, which purely by coincidence offer the same format at the same price-point. (Honestly, I tried to make it 7 bands for $7, but it was a logistical nightmare.) Okay, so maybe we took advantage of the egging-on by (and apparent hostility from) those assembled to take a few pot shots and imply there was some kind of rivalry between Indy In-Tune and RLP. In reality I've never met the guy, and what few emails we've traded online were quite amicable. All of that stuff was purely in jest, and hopefully my reputation as someone who does everything possible to avoid ill-will within the music scene will shield me from any hard feelings on his part. The fact was, my name is too long to fit in two-foot high letters on an 8-foot banner, so I just put my logo on a 10x20. See there? Size DOES matter. Oh yeah.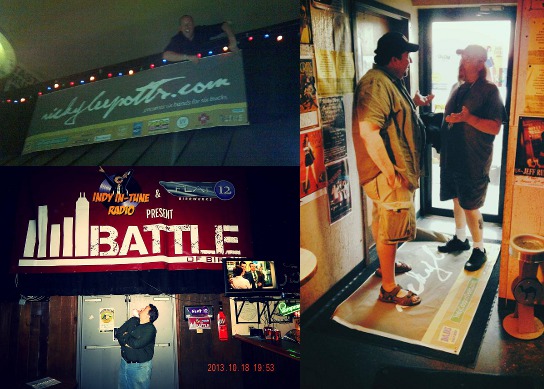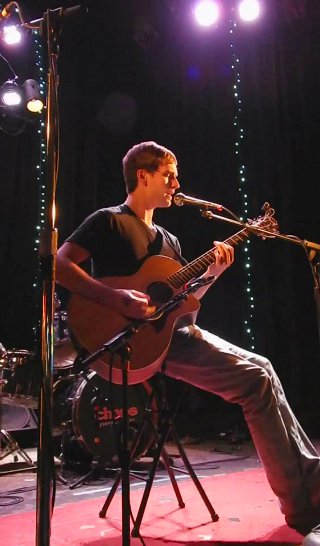 2. Pedigo Breaks the Curse. One thing that was very much in the forefront this year was bringing singer/songwriters into the battle, which has notoriously been exclusively about bands, despite the deliberate omission of the phrase "battle of the bands" just about everywhere in the marketing. Opening night this year featured two great singer songwriters: Godfather of the Castleton Music Scene, Steve Boller, and Indy newcomer, Eric Pedigo. Both these guys gave stellar performances and actually finished within three points of each other. In the end, a nervous and stuttering Eric Pedigo advanced to round two with a second place finish. What is particularly interesting about this is that he also had the unique honor of capturing far more first-place votes than had brought in fans in the event, which to put it mildly, means he stole some fans from another band. Eric felt so bad about the situation that he is now the sponsor for the "Eric Pedigo Presents: Steve Boller on the 'I'm sooo sorry. He really is better than me.' Tour."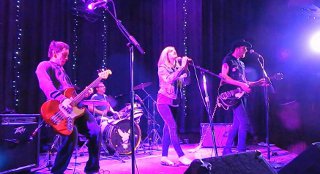 3. Werewolf with a Shotgun. Opening night was closed out with a band I had heard rumblings about but had never seen perform before, Werewolf with a Shotgun. The final spot is always a difficult one in terms of bringing fans along, but Werewolf had done pretty well this night, with a group of about a dozen vocal supporters who stood in front of the stage and cheered their heroes on. The night culminated with cries for the band to do an encore of "Crunchy Armadillo," which had apparently been left off the set list. (How can you NOT do Crunchy Armadillo, I ask!) While the band considered the request, we noted that they were down to less than 60 seconds on their allotted time. As going over time meant a deduction in score, I quickly ran to the stage and warned them (they were, after all, solidly in the running to advance to round two at the time). In true rock-and-roll rebellion fashion, I was greeted with a shrug and a matter-of-fact comment, "Well then, I guess we lost," as the drummer counted off and the crowd went wild.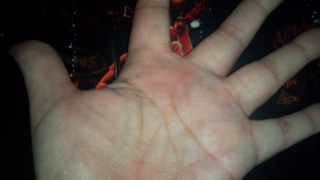 4. Fakemate. What can we say about Fakemate without threats from a team of record execs, the RIAA, and a few dozen lawyers raining down on us? Possibly the most memorable performance we have ever witnessed on that stage? A moment of inspiration for every local player with aspirations to make it big someday? An incredible, unlikely collaboration that will most-likely never be seen again? The biggest names ever to set foot in Birdy's? Anyone who was there that night fully understands where I'm coming from. The rest of you will just have to remember: celebrities sometimes crash battles too, just to scout the up-and-coming talent.

5. Free Willie Nelson Mandela. With so many great performances, it's difficult to single any particular act out without feeling like you're alienating the other fifty. Sorry guys, it's only a top 10 list. One disappointment is that Free Willie Nelson Mandela failed to advance to round two -- not necessarily a fault of their performance, The Dead Squirrels just have a tendency to bring a truckload of nuts with them, and Coup d'Etat is ... well ... Coup d'Etat. Instead, I will credit FWNM, and Brandon Cannon, for the most bad-assed picture of an abstract concept like rock and roll captured during the entire battle.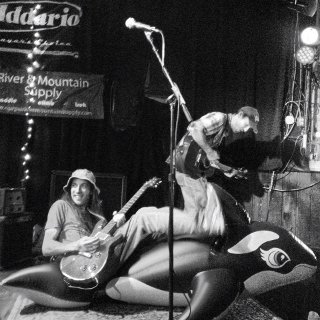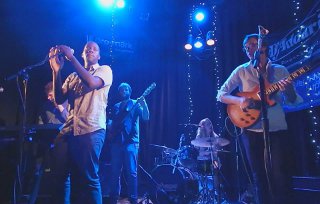 6. Trackless Comes Out of Nowhere. I've been entrenched in the local music scene for seven years, so naturally when a band has been around for a considerable amount of time before I've heard of them, I have a tendency to set certain expectations. I am always pleasantly surprised when they turn out to be completely wrong. This was the case of Trackless, whom I had never heard of, and who arrived without any fans and played the final slot of Week 8. More memorable than the stellar performance they put on (which took second place, again stealing other band's fans) was the reaction from bands that have historically done very well in the Battle in the past. Ben Jarvis walked outside after the performance admitted this was the first time his confidence in Audiodacity's ability to secure the top spot was shaken. Henry French simply turned to me and said, "Well, it's been fun, see you next year." Certainly a surprise of the highest magnitude, and a great performance from a band that, unfortunately, withdrew just prior to their appearance in the second round.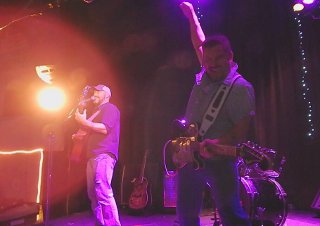 7. The Dead Squirrels Play a Cover Set. Whether or not they would have actually advanced to the final round is a matter of debate with strong arguments on either side. The fact is, however, The Dead Squirrels knew at the offset of the battle that due to prior commitments with Jim's day job, they would be unable to attend the final night of the battle should they advance that far. Because they are staunch fans and supporters of their fellow local musicians, and truly enjoy playing and hanging out with other players, they showed up at doors open, partied all night with the fans and other bands, then played play the final slot of the night for those who stuck around. As they had already withdrawn from the battle, rather than re-playing their Round 1 set, they elected to do a set heavy their favorite off-the-wall covers, much to the confusion and amusement of the other bands in attendance who didn't know of the situation.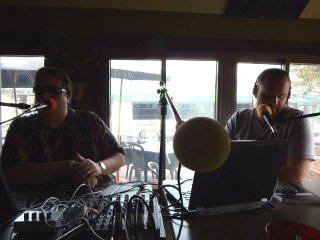 8. Final Pregame Show. One of the primary contributions from Indy In-Tune as a sponsor this year was the Wednesday night "Pre-Game Show Broadcasts." These served multiple purposes: 1) Promote the show to those who don't know about it. 2) Expose fans who tuned in to hear one band to the music and members of the other bands -- increasing the fan base for the music scene as a whole. 3) Build camaraderie between bands who didn't know each other, and emphasize the unity of the local music scene more over the competitive aspects of the battle. Nowhere was this better demonstrated than the final broadcast of the season, when we had the highest number of listeners, but were continually stymied getting guests on mic, as the five bands in attendance had taken up residence at one table at Sabbatical and were far too distracted laughing and joking around together than they were in getting free promotion on the air. Honestly, if I had a cord long enough, I would have just pulled a mike over, set it in the middle of the assembled group, and gone home for the night.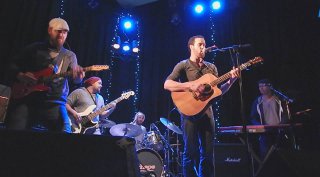 9. Bleeding Keys Go Ampless. For the final night of the battle, it was expected that the bands would be pulling out all the stops and "upping their game" a bit. Perhaps the most memorable of these was the final number by the Bleeding Keys, performed in front of the stage, acoustically, without the benefit of any amplification or PA whatsoever. As the audience assembled around the band, Birdy's became so quiet you could swear it was empty, instead of nearly at capacity. In fact, when they started playing, you make out every word and note from just about anywhere in the club. I had always wondered if that would work.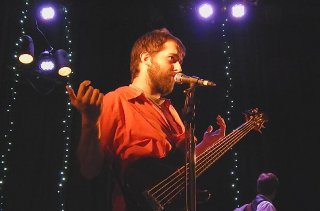 10. Phil Sloan Pulls a Kirst Novoselic. Now, I will be the first to admit, I love Coup de'Etat. I love the music. I love the guys in it. They're all friends of mine. I will also admit, that after fifteen weeks since the opening night and at least seven hours on my feet (one of which was previously injured and consequently swollen to about twice it's normal size), I was about ready to go home and quietly decompress. Still, I stood my ground in front of the monitor on stage right, alongside most of the staff of Sam Ash music and various members of the other acts who performed that night and cheered the Coup de'Tat, and the battle, over the finish line. It was worth the effort. For the final note of the final song of the final act of the final night of the Battle, Phillip Sloan, overtaken by the moment, or perhaps something he drank, launched his bass into the air, and sent it crashing back down to the stage, where it promptly hit, snapped the neck, and let out a reverberating crash that through amplification sounded like what could only be described as electronic thunder. I must say in years of going to shows at Birdy's (heck any local music show here in town), I'd surprisingly never witnessed a deliberate trashing of instruments before. The resulting charge of adrenaline was not disappointing, and I thanked Phil for it the next day.

Thanks again to all who participated this year and helped to make it a great battle. We'll see you next year for the tenth anniversary. If Brandon pulls off half the stuff he's been talking about, it's going to be the greatest year yet.


---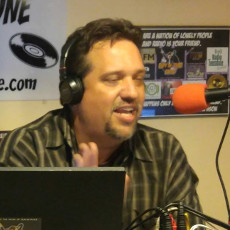 Darrin Snider is the OCD music nerd responsible for creating Indy In-Tune. By day he's a cloud engineer and business analyst, but he still hopes to someday be an overnight freeform disc jockey married to the local weathergirl who happens to be a former eastern-European supermodel.
Blog comments powered by

Disqus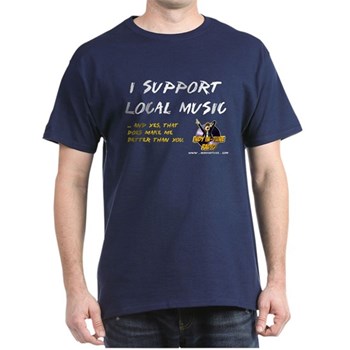 Back by popular demand for a limited time only, "I support local music ... and yes, that does make me better than you." Show the world that you, too, are a proud elitist music snob! Get yours before time runs out...
Solicitations and Submissions
Solicitations for blog posts can be made by sending and email to "blog -at- indyintune -dot- com" and should follow these guidelines:
Local (Indianapolis-based) acts always have priority.
Visisting acts playing a bill with one or more local acts are also considered.
We generally don't like to repeat content found on other sites. If your request already has a lot of coverage on other sites, it will be considered low-priority unless you can give us an exclusive angle.
For obvious reasons, we don't do solicited album reviews, though we do appreciate you letting us know when you have a new release. Consider coming in and talking about the album yourself live on the air or a podcast.
All of our staff writers are unpaid enthusiasts. All requests for blog posts are entirely at their descretion.
As such, they generally need a lot of lead-time to put something out -- we're talking weeks of lead time, not hours.
That said, individual authors have full authority to ignore the following guidelines and write whatever they want ... if you can convince them to.
In addition, feel free to write your own post and submit it for posting as a "guest blogger." Those almost always get accepted.
Finally, regional or national acts submitting without meeting the above guidelines are generally ignored. We're not trying to be dicks, but if you send us a generic form-letter with your press release, and it doesn't even remotely concern a local artist or event, then you're not part of our core focus.