M.O.R. Episode 3 -- Michael Dryburgh
By: Ben Cannon, Bram Epstein, and Darrin Snider
Sunday, June 6, 2021
---
M.O.R. Episode 2 -- Ian Thomson
By: Ben Cannon, Bram Epstein, and Darrin Snider
Sunday, May 23, 2021
---
M.O.R. Episode 1 -- Mark Kelly
By: Ben Cannon, Bram Epstein, and Darrin Snider
Sunday, May 16, 2021
---
An In-Snide Look: I Think I Could Get Used to this Life Sometimes
By: Darrin Snider
Sunday, June 7, 2020
---
Getting Down to Earth with mOOnMen
By: Amy Foxworthy
Sunday, February 16, 2020
---
The Musical Journey of Jethro Easyfields
By: Amy Foxworthy
Tuesday, February 11, 2020
---
Monday Mixtape: Etwasprog
By: Darrin Snider
Monday, February 10, 2020
---
Monday Mixtape: Excerpts from the Summer of 2014
By: Darrin Snider
Monday, January 20, 2020
---
Mix Tape Monday: Mashin' it Up
By: Darrin Snider
Monday, January 13, 2020
---
Mix Tape Monday: Back to the Gym Workout
By: Darrin Snider
Monday, January 6, 2020
Mix Tape Monday: If I Had a Cover Band ...
By: Darrin Snider (darrin at indyintune dot com)
Monday, January 21, 2019 5:00:00 PM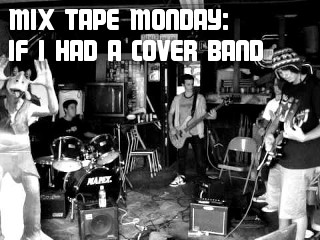 I don't have a cover band. I haven't even really been in once since Blue Tear, and really that was an original band that played some covers because we did three hour gigs with only an hour of original material. In fact, between the two principal guys, we probably had a day and a half of original materal, but we wanted gigs, and it was Greenwood, so we did the obligatory Sweet Home Alabama thing ... though I seem to remember Mark sang the lyrics to the Brady Bunch just to piss some girls off.
Anyway ... for those of you who haven't ever been in a cover band, when they form, it's usually a bunch of drunk guys at 2AM that decide they want to start a cover band ... or a podcast ... in this case, a band. So the next question is: what music do we cover. (Mustang Sally, Brown-Eyed Girl, and Wonderwall come pre-packaged with all new cover bands like Super Mario 64 and Pilotwings 64 did with your first Nintendo. In most cases people start throwing out lists of a dozen or so songs, and everything gets put to a vote as to which ones everyone has to go learn.
Now, the trick I learned, as the keyboard player, is that some of what you want to play is going to get picked regardless. For example, in a five person band, at least three will pick "Don't Stop Believin'," so save a slot and don't even put it on the list. Now of course no (male) singer is ever going to allow a Yes song to make it into the set, so those are automatically out, and the bass player or drummer will usually pick a good Stevie Wonder or some other 70's hit, so don't worry about picking anything funky. Instead, I would submit a well-crafted, ultimate fantasy set-list of self-induglent tracks, mostly keyboard-oriented -- but I hold out hopes of getting to play rhythm guitar on stage someday -- and it would look a little something like this...
Darrin's Fantasy Cover-Band Set List:
Elton Johbn: Funeral for a Friend / Love Lies Bleeding It opens up one of the greatest albums of all time, why shouldn't it open my fantasy show? Bonus, the singer can drink another beer while the band plays and then make a grand entrance. Bigger bonus, on a good day, I can sing this pretty well, so he doesn't have to even come up until the second song.
Meat Loaf: Bat Out of Hell I remember getting a bug up my butt one night and watching a YouTube video on how to play this intro (first time I'd ever done that). By the time I had a good handle where I thought it was learnable, I realized there is NO point in learning this, because there is NO SINGER in Indiana who can pull it off. Unless I want to add a karaoke housewife to the band, but that's just another cut we have to share.
Deep Purple: Burn I want to be Jon Lord for Halloween one year. Heck, I pretty much want to be Jon Lord every day.
Fleetwood Mac: The Green Manalishi I am THRILLED this version exists on YouTube. I grew up with this Bootleg, and it's EXACTLY the version I would want my band to play. That guitar solo/keybaord drone/coked-out Stevie wail at the end is GOOSEBUMPS! Need to have that.
Joe Cocker: Feelin' Alright I remember doing this in Ida No as a Peace Frog/Feelin' Alright/Oy Ye Como Va medley. So much fun to play. Basically two chords and a groove. You can't mess it up, and it's really hard to get lost.
Argent: Hold Your Head Up Mostly because I know I can't get a band to play "Lothlorien," but "Liar" is also an acceptible answer. Can't I just take a moment here to say how watching this band makes me wish I had a band?
Pigeon Detectives: I'm a Liar Not a keyboard track at all, and it may be the way my brain works, but I really hear a Hammond on the chorus and solos ... though it's probably just a guitar harmonic or artifact of some sort.
Catfish and the Bottlemen: Rango Again, no keyboards on the track, but I need to continue my mission to expose everyone in the world to the music of Catfish and the Bottlemen, plus I have always wanted to play rhythm guitar on stage.
ELO: Hold on Tight Makes a great closer for the gig. I've always wanted to see what the crowd response would be to this.
Allman Brothers: Whippin' Post What's that? 20-minute encore full of guitar, drum, and keyboard heroics ending in a fiery explosion that doesn't leave a dry seat in the house? Don't mind if I do!
Got suggestions for what pairs well with this list? Have a suggestion for a future mix tape? Want to submit your own "guest mixed tape" to be featured here? Comments are available below...
---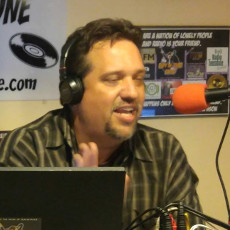 Darrin Snider is the OCD music nerd responsible for creating Indy In-Tune. By day he's a cloud engineer and business analyst, but he still hopes to someday be an overnight freeform disc jockey married to the local weathergirl who happens to be a former eastern-European supermodel.
Blog comments powered by

Disqus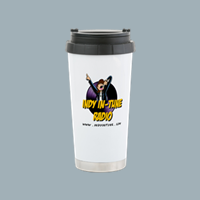 As seen on the webcam. Are you one of those people who can't survive without copious amounts of coffee in the morning? You definitely need one of our stainless steel travel mugs. Give your caffeine the gift of style...
Solicitations and Submissions
Solicitations for blog posts can be made by sending and email to "blog -at- indyintune -dot- com" and should follow these guidelines:
Local (Indianapolis-based) acts always have priority.
Visisting acts playing a bill with one or more local acts are also considered.
We generally don't like to repeat content found on other sites. If your request already has a lot of coverage on other sites, it will be considered low-priority unless you can give us an exclusive angle.
For obvious reasons, we don't do solicited album reviews, though we do appreciate you letting us know when you have a new release. Consider coming in and talking about the album yourself live on the air or a podcast.
All of our staff writers are unpaid enthusiasts. All requests for blog posts are entirely at their descretion.
As such, they generally need a lot of lead-time to put something out -- we're talking weeks of lead time, not hours.
That said, individual authors have full authority to ignore the following guidelines and write whatever they want ... if you can convince them to.
In addition, feel free to write your own post and submit it for posting as a "guest blogger." Those almost always get accepted.
Finally, regional or national acts submitting without meeting the above guidelines are generally ignored. We're not trying to be dicks, but if you send us a generic form-letter with your press release, and it doesn't even remotely concern a local artist or event, then you're not part of our core focus.