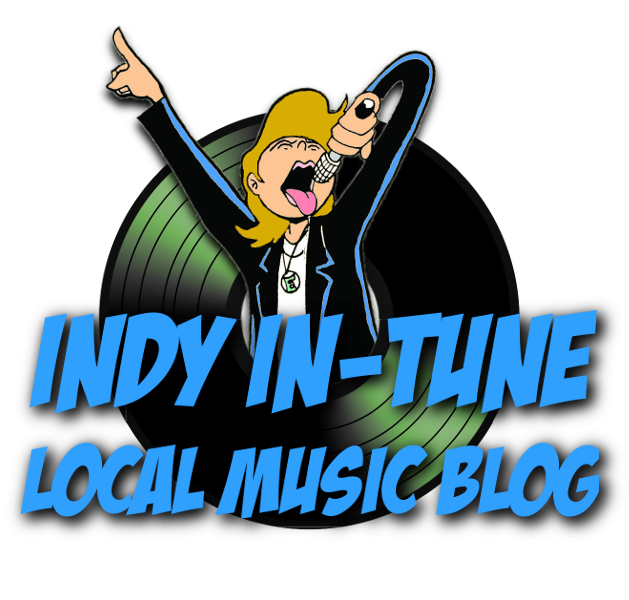 Reality Check: No, I Will Not Be Your Band's PR Agent
By: Lizzy B
Thursday, January 31, 2019
---
Reality Check: Ten Things Your Band Is Doing Wrong, Part Two
By: Lizzy B
Thursday, January 24, 2019
---
Reality Check: Ten Things Your Band Is Doing Wrong, Part One
By: Lizzy B
Thursday, January 17, 2019
---
Reality Check: You're the Cheeseburger, Now Shut Up and Play
By: Lizzy B
Thursday, January 10, 2019
---
Three Negative Behaviors That Are Killing Local Music
By: Lizzy B
Thursday, January 03, 2019
---
On the Road with Jeremy Porter and The Tucos in Their 'Old Kentucky (2nd) Home'
By: Amy Foxworthy
Thursday, December 20, 2018
---
The Stick Arounds - "Ways To Hang On" Album Preview, Show Review and Interview
By: Amy Foxworthy
Tuesday, October 23, 2018
---
Legendary Melody Inn Celebrates 17-Year Anniversary with Dave and Rob
By: Amy Foxworthy
Thursday, October 11, 2018
---
The Hat Madder at Melody Inn with SugarDust and Middle Class
By: Amy Foxworthy
Sunday, September 30, 2018
---
Jakals Bringing Rock from Boston to Indy at The Melody Inn August 26
By: Amy Foxworthy
Friday, August 17, 2018
An In-Snide Look #354: Wherein We Kick Off The Studio B Sessions
By: Darrin Snider (darrin at indyintune dot com)
Tuesday, November 18, 2014 7:00:00 PM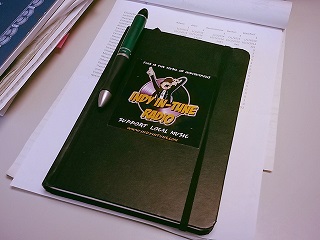 So, those of you who follow the blog, know about "The Little Black Book of Indy In-Tune" -- the grimoire of ultimate wisdom that secretly powers Indy In-Tune behind the scenes. Ensconced in its pages are plans, notes, thoughts, doodles, sketches, big initiatives, small schemes, dirty little secrets, and shitloads of lists about anything and everything that crosses my brain concerning Indy In-Tune. One of those pages contained long-held plans for turning Studio B into a small venue for the proper radio and video streaming of live performances on a bi-weekly, or possibly weekly, basis. Basically, taking house concerts to the next level.
Why? Well, there are a couple of reasons.
First of all, Shine is doing a fantastic job bringing music to new venues with its myriad series. Unfortunately, the size of the local, independent music fan base isn't growing quite as a fast as Shine has been. So now we are in a position where there are more and more events, but same number of ears divided up between them, which means that booking live music is rapidly becoming a fight for a dwindling slice of that righteous "fan ear pie" (try and get THAT image out of your head). This became apparent during the last PodConcert when Shine and I had both inadvertently booked the same lineup for October's LocalLove and September's PodConcert VIII only two weeks apart. Then, it was further reinforced when Shine graciously did not promote their own "Shine on the Rocks" show that night (at the expense of an artist friend of mine) in order to avoid competing with Indy In-Tune. Bless those big-hearted boys.
Second, the venues kind enough to host Shine and Indy In-Tune are businesses, and while we're grateful for every one of them for giving Indy In-Tune a home over the years, it's safe to say that Indy In-Tune's goals and measurements of success are generally not aligned with the venue's goals and measurements of success. We're looking to advance the local music scene in any way possible; they're looking to sell more beer. Now, you would think there's a lot of common ground there -- you know, people like music, they stay, they drink more beer, no problem -- and really, most of the time, there was no problem. On the other hand, nothing freaks out a venue owner faster than saying, "I don't know if your suburban sports bar audience is going to like my in-the-round bill of a jazz pianist, a rock player, and a quirky/funny singer/songwriter, but I really want to see what happens." (No, seriously, that was an actual conversation ... and an actual show.)
On the other hand, if I controlled the venue ...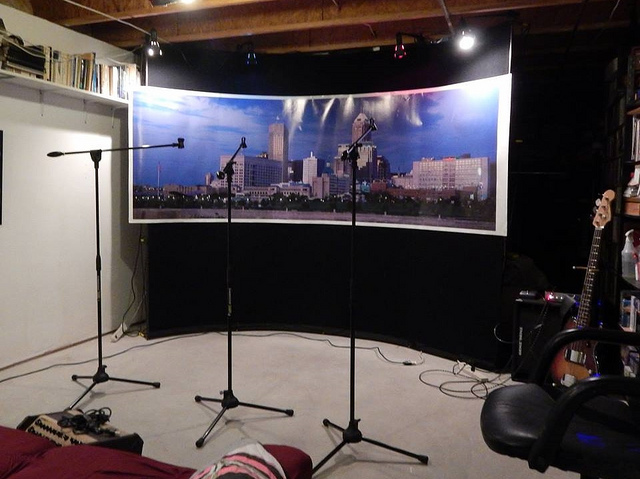 To that end, we announce the next big experiment: The Studio B Sessions. Here's what I'm thinking ... or was thinking ... it's all in that black book:
The stage has been assembled in Studio B. It has lights. It has sound. It has streaming video cameras.
Beginning on alternate Wednesdays in 2015, we will feature two acts -- and opener and a headliner
The evening's performance unfolds like this:

7:00 PM -- A live podcast featuring the headlining act, co-hosted by our opening act
8:00 PM (ish) -- Our opening act takes the stage
9:00 PM (ish) -- Our headliner takes the stage

The evening is audio simulcast to Indy In-Tune Radio
The evening is video simulcast to the Indy In-Tune UStream channel
Live chat rooms and call in numbers made available
We have capacity for a limited studio audience of 10-15 people. Guests of the band take first priority followed by Indy In-Tune inner circle. Remaining slots are made available to the public on a 1st come/1st serve basis.
Dinner and drinks are provided. Admission to the show is a contribution to a pitch-in dinner (usually themed) or a minimum 6-pack donation to the magic fridge
Well, that's the plan, anyway. We'll be doing a test run with our two favorite guinea pigs, Kolo Bell and Whoa!Tiger tomorrow night at 7PM. So, why not make plans to tune in to Indy In-Tune (your choice of radio or video) and see if we end up failing miserably or upping the ante a bit.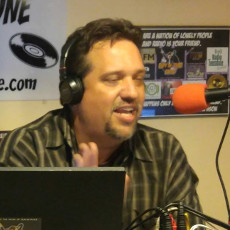 Darrin Snider is the founding music nerd responsible for Indy In-Tune Radio and the Indy In-Tune Podcast. By day he is a business analyst and recovering software engineer, which is fun, but he hopes to downgrade to overnight FM disc jockey someday.
Blog comments powered by

Disqus
An In-Snide Look
Darrin's inane rambling from behind the scenes at Indy In-Tune ... or whatever else he's into at the moment.
An In-Snide Look #378: Holiday Challenge Update, Week 1
By: Darrin Snider
Friday, December 12, 2014
---
An In-Snide Look #376: Wherein a Challenge is Accepted
By: Darrin Snider
Wednesday, December 10, 2014
---
An In-Snide Look #374: Spread some Holiday Cheer, Local Musicians!
By: Darrin Snider
Monday, December 08, 2014
---
An In-Snide Look #361: Wherein Darrin's Inner Psyche Is Found On YouTube
By: Darrin Snider
Tuesday, November 25, 2014
---
An In-Snide Look #355: Wherein We Recap the Test Run of The Studio B Stage
By: Darrin Snider
Wednesday, November 19, 2014
---
An In-Snide Look #354: Wherein We Kick Off The Studio B Sessions
By: Darrin Snider
Tuesday, November 18, 2014
---
An In-Snide Look #327: Wherein We Are Annoyed by Public Radio
By: Darrin Snider
Wednesday, October 22, 2014
---
An In-Snide Look #315 -- The Pastorale Paradox, Part Two
By: Darrin Snider
Friday, October 10, 2014
---
An In-Snide Look #314 -- The Pastorale Paradox, Part One
By: Darrin Snider
Thursday, October 09, 2014
---
An In-Snide Look #311 -- Wherein a Conspiracy Begins
By: Darrin Snider
Monday, October 06, 2014