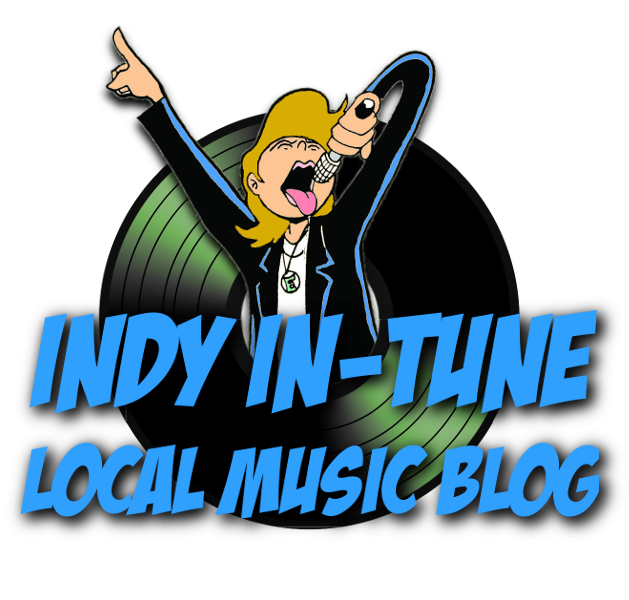 Reality Check: No, I Will Not Be Your Band's PR Agent
By: Lizzy B
Thursday, January 31, 2019
---
Reality Check: Ten Things Your Band Is Doing Wrong, Part Two
By: Lizzy B
Thursday, January 24, 2019
---
Reality Check: Ten Things Your Band Is Doing Wrong, Part One
By: Lizzy B
Thursday, January 17, 2019
---
Reality Check: You're the Cheeseburger, Now Shut Up and Play
By: Lizzy B
Thursday, January 10, 2019
---
Three Negative Behaviors That Are Killing Local Music
By: Lizzy B
Thursday, January 03, 2019
---
On the Road with Jeremy Porter and The Tucos in Their 'Old Kentucky (2nd) Home'
By: Amy Foxworthy
Thursday, December 20, 2018
---
The Stick Arounds - "Ways To Hang On" Album Preview, Show Review and Interview
By: Amy Foxworthy
Tuesday, October 23, 2018
---
Legendary Melody Inn Celebrates 17-Year Anniversary with Dave and Rob
By: Amy Foxworthy
Thursday, October 11, 2018
---
The Hat Madder at Melody Inn with SugarDust and Middle Class
By: Amy Foxworthy
Sunday, September 30, 2018
---
Jakals Bringing Rock from Boston to Indy at The Melody Inn August 26
By: Amy Foxworthy
Friday, August 17, 2018
An In-Snide Look #355: Wherein We Recap the Test Run of The Studio B Stage
By: Darrin Snider (darrin at indyintune dot com)
Wednesday, November 19, 2014 11:45:00 PM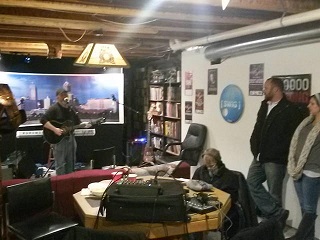 Well, that was fun, if not exhausting. Just completed kicking off the inaugural performance from the Studio B stage, with a small in-studio audience, and a fairly good-sized virtual audience, both on the normal Indy In-Tune Radio stream, as well as on the UStream channel. Aside from a few minor unforeseen issues and a couple of technical limitations, I feel pretty comfortable with moving forward and making this a twice-a-month broadcast event as discussed in the previous blog post. We'll probably alternate between an acoustic opener/full band set and a "songwriters in the round" set, just like we did the old Monday Night Live shows. Of course this is all dependent on who we can get to volunteer. So just for my own sake of recording the evening for posterity, here's the rundown: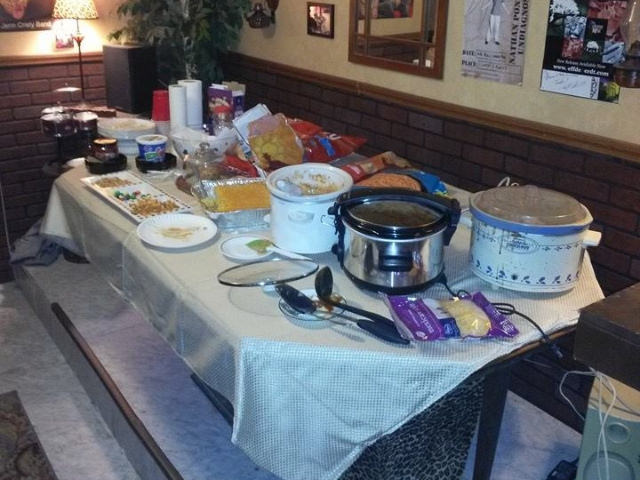 An excellent pitch-in dinner with chili courtesy of Mr. Mike Myers.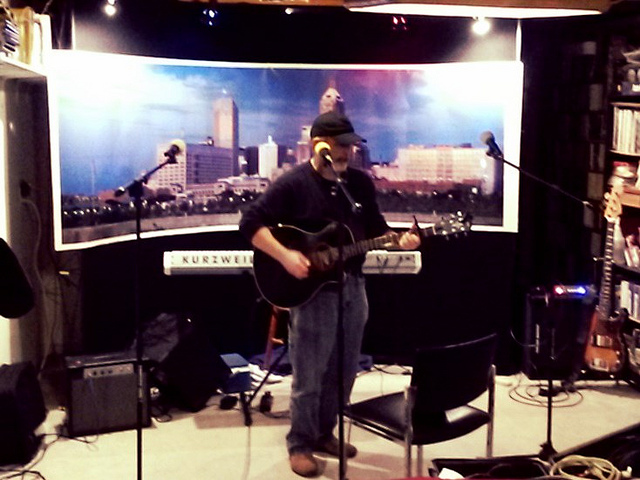 What the Internet saw (Rusty-eye view)...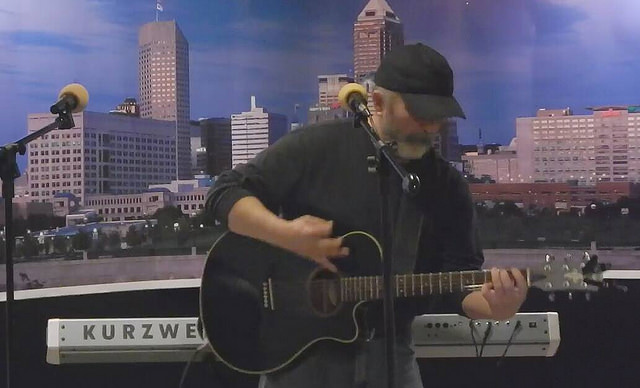 Kolo Bell kicking off the show to screaming and adoring fans.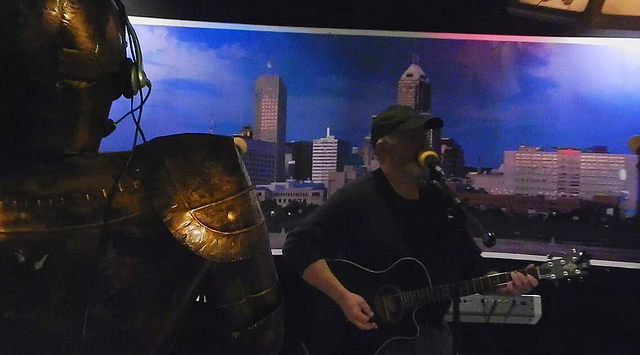 All broadcast live to the Internet courtesy of our camera man, Sir Rusty.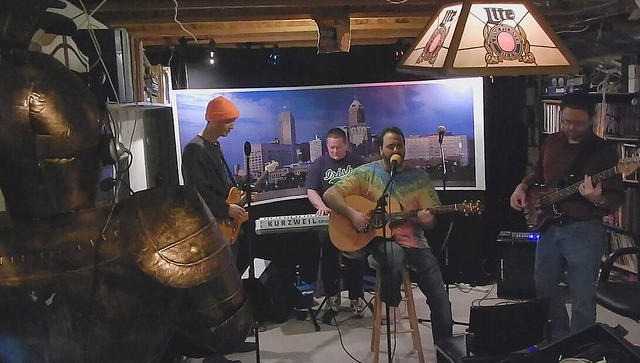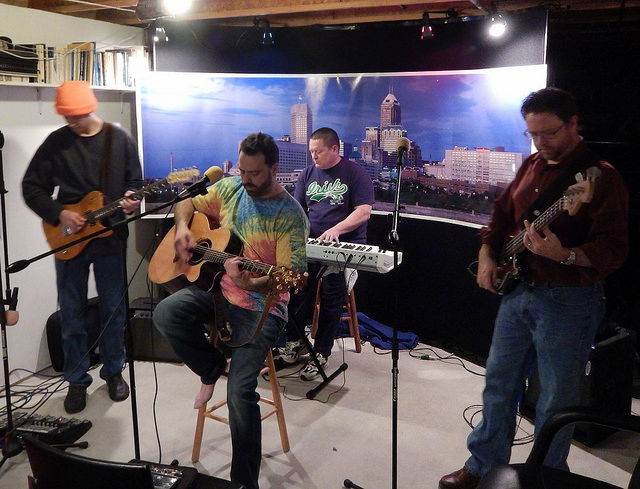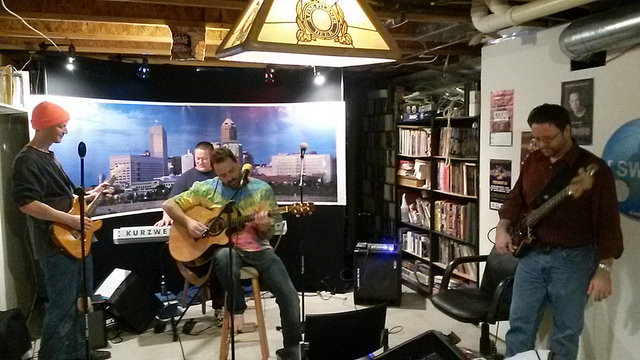 Whoa!Tiger, sans drummers, taking the stage at 9:00 (ish). While they seemed less than pleased, I though the lack of percussion really brought out the keys and guitar more, so I appreciated the sound.

By 11:00 PM, we're grabbing a celebratory beer at Claude and Annie's, uploading photos of the evening, and preparing a blog post to commemorate.
So, there were a few issues to be address, for those who were curious.
Better video streaming. I don't think it's a bandwidth issue. Skype works fine. According to the chat room, Ustream was very jittery and the sound was out of synch, however. Odd, since we've used UStream before without issue, though that was different equipment.
No stage monitors. Yeah, that's going to be an issue.
More lights. The backdrop looked great, but you can't see the artists when they step away from it.
Need dedicated setups for stage and console. As it is, we have to move mics and cables from the podcast rig to the stage rig.
New mixer. The one for the stage is somewhat iffy. Big props to Cannon and Jackson of Shine, who were in attendance and just happened to have a small PA with mixer in the back of Jamie's car.
Crazy timing / what to do during sound checks. Obvious thing is to have a dedicated sound man who can do sound checks while the podcast is being recorded. That would avoid much of the 15-minute break we were forced to take.
So, there you have it. One more item on the Indy In-Tune bucket list checked off. Now for the fun part: If you or a band you know, would like to play the Indy In-Tune stage, which comes complete with a podcast, recording, and live audio/video broadcast to the world at large, all you need to do is drop by the Signup Sheet, and pick one of the Wednesday night slots. Submission does not guarantee acceptance, but we're going to try to get everybody in eventually.
Looking forward to hosting some great events here in 2015.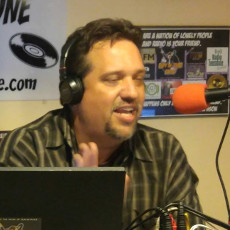 Darrin Snider is the founding music nerd responsible for Indy In-Tune Radio and the Indy In-Tune Podcast. By day he is a business analyst and recovering software engineer, which is fun, but he hopes to downgrade to overnight FM disc jockey someday.
Blog comments powered by

Disqus
An In-Snide Look
Darrin's inane rambling from behind the scenes at Indy In-Tune ... or whatever else he's into at the moment.
An In-Snide Look #378: Holiday Challenge Update, Week 1
By: Darrin Snider
Friday, December 12, 2014
---
An In-Snide Look #376: Wherein a Challenge is Accepted
By: Darrin Snider
Wednesday, December 10, 2014
---
An In-Snide Look #374: Spread some Holiday Cheer, Local Musicians!
By: Darrin Snider
Monday, December 08, 2014
---
An In-Snide Look #361: Wherein Darrin's Inner Psyche Is Found On YouTube
By: Darrin Snider
Tuesday, November 25, 2014
---
An In-Snide Look #355: Wherein We Recap the Test Run of The Studio B Stage
By: Darrin Snider
Wednesday, November 19, 2014
---
An In-Snide Look #354: Wherein We Kick Off The Studio B Sessions
By: Darrin Snider
Tuesday, November 18, 2014
---
An In-Snide Look #327: Wherein We Are Annoyed by Public Radio
By: Darrin Snider
Wednesday, October 22, 2014
---
An In-Snide Look #315 -- The Pastorale Paradox, Part Two
By: Darrin Snider
Friday, October 10, 2014
---
An In-Snide Look #314 -- The Pastorale Paradox, Part One
By: Darrin Snider
Thursday, October 09, 2014
---
An In-Snide Look #311 -- Wherein a Conspiracy Begins
By: Darrin Snider
Monday, October 06, 2014