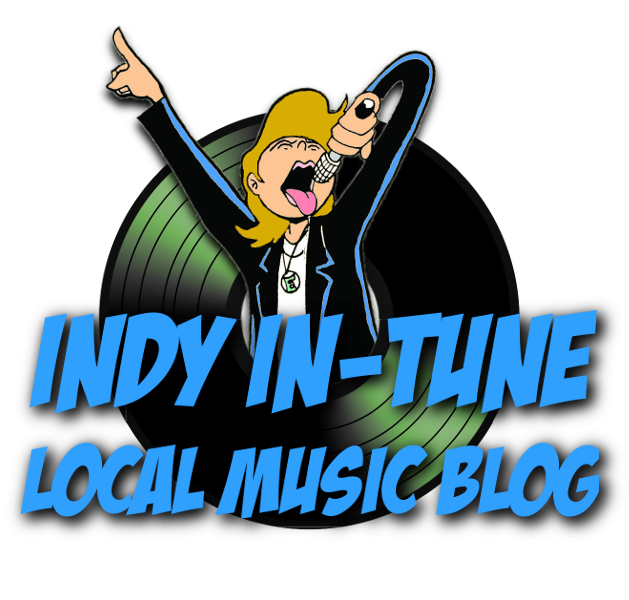 Reality Check: No, I Will Not Be Your Band's PR Agent
By: Lizzy B
Thursday, January 31, 2019
---
Reality Check: Ten Things Your Band Is Doing Wrong, Part Two
By: Lizzy B
Thursday, January 24, 2019
---
Reality Check: Ten Things Your Band Is Doing Wrong, Part One
By: Lizzy B
Thursday, January 17, 2019
---
Reality Check: You're the Cheeseburger, Now Shut Up and Play
By: Lizzy B
Thursday, January 10, 2019
---
Three Negative Behaviors That Are Killing Local Music
By: Lizzy B
Thursday, January 03, 2019
---
On the Road with Jeremy Porter and The Tucos in Their 'Old Kentucky (2nd) Home'
By: Amy Foxworthy
Thursday, December 20, 2018
---
The Stick Arounds - "Ways To Hang On" Album Preview, Show Review and Interview
By: Amy Foxworthy
Tuesday, October 23, 2018
---
Legendary Melody Inn Celebrates 17-Year Anniversary with Dave and Rob
By: Amy Foxworthy
Thursday, October 11, 2018
---
The Hat Madder at Melody Inn with SugarDust and Middle Class
By: Amy Foxworthy
Sunday, September 30, 2018
---
Jakals Bringing Rock from Boston to Indy at The Melody Inn August 26
By: Amy Foxworthy
Friday, August 17, 2018
An In-Snide Look #378: Holiday Challenge Update, Week 1
By: Darrin Snider (darrin at indyintune dot com)
Friday, December 12, 2014 5:00:00 PM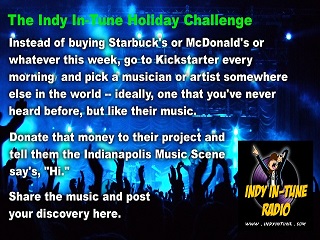 Okay, folks, we're nearing the end of the first week of the Indy In-Tune Holiday challenge, and I have to say, this whole "giving spirit" thing has been an absolute blast. When I think back to nine years ago or so when Indy In-Tune was a fermenting idea in my alcohol-soaked skull, one of the things that made it really appealing was the chance to meet new people, make a few friends, and hear some great music. What I've come to realize in the years since then is that ... well ... I've met all you people. This has been a real chance to connect with a few artists regionally, nationally, and internationally in order to spread the word that Indianapolis has a unified music scene, and we support our musical peers everywhere.
Just to recap, I previously posted about how all this got accidentally started. What I haven't done is get everyone updated as to how it's going. So, first off, let me say a big thank you to everyone who embraced, ran away with, or at least helped spread the word about this idea. Quite a few of you jumped on it -- not as many as I had hoped -- but I think everyone "gets" what we're trying to do here. Since it really was an impromptu idea on a Monday night, and not really announced until Tuesday, I know everyone kinda feels like it was sprung on them at the spur of the moment, so hopefully we can pull some more into the fold for a second week. Next, I had no idea this would become really friggin' addictive. I've had so much fun with this, and since not everything I've backed looks like it's going to get funded, I'm going to keep it going for at least another week, and maybe through the holiday itself. So, I invite everyone to jump in, even if it's just two or three bucks sporadically over the next few weeks. Honestly, it's all about the people, not so much the dollar amounts. You'll meet some very cool musicians who are thrilled that their music was heard by a stranger, and you'll gain a lot of paid-forward karma points if you're into such things.
Just to recap where I'm at, personally, and to inform everyone of some great projects, in case they want to boost my own humble efforts and make a more substantial contribution in the name of Indianapolis Music...
So that's where we are. How did you guys do? What did you find that you had to get behind? Who's up for another week? I know I am.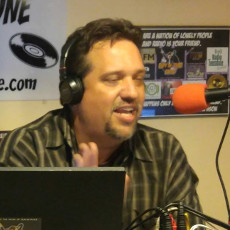 Darrin Snider is the founding music nerd responsible for Indy In-Tune Radio and the Indy In-Tune Podcast. By day he is a business analyst and recovering software engineer, which is fun, but he hopes to downgrade to overnight FM disc jockey someday.
Blog comments powered by

Disqus
An In-Snide Look
Darrin's inane rambling from behind the scenes at Indy In-Tune ... or whatever else he's into at the moment.
An In-Snide Look #378: Holiday Challenge Update, Week 1
By: Darrin Snider
Friday, December 12, 2014
---
An In-Snide Look #376: Wherein a Challenge is Accepted
By: Darrin Snider
Wednesday, December 10, 2014
---
An In-Snide Look #374: Spread some Holiday Cheer, Local Musicians!
By: Darrin Snider
Monday, December 08, 2014
---
An In-Snide Look #361: Wherein Darrin's Inner Psyche Is Found On YouTube
By: Darrin Snider
Tuesday, November 25, 2014
---
An In-Snide Look #355: Wherein We Recap the Test Run of The Studio B Stage
By: Darrin Snider
Wednesday, November 19, 2014
---
An In-Snide Look #354: Wherein We Kick Off The Studio B Sessions
By: Darrin Snider
Tuesday, November 18, 2014
---
An In-Snide Look #327: Wherein We Are Annoyed by Public Radio
By: Darrin Snider
Wednesday, October 22, 2014
---
An In-Snide Look #315 -- The Pastorale Paradox, Part Two
By: Darrin Snider
Friday, October 10, 2014
---
An In-Snide Look #314 -- The Pastorale Paradox, Part One
By: Darrin Snider
Thursday, October 09, 2014
---
An In-Snide Look #311 -- Wherein a Conspiracy Begins
By: Darrin Snider
Monday, October 06, 2014