M.O.R. Episode 3 -- Michael Dryburgh
By: Ben Cannon, Bram Epstein, and Darrin Snider
Sunday, June 6, 2021
---
M.O.R. Episode 2 -- Ian Thomson
By: Ben Cannon, Bram Epstein, and Darrin Snider
Sunday, May 23, 2021
---
M.O.R. Episode 1 -- Mark Kelly
By: Ben Cannon, Bram Epstein, and Darrin Snider
Sunday, May 16, 2021
---
An In-Snide Look: I Think I Could Get Used to this Life Sometimes
By: Darrin Snider
Sunday, June 7, 2020
---
Getting Down to Earth with mOOnMen
By: Amy Foxworthy
Sunday, February 16, 2020
---
The Musical Journey of Jethro Easyfields
By: Amy Foxworthy
Tuesday, February 11, 2020
---
Monday Mixtape: Etwasprog
By: Darrin Snider
Monday, February 10, 2020
---
Monday Mixtape: Excerpts from the Summer of 2014
By: Darrin Snider
Monday, January 20, 2020
---
Mix Tape Monday: Mashin' it Up
By: Darrin Snider
Monday, January 13, 2020
---
Mix Tape Monday: Back to the Gym Workout
By: Darrin Snider
Monday, January 6, 2020
Ex-Bombers to Play Indy's Jukebox
By: Darrin Snider (darrin at indyintune dot com)
Thursday, July 25, 2013 7:00:00 PM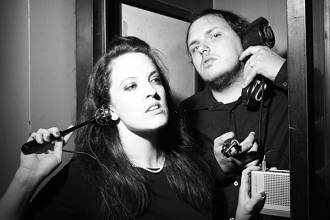 Relayed From:
Cavetone Records (
cavetonerecords@gmail.com
)
-----
The Ex-Bombers stop at Indy's Jukebox at 306 East Prospect St. in Indianapolis on
August 10
for a live performance in support of their vinyl-only release "The Tightwire."
Drummer and vocalist Keri Cousins describes their sound as "dirtbag spy jazz or beatnik punk. Our songs come from seedy and sleazy places."
Menacing, avant, yet still with pop sensibility, the pair merge an easy but provocative alliance between the flippant sounds of early Velvet Underground/Sonic Youth and the content and style of Soft Cell/Girls Against Boys.
They create these sounds using an 8-string bass, a drum set, a male voice, a female voice, and absolutely nothing digital. This luddite manifesto continues into their album, which has no digital copies and resides only on vinyl.
In 2013, the choice to keep music off of the Internet is a curious one as the myth of rock and roll dictates that by putting music "out there" a band can "make it." The Ex-Bombers and Cavetone Records have a different philosophy. Everything about the band and label go against the grain of a convergence culture and the disposable digital ubiquity of music in 2013.
Singer and 8-string bassist Scott Walus said, "Both music making and listening are very human activities that deserve a dedicated space away from the place of textual communication, dirty pictures, and brightly colored games."
The group's vinyl-only release represents a radical culmination of some prevailing cultural and economic trends. The music industry has drastically shifted toward music without physical referent as CD sales continue to decline. According to RIAA (Recording Industry Association of America), over the previous decade, CD sales have decreased from 753 million to 241 million.
While vinyl sales cannot compare to their 344 million unit peak in 1977, record sales currently make up 2% of the annual total sales of the record industry (about five million units) up from its 1993 low of 300,000. This of course excludes the used market as well as units sold outside of SoundScan (a common practice in independent distribution and retail).
According to ICM (Independent Communications and Marketing) the 18-24 age group constitutes the largest consumers of vinyl records, the most malleable age for audience habits over a lifetime.
This 2% foothold of vinyl pales in comparison to the 59% share of digital-only (ex: iTunes) or even the 15% that digital music streaming (ex: Pandora) comprises according to the March 26, 2013 Billboard article by Glenn Peoples.
Many artists have sought to reap the best of both worlds by offering digital downloads with vinyl purchases. However, The Ex-Bombers, as well as all current Cavetone Records artists, provide vinyl as the only manner by which listeners can experience their music.
---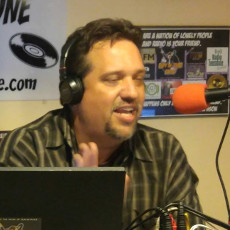 Darrin Snider is the OCD music nerd responsible for creating Indy In-Tune. By day he's a cloud engineer and business analyst, but he still hopes to someday be an overnight freeform disc jockey married to the local weathergirl who happens to be a former eastern-European supermodel.
Blog comments powered by

Disqus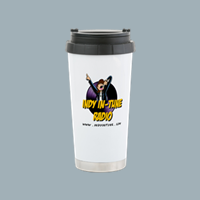 As seen on the webcam. Are you one of those people who can't survive without copious amounts of coffee in the morning? You definitely need one of our stainless steel travel mugs. Give your caffeine the gift of style...
Solicitations and Submissions
Solicitations for blog posts can be made by sending and email to "blog -at- indyintune -dot- com" and should follow these guidelines:
Local (Indianapolis-based) acts always have priority.
Visisting acts playing a bill with one or more local acts are also considered.
We generally don't like to repeat content found on other sites. If your request already has a lot of coverage on other sites, it will be considered low-priority unless you can give us an exclusive angle.
For obvious reasons, we don't do solicited album reviews, though we do appreciate you letting us know when you have a new release. Consider coming in and talking about the album yourself live on the air or a podcast.
All of our staff writers are unpaid enthusiasts. All requests for blog posts are entirely at their descretion.
As such, they generally need a lot of lead-time to put something out -- we're talking weeks of lead time, not hours.
That said, individual authors have full authority to ignore the following guidelines and write whatever they want ... if you can convince them to.
In addition, feel free to write your own post and submit it for posting as a "guest blogger." Those almost always get accepted.
Finally, regional or national acts submitting without meeting the above guidelines are generally ignored. We're not trying to be dicks, but if you send us a generic form-letter with your press release, and it doesn't even remotely concern a local artist or event, then you're not part of our core focus.