M.O.R. Episode 3 -- Michael Dryburgh
By: Ben Cannon, Bram Epstein, and Darrin Snider
Sunday, June 6, 2021
---
M.O.R. Episode 2 -- Ian Thomson
By: Ben Cannon, Bram Epstein, and Darrin Snider
Sunday, May 23, 2021
---
M.O.R. Episode 1 -- Mark Kelly
By: Ben Cannon, Bram Epstein, and Darrin Snider
Sunday, May 16, 2021
---
An In-Snide Look: I Think I Could Get Used to this Life Sometimes
By: Darrin Snider
Sunday, June 7, 2020
---
Getting Down to Earth with mOOnMen
By: Amy Foxworthy
Sunday, February 16, 2020
---
The Musical Journey of Jethro Easyfields
By: Amy Foxworthy
Tuesday, February 11, 2020
---
Monday Mixtape: Etwasprog
By: Darrin Snider
Monday, February 10, 2020
---
Monday Mixtape: Excerpts from the Summer of 2014
By: Darrin Snider
Monday, January 20, 2020
---
Mix Tape Monday: Mashin' it Up
By: Darrin Snider
Monday, January 13, 2020
---
Mix Tape Monday: Back to the Gym Workout
By: Darrin Snider
Monday, January 6, 2020
An In-Snide Look #2
By: Darrin Snider (darrin at indyintune dot com)
Sunday, December 1, 2013 8:30:00 AM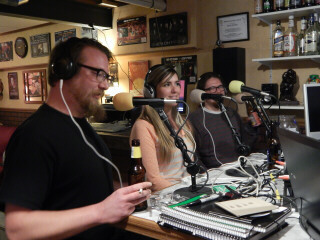 Day 2 was slightly more productive than the previous day. Spent the afternoon working with Irish on the inaugural episode(?) of "The Soundcheck ... With Irish." (Tangent: Did you know our lawyers said we have to always include the last part of that name so you don't mistake us for that hipster Village Voice knockoff's half-assed local music calendar that is really neither local nor music-related?) Only took about four hours to record the first hour of his show, which really only involves 10 minutes of his actual talking in between tracks. Should be pretty exciting stuff. He's a little dry coming out of the gate, hopefully we can get him to inject a bit of personality into the show, rather than just announce what track he's about to play. I know "radio personality" is a relatively unknown thing to you kids these days, but back when I was growing up, radio was almost as much about the DJ as it was the music. Heck, DJ's had me convinced disco was cool, when it comes down to it -- okay, I was 8 ... and impressionable. Nearly four decades later I still remember the voices -- Dennis and Glenn in the morning, Marty with the Party in the evenings, heroes like Casey Kasem, Kenny Everett and Jonnie King … who were actually syndicated shows, but at the time I assumed they were crazy guys that hung around the studio break room with everyone else. These days I can't even tell you the name of the guy I've been listening to on the drive home for the past three years, because he just isn't registering with me as anything other than a voice that announces the next track … right after the fifth commercial break of the hour.

With Irish's first hour firmly cemented into the hard drive, we switched gears and were were paid a visit by the cast of the Chris Brake Show, a new podcast in town that bears your attention. Obviously, I am a sucker for startup podcasts, and particularly freeform podcasts, so I invited them up to sort of collaborate, do a double-episode of our respective shows (My 151st, their 13th), and see if the personalities and creative processes jibed well enough that we might collaborate on something down the road. Heavens knows I've got 41 cards in my Springpad notebook that need somebody to run with them. (Yeah, I added a few this morning … it's a sickness … and aren't you astute for noticing.) The show was an interesting experiment, as those of you who listened in to the live stream will attest, I'm sure. Although, I think we bored a couple of the cast members, so I'll just assume you guys hung in there. For the most part, however, I think we all had a good time. We got about three hours of random stream-of-conscious conversation recorded. They will get a copy to edit, and I'll keep my copy to edit. It should be interesting to see how far apart the two episodes end up. Look for them coming soon, it should be Show #151.

This also cemented my suspicion that I really need to do a freeform podcast, even if it's just an audio version of this blog. Ideally, I'd like an ensemble crew though. I cut my podcasting teeth on shows like Wingin' It, Deadpan, Zedcast, and a host of others that were never really about anything other than people just sitting around talking about random topics. Much like the aforementioned radio jocks, I completely latched on to these characters and made some sort of connection anyway … whether it's real or completely in my head is the delicate balance between rabid fanboy and creepy stalker that I walk. While I've loved the whole podcasting experience for coming up on eight years now, I often feel I sold myself short by going with a structured format and topic. I really need to stretch out into improvisational audio.

And that's how card #42 got added to the notebook.

---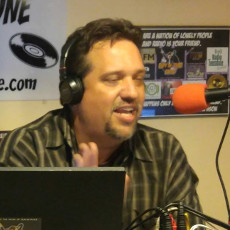 Darrin Snider is the OCD music nerd responsible for creating Indy In-Tune. By day he's a cloud engineer and business analyst, but he still hopes to someday be an overnight freeform disc jockey married to the local weathergirl who happens to be a former eastern-European supermodel.
Blog comments powered by

Disqus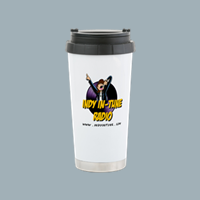 As seen on the webcam. Are you one of those people who can't survive without copious amounts of coffee in the morning? You definitely need one of our stainless steel travel mugs. Give your caffeine the gift of style...
Solicitations and Submissions
Solicitations for blog posts can be made by sending and email to "blog -at- indyintune -dot- com" and should follow these guidelines:
Local (Indianapolis-based) acts always have priority.
Visisting acts playing a bill with one or more local acts are also considered.
We generally don't like to repeat content found on other sites. If your request already has a lot of coverage on other sites, it will be considered low-priority unless you can give us an exclusive angle.
For obvious reasons, we don't do solicited album reviews, though we do appreciate you letting us know when you have a new release. Consider coming in and talking about the album yourself live on the air or a podcast.
All of our staff writers are unpaid enthusiasts. All requests for blog posts are entirely at their descretion.
As such, they generally need a lot of lead-time to put something out -- we're talking weeks of lead time, not hours.
That said, individual authors have full authority to ignore the following guidelines and write whatever they want ... if you can convince them to.
In addition, feel free to write your own post and submit it for posting as a "guest blogger." Those almost always get accepted.
Finally, regional or national acts submitting without meeting the above guidelines are generally ignored. We're not trying to be dicks, but if you send us a generic form-letter with your press release, and it doesn't even remotely concern a local artist or event, then you're not part of our core focus.