M.O.R. Episode 3 -- Michael Dryburgh
By: Ben Cannon, Bram Epstein, and Darrin Snider
Sunday, June 6, 2021
---
M.O.R. Episode 2 -- Ian Thomson
By: Ben Cannon, Bram Epstein, and Darrin Snider
Sunday, May 23, 2021
---
M.O.R. Episode 1 -- Mark Kelly
By: Ben Cannon, Bram Epstein, and Darrin Snider
Sunday, May 16, 2021
---
An In-Snide Look: I Think I Could Get Used to this Life Sometimes
By: Darrin Snider
Sunday, June 7, 2020
---
Getting Down to Earth with mOOnMen
By: Amy Foxworthy
Sunday, February 16, 2020
---
The Musical Journey of Jethro Easyfields
By: Amy Foxworthy
Tuesday, February 11, 2020
---
Monday Mixtape: Etwasprog
By: Darrin Snider
Monday, February 10, 2020
---
Monday Mixtape: Excerpts from the Summer of 2014
By: Darrin Snider
Monday, January 20, 2020
---
Mix Tape Monday: Mashin' it Up
By: Darrin Snider
Monday, January 13, 2020
---
Mix Tape Monday: Back to the Gym Workout
By: Darrin Snider
Monday, January 6, 2020
An In-Snide Look #10
By: Darrin Snider (darrin at indyintune dot com)
Monday, December 9, 2013 8:30:00 AM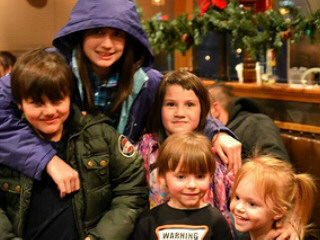 Caught Megan Hopkins and Dave Vogt at Castleton Grill last night. Great time. Amusing to see so many of the music scene's kids in one place playing together, the Jackson's, the Vogt's, the Hopkinses, and mine. Jamie Jackson took the photo ... it's probably to your right, depending on what device you're reading this on. Ain't they cute? So, the short little blonde one is mine. I refer to her as the "ring leader." Jamie suggested that this is the future of the music scene, and in 20 years they'll all be in bands. Actually, I figure mine will be the host of the Indy In-Tune Neural Net feed that gets plugged directly into your cerebral cortex. I'm sure I'll just be a disembodied brain in a jar on the desk in Studio B by then. I'll probably just stick to doing the overnight shift, as Bob Fass was always a hero of mine.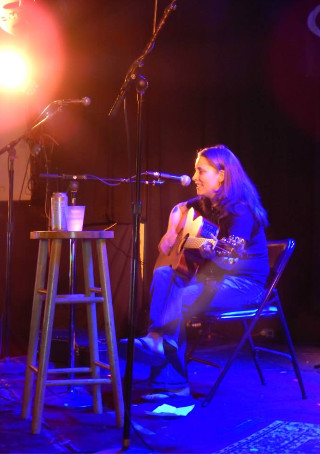 Speaking of little ones growing up, let me tell you about little Megan Hopkins. This is one of those performers that I've been following pretty much her entire career. She started out three or four years ago at Kolo Bell's open mic as this timid little shy girl who used to get up on stage towards the end of the evening and sing three or for a cappella songs to the last of the die-hard musicians who have stuck around. Now, I've got to say, this is not a recommended means to break into the scene, even if you've got a voice as strong as Megan's. First off, it never sounds as good to the listener as it does in your head, because we can't hear the accompaniment that you're hearing in your head. Second off, and I'm still not sure how to phrase this properly, not having a band and covering someone else's songs a cappella comes off as, not really arrogant, but it's sort of like walking up to Mike Tyson and saying, let's go, I can take you all by myself. I mean, Megan is a great singer, but I think even she would admit she's not Grace Potter, Janis Joplin, or Greg Allman, which were the three particular masters of their craft that she regularly chose to invite direct comparison to.

Granted this is also one of Megan's most unique qualities: she does it her way, and will politely ignore anybody's advice as to how to become a successful musician. And rightly so, I might add. That is to say, I was pretty sure the choice was wrong then, but obviously my idea won't guarantee success either, and in the end she's right in there with pack now, so it may not have hurt her one way or the other. Though the a cappella shtick was one thing at an open mic, for her first paying gig, she booked a two hour show of a cappella covers ... in a dive bar ... in Clermont. I mean, I really wanted to support my friend and be there for her first show, but honestly, at one point I thought I was going to die. Ask her about that sometime.

Over the years, Megan's picked up a bit of guitar playing, written quite a few great songs of her own, and played out quite a bit. She's got a gracious, down-home stage presence that engages the audience well, and geez, I can't say? I've ever met anyone with that much sheer will to be a musician. If that desire was all it took, she'd be a household name by now. My only beef is that I'd still desperately like to see her get out of the country-ish singer/songwriter realm and into something a little more unique. She's got a very powerful voice that frequently overpowers the single acoustic guitar and really should only be backed by full-on electric band that can emphasize the more soulful, loungy side of her rich voice. Still, she never disappoints in her solo performances, and if you find yourself in a position to catch one, then by all means, get out there and do it. You will not be disappointed.

---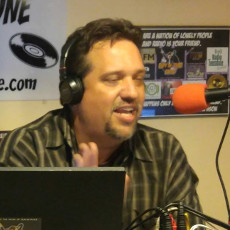 Darrin Snider is the OCD music nerd responsible for creating Indy In-Tune. By day he's a cloud engineer and business analyst, but he still hopes to someday be an overnight freeform disc jockey married to the local weathergirl who happens to be a former eastern-European supermodel.
Blog comments powered by

Disqus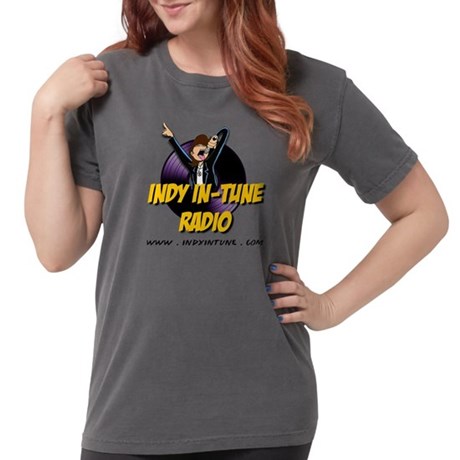 Ladies, don't you hate buying generic (unisex) T-shirts? We've got you covered with a line of womens'-fit clothing in a variety of styles and colors. Check Out Our Specials This Week...
Solicitations and Submissions
Solicitations for blog posts can be made by sending and email to "blog -at- indyintune -dot- com" and should follow these guidelines:
Local (Indianapolis-based) acts always have priority.
Visisting acts playing a bill with one or more local acts are also considered.
We generally don't like to repeat content found on other sites. If your request already has a lot of coverage on other sites, it will be considered low-priority unless you can give us an exclusive angle.
For obvious reasons, we don't do solicited album reviews, though we do appreciate you letting us know when you have a new release. Consider coming in and talking about the album yourself live on the air or a podcast.
All of our staff writers are unpaid enthusiasts. All requests for blog posts are entirely at their descretion.
As such, they generally need a lot of lead-time to put something out -- we're talking weeks of lead time, not hours.
That said, individual authors have full authority to ignore the following guidelines and write whatever they want ... if you can convince them to.
In addition, feel free to write your own post and submit it for posting as a "guest blogger." Those almost always get accepted.
Finally, regional or national acts submitting without meeting the above guidelines are generally ignored. We're not trying to be dicks, but if you send us a generic form-letter with your press release, and it doesn't even remotely concern a local artist or event, then you're not part of our core focus.