M.O.R. Episode 3 -- Michael Dryburgh
By: Ben Cannon, Bram Epstein, and Darrin Snider
Sunday, June 6, 2021
---
M.O.R. Episode 2 -- Ian Thomson
By: Ben Cannon, Bram Epstein, and Darrin Snider
Sunday, May 23, 2021
---
M.O.R. Episode 1 -- Mark Kelly
By: Ben Cannon, Bram Epstein, and Darrin Snider
Sunday, May 16, 2021
---
An In-Snide Look: I Think I Could Get Used to this Life Sometimes
By: Darrin Snider
Sunday, June 7, 2020
---
Getting Down to Earth with mOOnMen
By: Amy Foxworthy
Sunday, February 16, 2020
---
The Musical Journey of Jethro Easyfields
By: Amy Foxworthy
Tuesday, February 11, 2020
---
Monday Mixtape: Etwasprog
By: Darrin Snider
Monday, February 10, 2020
---
Monday Mixtape: Excerpts from the Summer of 2014
By: Darrin Snider
Monday, January 20, 2020
---
Mix Tape Monday: Mashin' it Up
By: Darrin Snider
Monday, January 13, 2020
---
Mix Tape Monday: Back to the Gym Workout
By: Darrin Snider
Monday, January 6, 2020
An In-Snide Look #39
By: Darrin Snider (darrin at indyintune dot com)
Tuesday, January 7, 2014 11:30:00 PM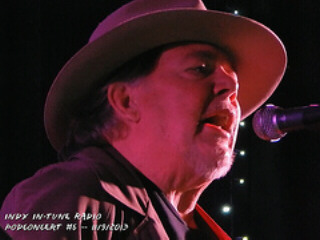 Snowpocalypse: Day 4. Finally make it out! Feel like I got paroled. Managed to nurse the 115 horse-power open sleigh across the frozen tundra to Claude and Annies for dinner and a couple of beers. Fortunatley there were a few friends in the same sled who were desperately craving adult conversation. Granted the music was terrible, as usual. Explain to me why anyone would queue up ten or fifteen crappy songs, and then leave the rest of us, who do not in any way share the same musical sensibilities, to endure. No wait, I've done that. More than once I've put on 25 minutes of Tales from Topographic Oceans and then bolted before anybody figured out it was me and beat the crap out of me. See, the beauty of Touchtunes is that I can control the jukebox from my phone, and being only .6 miles away from the bar, means I can do this from the safety and comfort of my own toilet. Many a night I've left the staff of Claude and Annie's with a 70's disco marathon to close the bar to. Actually, in one instance they admittedly preferred my DJ skills over the hilljack mouth breathers who think this new country/rap hybrid where they try to prop up an aging hip hop artist by pairing him with an up-an-coming country star is a really cool thing.

Aside from the evening's festivities, I was pleased to see that my friend Mike Myers will be playing a pick-up gig at Birdy's tomorrow night, his third gig there in the past month. Not sure if I've told the story here but Mike was a regular at Kolo's Wednesday open mic for as long as I can remember. Constantly he hounded me about getting him a gig or putting him on a bill, but in all fairness, and I would say this to his face, I found his habit of playing to pre-recorded synthetic tracks annoying, to the point that I was distracted from where is actual strength lay. One night back in November he showed up at Sabbatical's open mic without the gear and played a selection of new songs he had been writing but didn't yet have accompanying tracks for. I'm not sure if it was the change of scenery or the fact that the songs were new, but about halfway through the second number I was completely captivated by his performance. When he finished, without even realizing I'd said it out loud, I proclaimed, "Where the hell have those been for the past six years!?" The next night, already hatching a scheme in my mind, I caught him in the gents room before the usual Wednesday open mic and complimented him on his performance. "Can you do exactly that again tonight?" I asked. He indicated he would try, and so he did. As soon as he walked off stage, I declared that I wanted THAT set to open up PodConcert VI at Birdy's the next month. He is obviously not yet comfortable with playing "naked" as it were, and doesn't seem to have the confidence he should with just his voice and guitar, but I will go on record saying that his first performance at Birdy's, surrounded by his friends and a few new faces, was probably the finest I've ever seen him play, and obviously got the attention of the venue owners, who have made him the go-to guy whenever they need a strong opener for a new show.

Maybe I haven't contributed much lasting to the scene. I'll take some amout of credit for breaking Coy Koi, being the catalyist for the formation of Black Market Binary, and to a lesser extent than deserved, somehow getting credit for advancing Swig (Jamie Jackson's claim; not mine). Those three candles burned twice as bright and half as long it seems, but I'll forever be proud of getting Mike Myers noticed.

---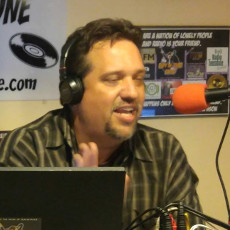 Darrin Snider is the OCD music nerd responsible for creating Indy In-Tune. By day he's a cloud engineer and business analyst, but he still hopes to someday be an overnight freeform disc jockey married to the local weathergirl who happens to be a former eastern-European supermodel.
Blog comments powered by

Disqus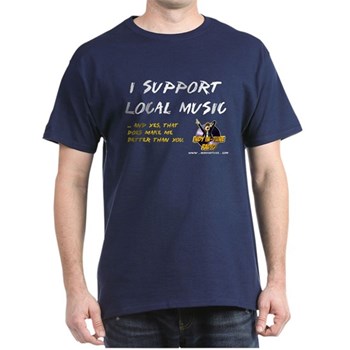 Back by popular demand for a limited time only, "I support local music ... and yes, that does make me better than you." Show the world that you, too, are a proud elitist music snob! Get yours before time runs out...
Solicitations and Submissions
Solicitations for blog posts can be made by sending and email to "blog -at- indyintune -dot- com" and should follow these guidelines:
Local (Indianapolis-based) acts always have priority.
Visisting acts playing a bill with one or more local acts are also considered.
We generally don't like to repeat content found on other sites. If your request already has a lot of coverage on other sites, it will be considered low-priority unless you can give us an exclusive angle.
For obvious reasons, we don't do solicited album reviews, though we do appreciate you letting us know when you have a new release. Consider coming in and talking about the album yourself live on the air or a podcast.
All of our staff writers are unpaid enthusiasts. All requests for blog posts are entirely at their descretion.
As such, they generally need a lot of lead-time to put something out -- we're talking weeks of lead time, not hours.
That said, individual authors have full authority to ignore the following guidelines and write whatever they want ... if you can convince them to.
In addition, feel free to write your own post and submit it for posting as a "guest blogger." Those almost always get accepted.
Finally, regional or national acts submitting without meeting the above guidelines are generally ignored. We're not trying to be dicks, but if you send us a generic form-letter with your press release, and it doesn't even remotely concern a local artist or event, then you're not part of our core focus.